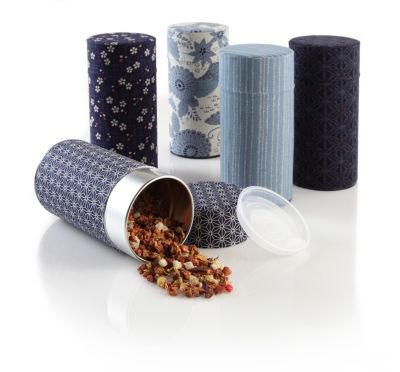 Blue Tea Tins
Product Rating
Description
These blue fabric-covered tins featured designs inspired by traditional Japanese kimonos. Referred to as 'Ise Komon,' the small patterns originated in the Ise area of Japan, where the original Shinto shrine is located. The tins hold approximately 5oz of tea and feature a removable plastic seal to keep tea fresh and delicious. Perfect for citrus teas that may make other tin seals swell. Tin patterns are random and we cannot promise a specific one. When you order we will pick one for you. Made in Japan of tin-plated steel.


$12.95
Availability:
In Stock
Product Reviews
Reviewer Profile:
Tea enthusiast (4)
I have three of these. I purchased them last year and they are holding up well.
Comment on this review
This is a really beautiful tea tin. And I cannot stress this enough, compared to the 8oz tea tins these are so easy to open! The only thing about it is that you have to be careful when washing because the outside is covered with fabric.
Comment on this review
The quality of the fabric on these tins is ridiculous. When I received mine, the fabric was already coming loose so that when I accidentally caught at a corner of the fabric covering, pretty much the whole thing came off! I was very, VERY disappointed. The tin itself is nice and I like the double lid aspect, but the quality of the assembly with the fabric was unbelievably bad. This got returned immediately.
Comment on this review
Between my sister and myself, we have three of these tins that we bought in the recent sale.
First I bought the white and blue floral pattern for my Peach Momotarou. My sister selected the geometric pattern for her Lavender Dreams white tea, and lastly I bought the navy blue variety for my Darjeeling de Triomphe.

The fabric for these are just lovely - I think it's a great idea to use kimono patterns, since I'm a major Japanese culture enthusiast.
These tins are much easier to open than the generic Teavana tins because the airtight seal is separate from the tin and hasa tab for pulling the seal out.

Another great thing is that the pattern of the fabric on the lid matches the pattern on the tin if you match the seams up: lots of fabric-covered tins don't, and for someone who is picky about aesthetics and details, that makes all the difference in the world.

My only problem is that I would not buy one because I'm one of those people who likes to match their tea with their tin themselves.
Comment on this review
This was my first tea tin purchase from Teavana, and while the tin is pretty (white paper with gold designs), my tin was severely dented. I tried to pop the dent out, but it remains, defeating the point of buying a pretty tea canister in the first place.

The tin on the cap is very thin, although the body of the canister is a little more sturdy. I'm hoping that, despite this being a sale item, Customer Service will allow for an exchange -- after all, we don't typically expect to be purchasing damaged items.

On the positive side, the plastic does seem to have a nice seal, so my tea should be relatively protected.

However, until I know if I can return this product, I will have to caution buyers against buying this item (unless you're the gambling type...)
Comment on this review
I use it for the sugar. (The unique container makes it unnecessary to read the labels on my other Teavana tins to find the sugar!)
Comment on this review