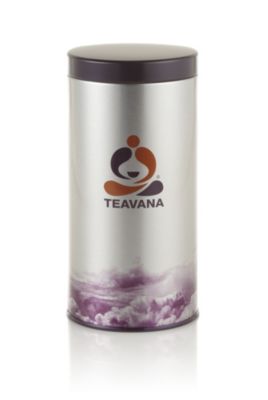 8oz Teavana Tea Tin
Product Rating
Description
Keep your favorite teas fresh for up to one year! Our large air-tight tea tin protects your teas from light, air and moisture while sealing in the freshness. It will hold approximately a half-pound of tea, depending on the size/weight of the tea.

This tea can also store Rock Sugar or any other food that needs to be sealed in a container. Front is designed to fit the removable tea labels so you can keep track of your teas. Tea tin is 6.5 inches tall and 3.25 inches in diameter. Made in Japan of tin-plated steel.


$6.00
Availability:
In Stock
Product Reviews
Reviewer Profile:
Tea enthusiast (10), Health conscious (3)
This tea tin is horribly designed. I am a girl and there is NO WAY that I can open or close it. It almost feel that it is so tight that you have to use a knife to crack it open, and then after opening it, good luck, it takes some acrobat professional techniques to close it. Seriously I would just take this tin and go to a teavana store to ask their staff to show me how the heck they would open and close it without crashing their nails and spilling the tea. And, they even spent twenty minutes trying to persuade my husband to spend 7 dollars to buy it...my poor husband believed them and did...
Comment on this review
I got this and a few of the oval tea tins to store some teas I was trying out... Unless you're planning on buying a lot of one kind of tea (or mixing your teas), don't get this! If you're trying out samples or prefer getting 2oz batches rather than large amounts of multiple kinds, you're better off with a small, cheaper tea tin set from somewhere else. They're also very expensive, and there's probably cheaper versions of this all over the internet. However, if you do buy lots of one kind of tea and replenish it often, this tin will accommodate it well and stores well with other tins of the same kind. But, these always seem retain the scent of the tea stored in it previously (even after washing), and frankly, seem a bit bulky (and pricy) for something that stores some tea.
Comment on this review
I bought this to hold 8oz. of Earl Grey White tea, and found that with some teas that have particularly large leaves, this will not hold a full 8oz.; more like 6oz. and some change. Other than that, the product does what it's supposed to do: contain tea and keep it clean and fresh.
Comment on this review
I had a few of these tins at the time that I was having trouble with some kind of insect in my flour/similar goods. It involved a lot of throwing things out. I didn't worry about my Teavana tea in a nearby cupboard, because AIRSAFE TINS, RIGHT? I mean, that's what you're paying for, yeah?
Big mistake. I had to throw away an immensely expensive amount of tea because it had bugs eating it--and I know I hadn't even opened up some of the varieties, so there's no way they could have gotten in that way. I don't know how this happened, but you're definitely better off with the paper bags inside of ziploc bags--the bugs couldn't touch that.
Comment on this review
Air tight
Easy to use
Look Nice
These tins work pretty great. Except, I noticed some of my lids starting expanding making it difficult to put back on the container. I found this only happened to teas that had citrus fruits in them. My only gripe is they really should make their container hold any tea that you buy from them.
Comment on this review
I almost spilled the tea out trying to get the lid off a few times, that's my only complaint. Otherwise I do like the container and the fact that it has the tea info listed for convenience.
Comment on this review
Tea Body:
Light
Tea Flavor:
Citrusy
Comment on this review
This tin is just great. I got one of these with my first purchase of tea at Teavana and I can find almost no faults. I do sometimes have a little trouble opening it, but my overly-sweaty hands are at fault there, not the tin.
The tea instruction chart on the back is very helpful and the airtight seal keeps my sencha fresh and yummy.
Five little Buddhas!
Comment on this review
Everythig is great about this product.
Comment on this review
Actually, I would rate these tins 4.5 stars. I own a large, medium, and many small of these tins. This size is my favorite! I love a variety of teas and this size allows me to store my variety of teas separately without overloading my pantry with oversized tins. The only downside I can think of is that the lids are snug sometimes, however, they are air tight and probably should have a tight fit.
Comment on this review