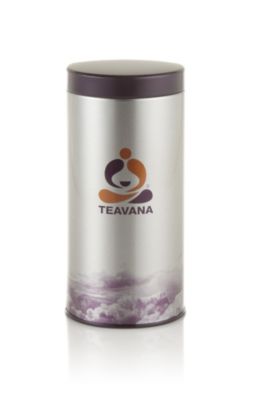 6oz Teavana Tea Tin
Product Rating
Description
Keep your teas fresh for up to one year! Our air-tight tea tins are the best way to store loose-leaf teas to insure freshness. Teavana teas are sold with a removable label that can be easily added and removed from our tins to keep track of your teas.

These tins can also store our Rock Sugar and any other food item that needs to be sealed in an air-tight container. This tin holds approximately 6oz of tea (depending on the size/weight of the tea). Container is 6 inches tall by 2.75 inches in diameter. Made in Japan of tin- plated steel.
$6.00
Availability:
In Stock
Product Reviews
Reviewer Profile:
Tea enthusiast (8), Health conscious (6), High-end shopper (4)
The tin really does keep the tea fresh! However, the lid is difficult to get off. Be sure to snap it all the way back on or the tea will go bad quickly!
Comment on this review
Aromatic
Convenient
Energizing
Fresh
High Quality
Soothing
I LOVE Teavana teas. I am a frequent buyer and always trying new teas. I however HATE with a passion these tin containers. Every morning it is a struggle to open the can and trying to put the lid back on. There needs to be a better way to store tea rather then spending 30 minutes every morning fussing with the lid. I end up using a knife to wiggle the lid off. As seen in the below comments I am not the only one with the problem. I would love to learn of alternate ways of storing tea other than these stupid tin cans.
Tea Body:
Medium
Tea Flavor:
Citrusy, Fruity
Comment on this review
Great little tin. The only problem I had was the seal getting too tight. I spoke with a sales person at Teavana and found out that because I had been storing citrus based teas in some of my normal tins the seal swelled which makes the tin hard to open. When I told them what happened the sales person replaced all of my damaged tins FOR FREE since I didn't know there were two kinds of tins.
Comment on this review
I bought this tin to store the wonderful teas that teavana sells. But unfortunately, the only nice thing i can say about the tin is that it looks good. I don't know why but the tin seals too tightly and becomes very hard to open once you add the tea inside it. I will never buy this again.
Comment on this review
Very difficult to get the lid off the tin and the sales person was very pushy at the Vancouver Mall. Don't plan to go back there I'll find tea somewhere else.
Tea Body:
Light
Tea Flavor:
Fruity
Comment on this review
These are great tins for a great price. The lids are definitely air tight - you can put them on, then they snap/pop really tightly shut. I've had no issues removing the lids either.

The other thing I like is that they are silver so you can use the removable labels that come on the tea envelopes when you order online. I have some other small black tea tins and you can't read the labels AT ALL!

Need to get more of these while they are on sale!
Comment on this review
I have 2 of these tins...one is fine and air-tight, the other is not. How do I know? I had a problem with grain moths recently. Thoroughly cleaned out all grain products and converted all containers to air-tight containers/bags. Moths still a problem. I never thought to look at my tea tins (didn't think moths like tea, much less could get into these tins)--apparently the moths LOVE Youthberry tea blended with Wild Orange herbal tea and they had set up house in my tin! I'll spare you the disgusting details, but the tin is now gone, the moths are gone, and I will be storing my tea in different containers from now on!
Comment on this review
I purchased this tin as I had to in order to purchase the tea I bought at the Teavana store. The cover is extremely difficult to remove and it will not go back on without a fight. The Youthberry tea was wonderful, the tin was not. I have bought from two other high end tea shops and the tins or bags were free when you purchased the tea.
Comment on this review
Great tin. Love how it seals tight. Bought this at the store. Perfect size for me as I don't go through tea too quickly. Also picked up 5 of the 3oz tins as well.
Comment on this review
I had avoided buying tins for a long time, and in all honesty I never had a problem with how I stored my tea before. But when I was deployed to Afghanistan I decided to cave and get some for my tea here. I'm pleasantly surprised by these. They are solid tins and the lid is tight without being so hard to get off you don't want to mess with it. There's kind of two positions to the lid... on and tight. If you just push it on and don't make sure it snaps all the way, you will risk the lid coming off. All in all I'm glad I snagged them. I will probably buy some more when I get home for the full tea collection.

The only down side is that I wish they were more plain without all the logos and such on them. And the labels from the bags you get when you order online don't transfer well at all. The writing comes off way too easily. The labels from the bags you get int he store will probably work much better. I just ended up using a label maker to mark them.
Comment on this review