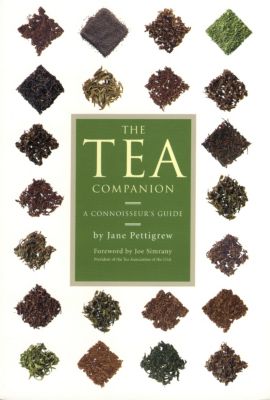 The Tea Companion: A Connoisseur's Guide
Product Rating
Description
This small book, The Tea Companion: A Connoisseur's Guide, is an excellent book for those new to tea or those just wanting to learn more. The book is broken into two sections: The Story of Tea and Global Tea Directory. The first part is the fascinating history and legends of tea combined with detailed explanations of tea types, tea making, and how to properly steep tea. The second is a wonderful reference book on the teas of the world - one that will entice you to try new teas.

The book is hardback and 192 pages long. Copyright 1997.
SALE! Save 50 % $10.00
Availability:
In Stock
Product Reviews
I have had this book for many years. I read through it every once in a while. It is a little heavy on the history of tea but is still interesting.
It has good information on the different types of tea.
It also explains different descriptors of tea, and how different types of tea are traditionally prepared.
This book is good for anyone from a beginner to an expert tea drinker, or for anyone wanting more information about tea in general.
Comment on this review
I recently ordered this book and enjoy it very much. The information is enlightening and the art is clean and well represented. I am new to teas and am quickly becoming a 'tea snob'. Every thing I have purchased from Teavana is excellent!!
I have visited the Fashion Square and Scottsdale stores, I look forward to the Arrowhead store opening that will be even closer to me. Online purchases have been excellent.
Thank you,
Sue Rogers
PS. the book is soft cover-
Comment on this review