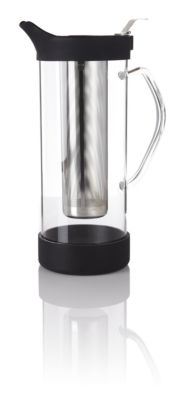 Tristan Infuser Pitcher
Product Rating
Description
This glass pitcher is the perfect elegant presentation for your iced tea. The stainless steel infuser fits into the lid and is easily removed after steeping is complete. The lid and base are made of flexible silicone. Made of borosilicate glass. Teavana Exclusive. Dishwasher safe. Holds 64oz (1.9L) of tea.

How to Use: Add 8-12 teaspoons of tea into the infuser basket. Pour in 64oz ofhot water (175-208 degrees depending on the tea being used) and close the lid.Steep for the amount of time suggested for the type of tea. When steeping isfinished, carefully remove the strainer and tea leaves from the pitcher. Pourover ice for iced tea, store in the refrigerator for cold tea, or enjoy as hottea by pouring directly into mugs.
$49.95
Availability:
In Stock
Product Reviews
Convenient (7)
High quality (3)
Reviewer Profile:
Tea enthusiast (11), Health conscious (7), High-end shopper (5)
Like most of the folks, ours had the bottom break as well. I will see if we can exchange this at the store.
Comment on this review
Overpriced
Poor Construction
Weak
This infusier had the bottom shatter. Teavanna does not support there customers when the merchandise fails.
Comment on this review
Just like some other users, mine also ended up getting a small hole in the bottom. i just brought it back to one of their stores and got a new one. It is so much easier to deal with the stores than calling. They keep you on hold for 20-30 minutes and when you do the call back thing, they never call you back. I say never, because I tried it three separate times after being on hold for so long. Love their products and the inshore people are very helpful......a lot to be desired with phone customer service.
Comment on this review
Convenient
High Quality
Sturdy
For the amount of use I plan to get out of the Tristan (I plan to use it A LOT), the price is fair. The Tristan will be my main man for cold-brewing my tea.

My only complaint is the bottom of the infuser basket, which is solid, rather than mesh which potentially leaves flavor trapped in the infuser instead of getting out into the pitcher where it's supposed to be.
Comment on this review
Broke Without Being Hit
Weak Handle
Weak Lid
Weak Structure
I purchased this product because it was aesthetically pleasing as well as functional. I had the product for roughly six months, I was pouring tea one day and noticed a crack in the base of the handle and it was leaking. I was very sad about this as it was my favorite tea pitcher. I figured a reputable company like Tevana would have a warranty for products such as this as they bear the company name. To my dismay not only did the customer service representative inform me that there was no warranty for their products but that there was nothing that could be done for me. With as much as Tevana expects us to spend on their teas and products you would think that they would take better care of their customers. Never again will I purchase from this company.
Comment on this review
Can't Make One Cup
Difficult to clean
Inconvenient To Use
Poorly Design Lip
This was a disappointment. It is very difficult to wash. The removable silicone stopper that is supposed to keep out leaves is incredibly poorly designed and difficult to put on/take off. It also does a poor job of keeping leaves out of the tea. Not happy with this purchase, wouldn't recommend to anyone who wants to use it daily.
Comment on this review
I bought 2 of these, one as a present. Manufacturer's defect, thin area on bottom of pitcher. Used less than 5 times when a piece of the bottom the size of a quarter popped out. Complete waste of money. No warranty even though I had bought it less than a year. Company had a 90 day return policy but it had broken after that. Very unhappy customer. DO NOT BUY!
Comment on this review
Product worked great while it lasted. Used it for less than a month (according to Teavana sales person instruction) when the bottom broke. Total waste of money.
Comment on this review
Easy to use
Sleek And Efficient
I love it! It could use a masher for when you are taking out the strainer. Squeeze out all the flavor!!!!
Tea Flavor:
English Bf Black Tea, Fruta Bomba Green Tea
Comment on this review
I used the product to make iced tea. I let the tea steep over night and the next morning would have perfect iced tea.

HOWEVER, one day a piece of glass on the bottom popped out of the middle. The glass is in tact except for a quarter sized piece of glass missing from the bottom.

How does this happen? I have no idea.

I loved the pitcher until this happened.
Comment on this review