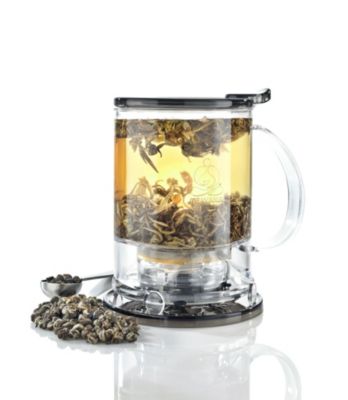 Teavana Perfect teaMaker
Product Rating
Description

16oz

Our PerfecTea® Maker brews the perfect cup of tea! It is an efficient, simple and clean way to steep tea. Add tea and water at the correct temperature, then put the tea maker on your favorite mug. The patented drain mechanism will strain the tea into your cup and keep the leaves in the tea maker. Four piece construction allows you to remove the filter for cleaning and easily reassemble. Brews 16oz of tea and fits cups with a 3.5 inch diameter. Made of sturdy polycarbonate that is BPA free. TEASPOON NOT INCLUDED

Cleaning & Care: After brewing and draining tea, dump spent leaves,rinse tea maker and allow to dry. The lid and stainless steel strainer can beremoved carefully and washed separately. Although the PerfecTea® Maker is toprack dishwasher safe, we recommend hand washing with mild soap and a non-abrasive sponge. Not for use in microwave. Not for use on stovetop. CAUTION: Always use the attached handle when moving the Perfect TeaMaker. Use care when handling as the bottom can release hot tea if touched. Use on a flat surface with included coaster. Keep out of reach of children.
$19.95
Availability:
In Stock
Product Reviews
Convenient (84)
High quality (45)
Easy to use (36)
Fresh (18)
Easy to clean (16)
Anytime (121)
Gifts (43)
Morning (19)
Afternoon (13)
Evening (13)
Tea Body:
Medium (23), Full (18), Lightweight (3)

Tea Flavor:
Fruity (15), Citrusy (9), Spicy (7), Vegetal (3)

Reviewer Profile:
Tea enthusiast (99), Health conscious (43), Occasional tea drinker (31), High-end shopper (18), Health nut (11)
Reviewed by 174 customers
Convenient
Easy to clean
Easy to use
I love this tea maker. It is so easy to use. I have read other reviewers have had problems with cleaning, but even though it says top rack dishwasher safe I would rather clean it with soap and water. The top and sifter come off quite easily and are easy to clean. I have also read other reviews stating they are unsure of how much tea is being dispensed. I pour my hot water into the cup I will be using first so I get the right amount (no more, no less) and then pour it into the tea maker. I definitely prefer this tea maker over any infuser and it seems as though I get more flavor using this. I like that I can put my sweetener in it so that it is being sweetened while it is steeping (no stirring required)!
Comment on this review
Just got this today after looking at it for a while and it makes an amazing cup of tea! So simple to use and clean! The only thing I would add would be calibration on the chamber to show how many ounces of water you are adding to make it easier to brew just enough to fit the cup you are using, but otherwise it is simple, efficient, and makes a truly awesome cup of tea!
Comment on this review
This is how to make a perfect cup of tea!
Comment on this review
I was looking for a way to make iced tea after too many spills after brewing, then pouring over ice. I visited the Teavana store at the local mall and they recommended this tea maker.

Works simply - I add the tea back, the hot water (from the water cooler at the office), let it steep, then 5-7 minutes later, let it empty over my large glass of ice. Voilà, iced hibiscus tea!

After rinsing it out and letting it air dry, I'm ready the next day for more tea! I'm planning on bringing it with me on my upcoming trip to Europe - filled with water and one tea bag makes it the perfect strength for my iced tea.

One happy user!
Comment on this review
Love this product! I bought it when I was new to using loose-leaf teas, and it's been wonderful. I use it several times a day, and it's by far the easiest way to make tea. It's very easy to clean, and there's never any residual taste from other teas I've made in it.
Comment on this review
I love the tea maker; but I too wish it was easier to tell how much tea was in the cup when dispensing and also to clean. I've had mine for a bout 4 months now and have found workarounds for most of the problems.
I also brew my tea leaves a 2nd time. I found that if I use the right amount of tea leaves for 2 8-oz cups and fill the teamaker with correct temperature water till it reaches the top of the plastic handle, it will completely fill a 16 oz travel mug when I'm ready to dispense it. I then fill the teamaker again with hot water and brew my 2nd batch. This one takes a bit longer to get to the right strength. I then fill my 2nd travel mug so I'll have a hot cup of tea when I get to work. After I am done with the leaves I fill the teamaker with tap tap water and pour the tea-leaf/water mixture through a small seive to drain the water off. Then I dispose of the tea leaves into my acid-loving plants, in a compst bin, on the grass, whatever make me happy, and rinse out the teamaker. After several brewing cycles, the teamaker really needs to be cleaned. I add a table spoon of baking soda to the container and use a soft brush to scrub the sides and bottom outside edge. The baking soda removes the stains without scratching. I have not found a way to clean the mesh screen or plastic tip in the center yet. Then I rinse it out thouroughly and let it dry.
Tea Body:
Light
Tea Flavor:
Not Chamomile
Comment on this review
Can Watch Tea Expand
Dishwasher safe
Easy to clean
Easy to use
This is what they use to make many of the samples in the store. It's so easy to use and clean. I use mine everyday without fail. This is an amazing product!
Comment on this review
I have had this tea maker for years now and have never had a problem with it, I like to brew my teas multiple times so I put the whole thing in the refrigerator until I want to make more tea. I have never had an issue with it and although it can be a little hard to clean when little tea leaves get stuck, it is not that hard, and I believe it is completely worth it.
Comment on this review
I often use the tea infuser balls but find tea bits floating in my cup. I also find that the tea doesn't have the opportunity to expand as much in the tea ball. I love the perfect tea maker! It is so easy to use, and as long as you pre-measure your water amount for cup size there is no need to worry about using a clear mug/cup. I don't find cleanup to be difficult as I just dump the leaves out and then rinse it out. This makes a wonderful cup of tea and looks good out on my counter!
Comment on this review
Affordable
Convenient
Innovative
I bought this product with my first purchase at Teavana. I figured it was the best way to start trying loose teas without the cost of an arm and leg. I really like how innovative the product is and how easy it is to use. I did not realize I would need some clear mugs to go along with it, so I could see how much tea was being poured out. Also, I wish the coaster to set it on was a bit larger so I don't lose tea when trying to set the pitcher back down.
Comment on this review