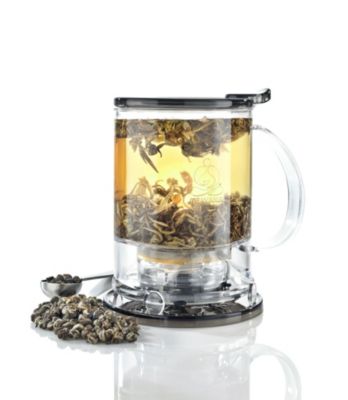 Teavana Perfect TeaMaker
$19.95
Product Rating
Description
Our new and improved PerfecTea® Maker brews the perfect cup every time! It is an efficient, simple and clean way to steep tea. Add tea and water at the correct temperature, then put the tea maker on your favorite mug. The patented drain mechanism will strain the tea into your cup and keep the leaves in the tea maker. Four piece construction allows you to remove the filter for cleaning and easily reassemble. Brews 16oz (2 cups) of tea and fits cups with a 3.5 inch diameter. Made of sturdy polycarbonate that is BPA free. TEASPOON NOT INCLUDED

Cleaning & Care: After brewing and draining tea, dump spent leaves,rinse tea maker and allow to dry. The lid and stainless steel strainer can beremoved carefully and washed separately. Although the PerfecTea® Maker is toprack dishwasher safe, we recommend hand washing with mild soap and a non-abrasive sponge. Not for use in microwave. Not for use on stovetop. CAUTION: Always use the attached handle when moving the Perfect TeaMaker. Use care when handling as the bottom can release hot tea if touched. Use on a flat surface with included coaster. Keep out of reach of children.
Product Reviews
Convenient (76)
High quality (42)
Easy to use (33)
Fresh (16)
Aromatic (13)
Anytime (109)
Gifts (41)
Morning (18)
Afternoon (12)
Evening (12)
Tea Body:
Medium (23), Full (15)

Tea Flavor:
Fruity (15), Citrusy (9), Spicy (7), Vegetal (3)

Reviewer Profile:
Tea enthusiast (91), Health conscious (39), Occasional tea drinker (30), High-end shopper (16), Health nut (10)
Most Liked Positive Review
Much better than the last version
I have been using the previous version of this for about 3 years, roughly 2-3 times a day, on average. The bad part about it is it was impossible to clean. It...Read complete review
I have been using the previous version of this for about 3 years, roughly 2-3 times a day, on average. The bad part about it is it was impossible to clean. It didn't really bother me because if you go in the store, their's is also dirty looking. Since that one is so old, I decided to get the newer version.

It is a better product for a few reasons. First off, it comes apart and you are able to clean almost every surface of it (if your hands are small enough). The old one would clean itself; into my tea usually (I would get little bitter flakes of dried tea, in my tea). This one also seems to hold the heat better; the last version would heat up almost immediately after you poured the hot water in, this one takes a good 10 seconds to warm up - which means the material in this item will keep your tea warmer, longer. Lastly, this one looks nicer; it has better lines, and better colors - it looks much more modern.

The complaints I have about it, and they're minor, is that the valve/bottom piece doesn't come off for cleaning, and there are no instructions on disassembly. I don't really know how the bottom would come out without wearing down the valve quickly, but you should be able to get to it somehow - maybe sell replacement valve parts. Also, there are instructions in the box, but they don't explain that the mesh pulls up and out (though, not easily) and that the lid is the only other part that comes off; a couple images with captions would do the trick.

All in all, I would buy another one, once this one gets dingy, like the last one. I would reccomend it to people. I suggested it to my father when he wanted to get away from coffee, and he really likes it as well. It's a great product and the best on the market; I looked for other similar products, and this one is very unique to the market.
Most Liked Negative Review
Not worth your money.
I've owned two of these before finally giving up on them. Ultimately, it's not worth your money. There's a lot of small parts, which makes it near impossible to clean. It claims...Read complete review
I've owned two of these before finally giving up on them. Ultimately, it's not worth your money. There's a lot of small parts, which makes it near impossible to clean. It claims it's top rack dishwasher safe, but I tried that on my last one and the plastic around the screen melted. And if it's melting in the dishwasher, who knows how well it's actually holding up to the hot water of tea -- always worried with plastic about it leeching chemicals. If you want something cheap and don't need it to last long -- maybe for a dorm room or something -- this isn't a bad option; but otherwise get a glass one.
Reviewed by 161 customers
Appealing
Convenient
Easy
High Quality
Hard To Measure The Pour
In Non-clear Mugs
This perfect tea maker lives up to its name. Since i have received this tea maker as a gift, I can brew a better cup of tea. Before, i placed the tea in the pot directly, or used the diffuser, which was messy or made the tea bitter from over brewing. The only thing that annoys me about the pouring system is that i cannot use a regular mug, this works best with clear cups and mugs so you can easily see how much tea you are pouring. This tea maker is convinent, easy to clean, and brews a terrific cup of tea.
Comment on this review
Convenient
Fresh
High Quality
I purchased this product for work and home. We have three of them. My husband and i both enjoy drinking cold teas and this makes making a cup of tea very easy. I first purchased for work so i didn't have to take three cups with me into the kitchen. One for ice, one for hot water and then one to hold my tea strainer. I get to have fresh cold or hot tea every day with no mess at my desk. Love the product.
Tea Body:
Medium
Tea Flavor:
Fruity
Comment on this review
Convenient
Easy to clean
Easy to use
High Quality
Makes Great Tea
Quite honestly, the Perfect Tea Maker has been the greatest accessory that I have bought from Teavana thus far. I use this product at least once a day - and I now have three of these awesome Tea Makers at home (since I just got my whole family into tea, it is nice to be able to make multiple teas at once; i'd buy the larger tea maker but we all have different tastes in tea at home).

I find personally that I get more flavour from my tea when I use the teamaker as opposed to a regular tea infuser (such as the infusers in the Tumblers, for example). I think it is because the tea leaves are able to expand better since it's a wider infuser.

I've noticed people saying it is hard to clean. At first, I had a bit of difficulty myself putting it back together - but that was because it was a new product. People say the bottom piece gets stuck - and it can if you don't place it back in correctly. There are four little holes that put the bottom piece in place, which I don't think people realize. I would just keep that in mind. Its easy to put back together after the first time reassembling it!

All in all, this is a great product and I definitely recommend it if you are a tea drinker at home! :)
Comment on this review
Conversation Starter
Easy
Fun
I purchased this over a mug with a detachable filter since they were the same price and I thought the Perfect Tea Maker would make everything easier. However, I find it's not that much easier and it comes with its own caveats. First, I have yet to be able to remove the filter - even though it says it is removable - for fear of breaking it based on others comments. Even if I were able to remove the filter, its a bit messy to clear the tea leaves out - even more so when you can't dump ANY of the leaves down the sink (workplace). Second, don't get this unless you're going to drink all of the tea at once since you can't easily remove the tea leaves after they've brewed and have a pot available for refills (though it holds a little over a large cup of tea, so that's not too much of an issue.) When all is said and done, its a bit over-engineered.
Comment on this review
I wasn't sure if this was a product I really wanted since most of my tea brewing is on the go (in the office, or running out of the house). I finally broke down and bought this so I wouldn't have to waste tea bags at home for my evening tea.

I really like this product - it is easy to use, doesn't make a mess, and is easy to clean!

I wish I could take this with me to work, but I think that would just be too much for the office environment, I will stick to preloaded tea tumblers (tea leaves and honey in the tumbler, just waiting on water).
Comment on this review
Aromatic
Convenient
Unique Flavor Profile
I received this as part of the gift set for Christmas and have to say this is the best gift I received. I absolutely love it. It is so easy and convenient to use. I have used different types of infusers but this is the best product by far.
Tea Body:
Medium
Tea Flavor:
Citrusy, Fruity, Spicy
Comment on this review
I am increasing my drinking of tea and had older infusers that frankly were a pain in the behind to use and clean. I love the convenience and simplicity of this infuser. It makes great tea in a hurry and looks great sitting on my counter.
Comment on this review
I had been new to tea drinking and was looking for something not too expensive, but would still get the job done - I like how you can drink just one cup and move on to the next flavor in a few hours - I would buy this again or give as a gift to a tea drinker - Great for loose leaf tea - No flavor is lost here - The only thing is cleaning the bottom is a little tough, but nothing I can't deal with - This tea maker is easy, convenient and well worth it.
Comment on this review
I got this (along with two Perfectea Cups) for a friend for Christmas. She says it works great and quickly, but she has trouble getting the clasps to stay on the cups and it sometimes ends up with tea all over her counter. However, with a steadier hand, that shouldn't be too much of a problem.
Comment on this review
Easy to clean
Easy to use
Mess Free
Nice Appearance
No Idea Of Product Life
Unknown Product Life
Unknown Product Lifespan
This product is pretty, easy to clean, convenient and just all around amazing! I'd recommend this to anyone who just wants to enjoy tea while around the house. The tea maker's cavity holds heat surprisingly well and transfers tea without mess or hassle (something I had experienced in the past while brewing loose-leaf teas.) I love this product!
Comment on this review