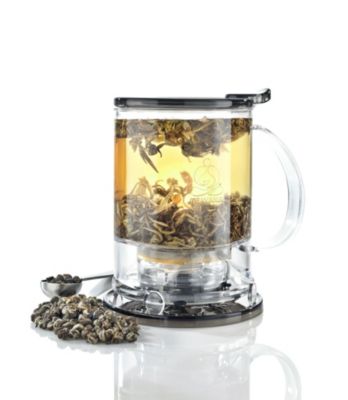 Teavana Perfect TeaMaker
$19.95
Product Rating
Description
Our new and improved PerfecTea® Maker brews the perfect cup every time! It is an efficient, simple and clean way to steep tea. Add tea and water at the correct temperature, then put the tea maker on your favorite mug. The patented drain mechanism will strain the tea into your cup and keep the leaves in the tea maker. Four piece construction allows you to remove the filter for cleaning and easily reassemble. Brews 16oz (2 cups) of tea and fits cups with a 3.5 inch diameter. Made of sturdy polycarbonate that is BPA free. TEASPOON NOT INCLUDED

Cleaning & Care: After brewing and draining tea, dump spent leaves,rinse tea maker and allow to dry. The lid and stainless steel strainer can beremoved carefully and washed separately. Although the PerfecTea® Maker is toprack dishwasher safe, we recommend hand washing with mild soap and a non-abrasive sponge. Not for use in microwave. Not for use on stovetop. CAUTION: Always use the attached handle when moving the Perfect TeaMaker. Use care when handling as the bottom can release hot tea if touched. Use on a flat surface with included coaster. Keep out of reach of children.
Product Reviews
Convenient (67)
High quality (37)
Easy to use (30)
Fresh (15)
Aromatic (11)
Anytime (96)
Gifts (38)
Morning (17)
Afternoon (11)
Evening (11)
Tea Body:
Medium (19), Full (13)

Tea Flavor:
Fruity (11), Citrusy (6), Spicy (4)

Reviewer Profile:
Tea enthusiast (81), Health conscious (36), Occasional tea drinker (23), High-end shopper (13), Health nut (10)
Most Liked Positive Review
Much better than the last version
I have been using the previous version of this for about 3 years, roughly 2-3 times a day, on average. The bad part about it is it was impossible to clean. It ...Read complete review
I have been using the previous version of this for about 3 years, roughly 2-3 times a day, on average. The bad part about it is it was impossible to clean. It didn't really bother me because if you go in the store, their's is also dirty looking. Since that one is so old, I decided to get the newer version.

It is a better product for a few reasons. First off, it comes apart and you are able to clean almost every surface of it (if your hands are small enough). The old one would clean itself; into my tea usually (I would get little bitter flakes of dried tea, in my tea). This one also seems to hold the heat better; the last version would heat up almost immediately after you poured the hot water in, this one takes a good 10 seconds to warm up - which means the material in this item will keep your tea warmer, longer. Lastly, this one looks nicer; it has better lines, and better colors - it looks much more modern.

The complaints I have about it, and they're minor, is that the valve/bottom piece doesn't come off for cleaning, and there are no instructions on disassembly. I don't really know how the bottom would come out without wearing down the valve quickly, but you should be able to get to it somehow - maybe sell replacement valve parts. Also, there are instructions in the box, but they don't explain that the mesh pulls up and out (though, not easily) and that the lid is the only other part that comes off; a couple images with captions would do the trick.

All in all, I would buy another one, once this one gets dingy, like the last one. I would reccomend it to people. I suggested it to my father when he wanted to get away from coffee, and he really likes it as well. It's a great product and the best on the market; I looked for other similar products, and this one is very unique to the market.
Most Liked Negative Review
Not worth your money.
I've owned two of these before finally giving up on them. Ultimately, it's not worth your money. There's a lot of small parts, which makes it near impossible to clean. It claims it's...Read complete review
I've owned two of these before finally giving up on them. Ultimately, it's not worth your money. There's a lot of small parts, which makes it near impossible to clean. It claims it's top rack dishwasher safe, but I tried that on my last one and the plastic around the screen melted. And if it's melting in the dishwasher, who knows how well it's actually holding up to the hot water of tea -- always worried with plastic about it leeching chemicals. If you want something cheap and don't need it to last long -- maybe for a dorm room or something -- this isn't a bad option; but otherwise get a glass one.
Reviewed by 143 customers
Convenient
Easy to clean
Fun To Use
My favorite tea maker ever. Easy to use and clean. I like the sleek design and ability to see the color and the tea expand. I love that you just sit the pot on the cup to "pour" it in, no drip or mess. I like gadgets and it is fun to use. The tea stays warm in the pot so I just pour a little at a time. To clean, I just dump out the tea - then just rinse away any remaining. I purchased the 16 oz size, just fill to half for one cup.
Comment on this review
I just wrote a review for this product, however it hasn't been posted yet. Bottom line: Love this tea maker! The reason I wanted to post again was because I figured out how to remove the mesh strainer, and people had been asking about that.

The mesh strainer is cone shaped, with the white plastic part sticking up in the air. Just reach in, grasp the white plastic part, and wiggle (gently!) back and forth. It came out easily, and was a breeze to put back in.
Comment on this review
After just two uses, I'm really impressed with the quality of this tea maker. I had a previous model where the tea leaves would get stuck in the mesh, and it was really hard to keep clean.

This new and improved version is super easy to keep clean, and the construction seems sturdier than previous models.

This 16oz tea maker is enough for one person, 2 cups of tea would be pushing it, considering all my mugs are 12oz. But it's just me and my husband, so I just brew twice.
Comment on this review
I've had this for almost 2 years, and the top just broke this morning! I haven't found it very easy to clean because removing/replacing the top can be tricky (and lead to it breaking). Also the actual strainer part that can be removed is not easy to remove either, especially if you don't take it out to clean it all the time.

On the plus side, however, it has never spilled, never gets too hot on the outside, and can hold a decent amount of tea. The description says 2 cups, but I don't think it accounts for the actual tea leaves that go into it, so it can make a little less than 2 cups.

Overall, it's a great product, and does it's job well. It's very easy to use, aside from cleaning.
Comment on this review
The perfect tea infuser is just what it says. I had a whoopsie the first try as I placed it on top of the cup and poured in the HOT water, watching it flow right through. :(( Wish it included directions. After that I investigated and found the proper way to brew/steep was placing unit on an even countertop, and when ready to enjoy(after steeping), THEN just place it on a cup. Perfect cup time after time. Reuse tea leaves easily by placing on counter and refilling with hot water. Easy cleanup when done. LOVE, love, LOVE it.
Comment on this review
I was never a big tea drinker until I found Teavana. I can't drink caffiene and got tired of and lost my taste for decaf coffee. I have some of those little bell/ball shaped thingys and used that the first time I bought some teavana tea. I did some reading and realized this will never do with the expanding of the tea. I believe it was my next trip back to the store somehow I stumbled onto this incredible perfect teamaker. I can't say enough good things about it. If you are a tea drinker of loose tea it is well worth the money. If you are investing the $$$ in good tea this is your answer to a perfect cup of tea (imho).
Comment on this review
This tea maker is inexpensive, it's convenient, and it works perfectly. It's also easy to clean. You really can't go wrong. I wish it was a little bit larger, but there is a 32 oz. version available.
Comment on this review
Convenient
Easy to clean
Easy to use
High Quality
Sturdy
After Meals
Afternoon
Anytime
Dessert Tea
Evening
Gifts
Morning
A couple weeks ago I was on vacation in missouri, when I stumbled upon the store Teavanna. As a fan of tea I went inside only to fall in love with the store. I was able to get all my tea supplies. One of the workers there showed me all around the store and showed me teas and tea makers. As I was buying my tea she was making some and I saw the perfect tea maker and was enthralled. If I had enough room in my bags I would have bought it then. So, when I got back home I quickly went on line and bought it. I recieved it two days ago and I love it! It so easy to use, clean, and store. I even tried my regular tea in the tea maker, you know the one with the string attached to it. Never again will I make tea the old fashioned way. The free sample was a nice touch also. Thankyou teavanna!
Comment on this review
This really is a great product and brews a wonderful cup of tea. It has a couple of drawbacks. One, the fine mesh screen is difficult to keep clean over time and there are no replacement screens available from Teavana. You should be able to buy replacement parts for one of their most popular products.
Comment on this review
I am honestly surprised by some of the reviews on here that say that this is difficult to clean. I disagree because I have personally never had that issue. The tea maker comes apart fine and I feel it cleans thoroughly. Let me just say though, seeing as how I purposefully do not clean my Yixing clay pot (don't be alarmed, it is recommended) and only rinse my cast iron pot with a small amount of soap and water, I do not see a problem anyway in not completely scrubbing off any bit of tea. It is also completely normal for tea to stain pots over time.

As far as how this works, it does make the tea brewing process ridiculously simple! It fits over any tea mug really. I own and use the Teavana glass mug. It makes exactly one cup so for multiple people you either have to brew more tea or use a normal size tea pot. I find myself making tea for one constantly so I love the convenience of this tea maker. I actually use it more often than any of my three tea pots (all from Teavana). I give this 4 stars because it works and is easy to clean. I agree that the price could be lower since this tea maker is just plastic, but hey.
Comment on this review