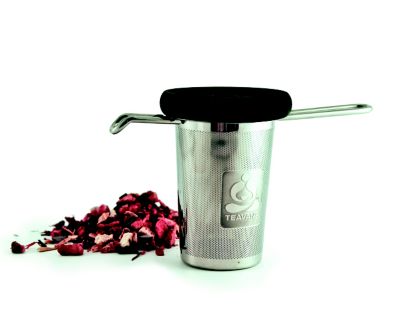 Stainless Steel Single Serving Tea Strainer
Product Rating
Description
A great tea steeper that fits most tea cups, tumblers or mugs. It has all the details you expect: A silicone lid that won't get hot during steeping and serves as a saucer once you are done; 18/8 stainless steel construction with laser-etched perforations that keep even the smallest leaves in. Top rack dishwasher safe.


$12.95
Availability:
In Stock
Product Reviews
Reviewer Profile:
Tea enthusiast (9), Health conscious (7), Occasional tea drinker (3)
I have purchased this product twice. both times the handle has broken off the chamber and there is no way to dangle this over a cup of hot water with out the handle. I usually hand wash it, but have put it in the dishwasher from time to time to get it really clean.
I do not recommend this tea strainer. I'm sure there are better ones on the market. This one is a waste of money.
Comment on this review
This strainer is much better than I expected when I bought it over a year ago.

Pros: It fits a wide variety of cups and mugs. It strains out even small tea particles. It is the perfect size for a single cup of tea. It has enough room for the tea leaves to expand. It has a lid to keep the tea hot when steeping, and this lid doubles as a saucer -- very convenient for keeping the strainer sanitary if you plan to reuse the leaves. It is easy to scoop tea leaves in and to dump/rinse them out afterwards, all while touching only the handle (seems better than a tea ball to me).

Cons: It is not as pretty as a teapot.

I haven't experienced any of the manufacturing defects that others have mentioned; my strainer has always felt sturdy and well-made. I use it multiple times a day and prefer it even to my beautiful Japanese teapot.
Comment on this review
I've never ever had a problem with this and I've had it for years. It fits every cup I own. I usually rinse my tea out into the garbage disposal, though, so maybe that's why I've never had an issue with the welding. I take it with me everywhere I go.
Comment on this review
This tea strainer is a great idea, but the attachment of the handles is poor. We've used this less than 10 times and one of the handles broke off at the weld. I wish I had read the reviews before buying this. There are others out there that aren't quite as nice in design, but at least they don't break. Save your money and shop around for something else.
Comment on this review
The weld on the handle broke off ours too. The fine mesh of the strainer is great but by the amount of "con" comments on here the welding is the problem. If Teavana finds a way to improve the welds, this would be a great product.
Comment on this review
I picked this strainer above the others because of its compactness, but the welding is very fragile. It was a great strainer while it lasted--only 4 uses for me and it fell off just while empty the strainer over the trash. Fix the welding issue and it would be great! I was warned by the staff when I bought it; perhaps it should be pulled until the issue is fixed to prevent returns.
Comment on this review
I really liked this for a few weeks, then the handle broke off. I am a light tea drinker and used this less than 15 times total. Dont buy this!
Comment on this review
My infuser handle broke off as well. When I tried to contact Teavana via email (there is no store in my area), I got zero response. For the expensive price of this item, there should be some sort of warranty or replacement. There should at the very least, be a warning insert in the box that says not to bang the used tea on the side of the trash can when cleaning it out. Don't waste your money on this!
Comment on this review
The longer handle snapped off when I first took it out of the box, before I even put any tea in it. I wasn't rough with it at all, it must be very poorly made.
Comment on this review
This is a great little infuser. I was having trouble with some of my teas leaking through some other infusers I have. This totally solves the problem. When used as directed, (no tapping or shoving the lid on) it doesn't get better. I have also put the infuser in a baggie in the fridge and saved my tea for later. Works perfect for a second and sometimes 3rd brew. I don't know what I would do without this infuser. I can't imagine how I got along before.
Comment on this review