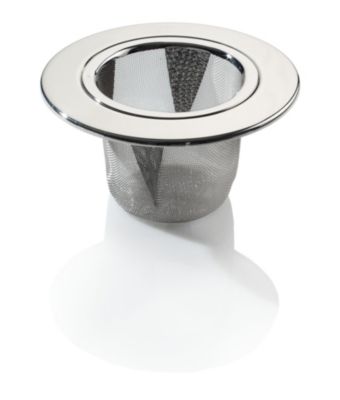 Stainless Steel Mesh Tea Strainer
Product Rating
Description
Our stainless steel strainer is great for making a cup of tea at a time. Just sit in your favorite tea cup, add tea leaves and pour hot water into the cup. Once the tea is done steeping you can remove the strainer and enjoy your cup of tea! Easy to use and simply rinse out the leaves and put it in the dishwasher after use. Made of stainless steel. Top rim diameter is 3.75 inches with a 1/2 inch rim to fit on the top of your teacup. Height of 2 inches.


SALE! Save 30 % $6.97
Availability:
In Stock
Product Reviews
Reviewer Profile:
Tea enthusiast (4)
I am so glad I bought this item. It's simple to use and very handy. I usually make single mug of tea and needed a infuser that hold more than 1 teaspoon of tea. I like that the tea can 'swim' and become a beautiful fragrant cup of serenity.
Comment on this review
Works really well for filtering tea, and keeps out all but the very finest sediment. However, I've had this for a year and noticed that the basket started to rust about a month or two ago. I'm going to have to either get a new one, or find a different product that will not rust.
Comment on this review
Durable
Easy to clean
Easy to use
I bought other tea makers from Teavana and other stores and they all left sediment in the bottom of my cup, or broke. I bought this a few months back and it works great. I now own two - one for work and another for home. I just love this strainer.
Comment on this review
I got this strainer because the holes in my two infuser mugs were too big for mate tea. I simple put this in and it keeps almost all the particles out. I gave it four stars instead of five because I feel it's a bit overpriced.
Comment on this review
This little strainer is deep enough to turn any 16-24 ounce teapot into a "bee house" pot. The fine mesh keeps out all but the smallest particles. It also fits perfectly in mugs of all sizes. When steeping tea in a mug, I use a small saucer from my cupboard as a lid. I only have two right of these strainers now, but want to order a few more so that when my friends and I have "tea-tastings" I can use several of my small teapots at once. The only reason I rated it a 4 instead of 5 is because the metal gets a little hot to handle when removing from the teapot, but I solved that by using a small towel. (I also own a "cool touch strainer," but it's too deep and big for many of my smaller teapots.) I love this mesh strainer!
Comment on this review