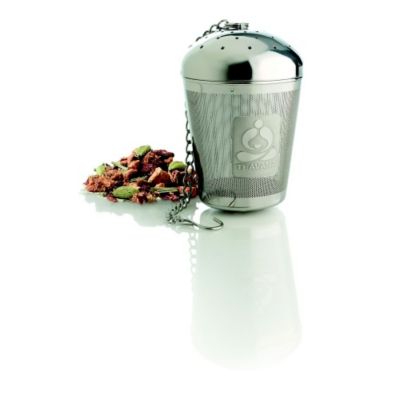 Perfect Tea Ball
Product Rating
Description
Finally, a perfect tea ball that makes it easy to enjoy a delicious cup of tea. Made of stainless steel for durability, this tea ball features many tiny holes to keep even the smallest teas out of your cup while allowing the flavor to drift out. And it has enough room for the tea leaves to fully unfurl, which is important for great tea. Simply add your favorite tea and twist the top on. You can use the hook to hang onto the edge of your favorite tea pot.
$12.95
Availability:
In Stock
Product Reviews
High quality (9)
Convenient (8)
Easy to clean (4)
Easy to use (3)
Anytime (15)
Evening (4)
Gifts (4)
Afternoon (3)
Morning (3)
Tea Body:
Full (3), Medium (3)

Reviewer Profile:
Tea enthusiast (23), Health conscious (14), High-end shopper (6), Health nut (5), Occasional tea drinker (3)
I drink at least 4 cups of tea each day and I ordered 2 of these strainers. I lost one so I came back to order another one -- I keep one at home and one at work. I love it and have had only one problem with it. The little chain broke on both of my strainers so I have to fish the strainer out of my cup every time I use it. Now that I am down to just one I find myself wishing I had another one because I love it so much...hence my visit today.
Comment on this review
Convenient
Easy to clean
High Quality
I was hesitant to purchase based on reviews, so I went to the store to see how large the holes are and tested opening/closing. Now that I've used it a few times, I'm so glad I bought it!

No issues with leaves floating out, even when fully submerged or on it's side (even with finer leaf tea). Easy to open and close, just ensure the lid is placed where the grooves are. I like that the lid fits securely and doesn't come apart on its own.

The only potential negative is that it's large, but I prefer large mugs so it's perfect. Good size for small tea pots, as well.
Comment on this review
I had no problem using this product yeah there was a couple tea particles that got out but it was the dust of the tea itself so, it's bound to happen other than that awesome product! and easy to clean.
Comment on this review
Does Not Work As Advertis
I bought this a few weeks ago at a Teavana store. I wanted to be able to make a single cup of tea at work. I put a tsp of my Teavana Chai tea in the teaball and added water to my mug. Almost immediately small tea leaves were swirling around in my mug... Even though the packaging claims this won't happen. I have a tea infuser made by a different company and don't have a problem when I make this same tea. I guess I will try to return this and try something else.
Comment on this review
Convenient
Easy to clean
Good Size
High Quality
I found this tea ball great for making tea with, it gets the job done and is very easy to clean. I also like how it is bigger than normal tea balls so the leaves have room to expand and that it is sturdier than mesh tea balls.

I never had problems with tea leaves floating out of the tiny holes in the top (holes the size of those in a salt shaker), or stuck in any hidden cracks in the bottom. Traditional tea balls have had the same holes for generations, so making teas in this one shouldn't be a problem.

I also never had any issues opening the tea ball. You do need to turn a bit before you open it because there are grooves to lock the lid into place.

Overall, I'm satisfied with my purchase, I do wish it would be a bit cheaper though.
Comment on this review
Aromatic
Convenient
Easy to use
High Quality
After Meals
Afternoon
Anytime
Dessert Tea
Evening
EVERYTHING
Gifts
Medicinal Purposes
Morning
Absolutely love this thing!!! Best idea someones had in a long time. When I was looking at reviews for different infusers and things I read a bunch of the reviews to see how people liked it, and saw a bunch of negative reviews highlighting two main complaints:
- Tea leaves come out of the larger holes in the top,and
- People can't get the lid off

............

I'll comment on these in order.

First, the tea leaf thing. Yes, the holes on the lid are quite a bit larger than the ones on the side (you can see that in the picture). However, this product is not designed to be fully submerged in your hot water. There is a chain connected to the lid with a little hook on the end (that DOES fit into the chain links) that you are supposed to use to secure your tea ball to the top of the water line. Keep the lid, with it's larger holes, above the water and you wont have a problem with even the finest teas.

Second, the lid. The lid is not hard to remove. You cannot see it in the picture, but on oppisite side of the lid are little indents near the rim. These slid into the grooves on the basket to lock the lid into place. You slide those notches straight down and then turn with the grooves to lock the lid so the basket doesn't fall off in the water. I don't know what people have been doing with these things, but as long as you close it properly it opens back up just fine.
I will admit, you do need to pull a tad to get the lid up and off. This is because the hot water causes the thin metal of the ball to expand and get tight to the lid. It will shrink back down and be loose again once it cools.

I honestly don't know why people find it so challenging. It works great and if you are partial to rock sugar in your tea there is plenty of room to toss that in the ball too so it can disolve while your tea brews.

Absolutely love it.
Tea Body:
Full
Tea Flavor:
Depends On The Tea
Comment on this review
I dunno what type of tea people are brewing, but for my purposes this tea infuser is the best one I've ever used. The holes on the body are very small, and even the ones on the lid are much too small for leaves to float out of the chamber. The volume allows my tea to expand. A perfect steep every time with this tea ball!
Comment on this review
I almost let the other reviews about the holes on top being too big persuade me from buying this product. I'm glad I ignored them. The holes are tiny. I don't know what kind of powdered tea these people are using but it must be very fine. I use this for your common loose leaf tea and it works great. It is pretty big so I wouldn't recommend it if you want to use it in small mugs.
Comment on this review
I agree with the other reviews that the size of the holes in the lid makes this product useless. All the tea leaves escape through there, ruining my tea. If they want to keep selling this, they really need to fix that.
And yes, it is also incredibly hard to open.
Comment on this review
Laser Cut Holes
Solid Steel Sides
Impervious Bottom
Joints
Non-laser Cut Holes
What I like about this tea ball are the laser cut holes that are truly microscopic. I also like the fact that they are on a wall of solid metal instead of cumbersome meshes. However, there are some major design flaws as others have pointed out. The biggest design flaw are the holes on the lid. They are about 10 times bigger than the laser cut ones, which somewhat defeats the purpose of the laser cut ones along the sides. The tea leaves just float to the top and escapes. The second design flaw is the fact that the bottom doesn't contain any holes for the flavour to go through the bottom. This necessitates bobbing the tea ball, which from the first flaw, causes tea leaves to escape.

Another flaw are the joints. The wrapping of the steel may cause leaves to get trapped. I haven't encountered this problem just yet, but I expect it to happen through prolonged usage.

I have had no problems getting the lid on and off as others pointed out. Perhaps the fitting varies on each unit.

I have recently quit coffee and decided to start drinking tea, which is healthier, more economical, and has more variety.

I have used the tea ball daily since September 1, 2014 and I'm continuing to use it daily.
Comment on this review