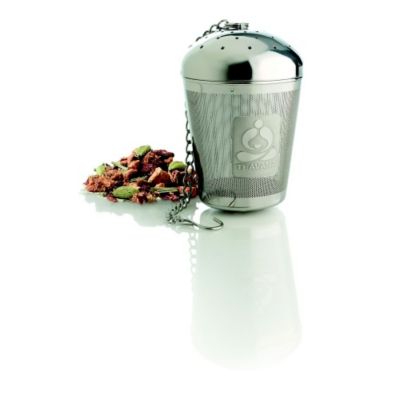 Perfect Tea Ball
Product Rating
Description
Finally, a perfect tea ball that makes it easy to enjoy a delicious cup of tea. Made of stainless steel for durability, this tea ball features many tiny holes to keep even the smallest teas out of your cup while allowing the flavor to drift out. And it has enough room for the tea leaves to fully unfurl, which is important for great tea. Simply add your favorite tea and twist the top on. You can use the hook to hang onto the edge of your favorite tea pot.


$12.95
Availability:
In Stock
Product Reviews
High quality (5)
Convenient (3)
Anytime (10)
Evening (3)
Gifts (3)
Reviewer Profile:
Tea enthusiast (21), Health conscious (11), Health nut (5), High-end shopper (5)
I dunno what type of tea people are brewing, but for my purposes this tea infuser is the best one I've ever used. The holes on the body are very small, and even the ones on the lid are much too small for leaves to float out of the chamber. The volume allows my tea to expand. A perfect steep every time with this tea ball!
Comment on this review
I almost let the other reviews about the holes on top being too big persuade me from buying this product. I'm glad I ignored them. The holes are tiny. I don't know what kind of powdered tea these people are using but it must be very fine. I use this for your common loose leaf tea and it works great. It is pretty big so I wouldn't recommend it if you want to use it in small mugs.
Comment on this review
I agree with the other reviews that the size of the holes in the lid makes this product useless. All the tea leaves escape through there, ruining my tea. If they want to keep selling this, they really need to fix that.
And yes, it is also incredibly hard to open.
Comment on this review
Laser Cut Holes
Solid Steel Sides
Impervious Bottom
Joints
Non-laser Cut Holes
What I like about this tea ball are the laser cut holes that are truly microscopic. I also like the fact that they are on a wall of solid metal instead of cumbersome meshes. However, there are some major design flaws as others have pointed out. The biggest design flaw are the holes on the lid. They are about 10 times bigger than the laser cut ones, which somewhat defeats the purpose of the laser cut ones along the sides. The tea leaves just float to the top and escapes. The second design flaw is the fact that the bottom doesn't contain any holes for the flavour to go through the bottom. This necessitates bobbing the tea ball, which from the first flaw, causes tea leaves to escape.

Another flaw are the joints. The wrapping of the steel may cause leaves to get trapped. I haven't encountered this problem just yet, but I expect it to happen through prolonged usage.

I have had no problems getting the lid on and off as others pointed out. Perhaps the fitting varies on each unit.

I have recently quit coffee and decided to start drinking tea, which is healthier, more economical, and has more variety.

I have used the tea ball daily since September 1, 2014 and I'm continuing to use it daily.
Comment on this review
Fresh
High Quality
Soothing
I bought this today because a friend recommended it to me. I used it to brew tea for me and my boyfriend. The tea turned out very well and was very delicious. Unfortunately, I cannot open up the Teaball to empty out the leaves and clean it. No matter what I try, it refuses to open. I feel like I'll never get another use out of it, and I'm frustrated that I bought something that I feel like I'll have to pitch because it's not convenient to open. (I've been trying for fifteen straight minutes and still no luck.) I can't recommend this to a friend because I don't want them to stress out about not being able to open something they were told would be good for their tea experience.
Comment on this review
I purchased this because it was advertised as having laser cut holes to hold in tea particles, but some idiot decided to bore holes in the lid that are roughly 10x the size of the laser-drilled holes on the sides. Rooibos leaves simply float out the top of the lid unless you brew only half a cup at a time. What a waste of money!!!
Comment on this review
I am an avid tea drinker and absolutely love Teavana. They're teas are amazing and I use a number of products I've purchased their. I bought this to use at work because it wasn't convenient for me to use an infuser pitcher or anything bulky like that. I have no good place to wash it at work and it's cumbersom to travel with. I've used a lot of different tea infusers over the years and this one is absolutely terrible. The holes at the top leak leaf particles like crazy, it's too bulky, and worst of all...the lid is soooo hard to get off! I have had to ask co-workers to help me because the lid sticks and you can't twist it to pull it back off after using. Sometimes we get it off only to have wet tea fly all over our desks. I'm shopping for a new infuser ball right away!
Comment on this review
All of these tea balls were defective in the store, and the design itself has major flaws. Every single one I took out the box had a slit along the bottom where the metal wraps around the bottom piece, large enough to allow a Dragonwell leaf to slide through and get stuck. Hard to see unless you hold it up to a light. Also, there's a large opening at the top that holds the chain that can allow floating bits to come out. Overall bad design flaws and cheap defects ruin what could have been a "real" perfect tea ball. I'll check the store again in a year to see if they worked out these kinks.
Comment on this review
I was given one of these as a Christmas gift a few years ago, and have found the perfect use for this nifty tea ball for my own uses.
I brew sun tea at least once a week in a gallon-sized clear carafe. The neck of the carafe is just wide enough to rest the tea ball without it sinking to the bottom, and the top of the tea ball is at the top of the water level.
This way, I can brew excellent sun tea using this tea ball and my favorite loose leaf teas. Because of my unique use of the tea ball, I don't experience any of the smaller tea particles drifting out of the air holes at the top of the tea ball.
The best way to use this thing is to perch it so the air holes are near the top level of your water. It's usually tall enough to fit inside a whole mug (unless you use jumbo mugs!)
The chain is perfect for wrapping around the mug's handle if you have to keep it floating. Same with bigger tea pots.
Don't swish it around or let it tip onto its side, that will cause the unwanted tea particles to come out.
And so what if tea particles end up in your tea? If you let them settle, they shouldn't bother you until you get to the bottom of your cup. Try doing some tea leaf readings from them maybe!

I've used both fine mate and loose tea leaves in this tea ball, and have never had much trouble! The people giving this a one star rating are being dramatic. This is my favorite tea ball and would highly reccomend it!
Comment on this review
Convenient
Fits In Other Tumblers
High Quality
Practical
I bought the perfect tea ball infuser when I lost the infuser of one of my tumblers and when i did not found another one like it.
It fits which is great.
Also i have had other infusers, always too small to actually let the tea leaves and fruits expand.
I also love the fact that i can make more than 1 cup at once with it.
Comment on this review