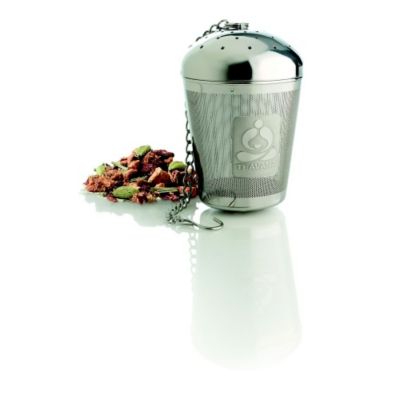 Perfect Tea Ball
Product Rating
Description
Finally, a perfect tea ball that makes it easy to enjoy a delicious cup of tea. Made of stainless steel for durability, this tea ball features many tiny holes to keep even the smallest teas out of your cup while allowing the flavor to drift out. And it has enough room for the tea leaves to fully unfurl, which is important for great tea. Simply add your favorite tea and twist the top on. You can use the hook to hang onto the edge of your favorite tea pot.


$12.95
Availability:
In Stock
Product Reviews
High quality (5)
Convenient (3)
Anytime (8)
Evening (3)
Gifts (3)
Reviewer Profile:
Tea enthusiast (19), Health conscious (10), Health nut (5), High-end shopper (5)
Most Liked Positive Review
Can't go wrong
I had the old version that was Swiss gold and plastic. It was great at keeping sediments out of my cup of tea. Until I killed it in the garbage disposal. Oops. They...Read complete review
I had the old version that was Swiss gold and plastic. It was great at keeping sediments out of my cup of tea. Until I killed it in the garbage disposal. Oops. They have since replaced that model with this all silver model. I was cautious at first because I didn't know if the mesh would be fine enough or the cap would be tight enough. Thankfully it is. I use this at work. I get a cup of hot water from the dispenser, drop the tea into the ball and the ball into the water. The chain makes it easy to retrieve. I pull the ball out and place it on a plate. After I've finished my cup (usually hours later) I resteep the wet tea in the tea ball. I drink black and mate, so they can take it. I leave it to dry overnight, tap out the old leaves, rinse it out and do it again the next day. I add sugar after pulling out the ball because I'm afraid sugar and honey will gunk up the holes. I admit I don't always remember to clean up my cup immediately. For that I like the stainless steel because it seems more sanitary than plastic. Esp for the health conscious afraid of heat and plastic being mixed in food. The container is roomy about 1.5" at bottom, about 2" at top and a little less than 3" tall. The botoom also has three nubby feet to help it stand upright on the plate. I think the 13 bucks is well worth it and I couldn't find it any cheaper. Works for me! Perhaps in the future, not so good for my garbage disposal though...
Most Liked Negative Review
Do not like
I received this as a gift for my birthday. At the time I was thrilled to get this because it looked fantastic. When I made my first cup with it (black coco mint)...Read complete review
I received this as a gift for my birthday. At the time I was thrilled to get this because it looked fantastic. When I made my first cup with it (black coco mint) there was quite a bit at the bottom of the cup by the time it was done steeping. My second cup (samurai mate) was the same story. My third cup (tranquil dream) let out more than ever before. While I drank the cup of tea I got mouthfuls of the tea. It was very unpleasant. For the money that this costs, I think it is downright stupid. A friend of mine has a tea steeper from the dollar store that doesn't do this. I will be storing this in my pantry and never using it. Such a shame.
Fresh
High Quality
Soothing
I bought this today because a friend recommended it to me. I used it to brew tea for me and my boyfriend. The tea turned out very well and was very delicious. Unfortunately, I cannot open up the Teaball to empty out the leaves and clean it. No matter what I try, it refuses to open. I feel like I'll never get another use out of it, and I'm frustrated that I bought something that I feel like I'll have to pitch because it's not convenient to open. (I've been trying for fifteen straight minutes and still no luck.) I can't recommend this to a friend because I don't want them to stress out about not being able to open something they were told would be good for their tea experience.
Comment on this review
I purchased this because it was advertised as having laser cut holes to hold in tea particles, but some idiot decided to bore holes in the lid that are roughly 10x the size of the laser-drilled holes on the sides. Rooibos leaves simply float out the top of the lid unless you brew only half a cup at a time. What a waste of money!!!
Comment on this review
I am an avid tea drinker and absolutely love Teavana. They're teas are amazing and I use a number of products I've purchased their. I bought this to use at work because it wasn't convenient for me to use an infuser pitcher or anything bulky like that. I have no good place to wash it at work and it's cumbersom to travel with. I've used a lot of different tea infusers over the years and this one is absolutely terrible. The holes at the top leak leaf particles like crazy, it's too bulky, and worst of all...the lid is soooo hard to get off! I have had to ask co-workers to help me because the lid sticks and you can't twist it to pull it back off after using. Sometimes we get it off only to have wet tea fly all over our desks. I'm shopping for a new infuser ball right away!
Comment on this review
All of these tea balls were defective in the store, and the design itself has major flaws. Every single one I took out the box had a slit along the bottom where the metal wraps around the bottom piece, large enough to allow a Dragonwell leaf to slide through and get stuck. Hard to see unless you hold it up to a light. Also, there's a large opening at the top that holds the chain that can allow floating bits to come out. Overall bad design flaws and cheap defects ruin what could have been a "real" perfect tea ball. I'll check the store again in a year to see if they worked out these kinks.
Comment on this review
I was given one of these as a Christmas gift a few years ago, and have found the perfect use for this nifty tea ball for my own uses.
I brew sun tea at least once a week in a gallon-sized clear carafe. The neck of the carafe is just wide enough to rest the tea ball without it sinking to the bottom, and the top of the tea ball is at the top of the water level.
This way, I can brew excellent sun tea using this tea ball and my favorite loose leaf teas. Because of my unique use of the tea ball, I don't experience any of the smaller tea particles drifting out of the air holes at the top of the tea ball.
The best way to use this thing is to perch it so the air holes are near the top level of your water. It's usually tall enough to fit inside a whole mug (unless you use jumbo mugs!)
The chain is perfect for wrapping around the mug's handle if you have to keep it floating. Same with bigger tea pots.
Don't swish it around or let it tip onto its side, that will cause the unwanted tea particles to come out.
And so what if tea particles end up in your tea? If you let them settle, they shouldn't bother you until you get to the bottom of your cup. Try doing some tea leaf readings from them maybe!

I've used both fine mate and loose tea leaves in this tea ball, and have never had much trouble! The people giving this a one star rating are being dramatic. This is my favorite tea ball and would highly reccomend it!
Comment on this review
Convenient
Fits In Other Tumblers
High Quality
Practical
I bought the perfect tea ball infuser when I lost the infuser of one of my tumblers and when i did not found another one like it.
It fits which is great.
Also i have had other infusers, always too small to actually let the tea leaves and fruits expand.
I also love the fact that i can make more than 1 cup at once with it.
Comment on this review
I bought this tea infuser a few weeks ago because it looked like it would be easier to clean than my current mesh strainer. The holes are fairly small so, to me, it doesn't steep as fully as other steepers. The bottom doesn't have any holes, so it normally doesn't drip a lot when you remove it from water, but because of that, I feel like small particulates don't steep into the water. The strainer is easier to clean because leaves don't get caught in the mesh, which is great. The main negative thing about it is the lid. The lid is very hard to open once it's closed. The infuser doesn't drip much but when you are trying to open the lid, believe me, it will. Today, it took me quite a while to get it to open, and that's what made me write this review.
Comment on this review
I actually own Teavana's Perfect Teamaker and it is my go-to way of making my tea, however since coming to college and living in a community style bathroom, it would make it difficult to pour the leaves out into the sinks without annoying my hall mates. I decided to purchase this ball strainer for convenience purposes, but I have been disappointed thus far. Not only do the leaves of my tea slip through the holes at the top of the lid, the tea takes a while to actually seep through and make the water flavorful. Also, since the entire product is made of metal, it gets extremely hot. It is a pain in the butt when the chain accidentally falls in the cup of hot tea and you have to get it out somehow. If only there was some way to make this product a little more convenient than it is.
Comment on this review
Easy to clean
Keeps Tea In
Stainless Steel
Well Built
Great tea ball. Sturdy, easy to open, large enough for cup, mug, or pot. I use at least twice daily. The holes on the top are to allow the air to escape. Unless you grind your tea into powder this is the tea ball to use. I have no idea why some one would criticize for the small holes on top. They are not large and let it sink fast. It is not advertized as a ball for finely ground powder. It is the best tea ball I could find anywhere. I have three. JD
Comment on this review
As a first time tea drinker I asked for brewing advice from the store clerk. She was very friendly and helped me find everything, including the teaball.

The ultra fine perforations do not allow a lot of water flow but, they do contain the fine tea leaves. Unfortunately the construction of the teaball creates large holes on the top and bottom of the teaball where the filter sheet joins the frame allowing even large pieces to leave the teaball.

The lid of the teaball also contains larger holes than the filter sheet. It does not fit that well and can be difficult to close and open.
Comment on this review