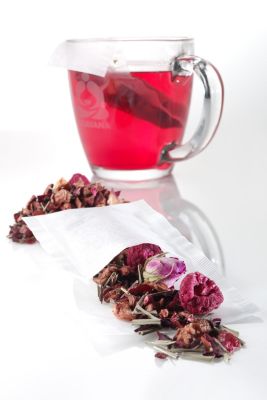 Perfect Paper Tea Filters
Product Rating
Description
These paper tea filters are perfect for creating tea bags from loose leaf teas. This size makes normal tea bags for a cup of tea. Includes 100 tea bags made with abaca pulp (a strong fiber procured from the stalk of a specific banana tree), cellulose, and sealing fibers. They are bleached with oxygen and are biodegradable.

We make sure that they are designed as purely as possible so that the taste of your tea is not affected by the bags. This is the only way we recommend tea bags!


$4.99
Availability:
In Stock
Product Reviews
Convenient (10)
Easy to use (4)
High quality (3)
Reviewer Profile:
Tea enthusiast (13), Health conscious (4), High-end shopper (3), Occasional tea drinker (3)
No Instructions
Not User Friendly
I had to play with a bit but I think I figured out how they are meant to work.

You place the tea inside one of the two pockets at the bottom of the bag.

You fold the other half upward toward the opening.

This keeps the tea in place as I believe this is heat sealing material.

You can use the long part of the bag to dip or remove the bag by leaving it on the rim of your mug.

Hopefully this will help those of you who were confused.
Comment on this review
Anytime
Gifts
Medicinal Purposes
I grow my own herbs and make all sorts of herbal tinctures, teas, balms & other concoctions and these little gems allow me to share my home brews with friends. It would be easier if I didn't have to staple close with a string and tag but I can deal with it.
Tea Body:
Full
Tea Flavor:
Citrusy, Fruity, Herbal Medicinal, Malty, Spicy, Vegetal
Comment on this review
For those who can't figure out how to close them, simply fold it over a couple times and staple it. I make a bunch at one time.
Comment on this review
I received this as a gift and I have to say that it is one of my favorite tea product. It was a bit confusing on how to "close" the bag after you put in loose tea leaves because the box say it's self sealing but I was like "how?". I personally think it is okay if you just let the bag drop in hot water but I was a bit paranoid and folded the flap in the bag. I never had any tea come out so I believe either way would work.
Comment on this review
to keep tea from spilling into water i tuck the flap inside like an envelope and fold down and staple. hope this helps.
Comment on this review
I found that it is perfect for coffee. I make a 14oz cup by using these filters.
Comment on this review
These bags gave me a way to enjoy my loose leaf tea one cup at a time without messing with infusers. The one downside is lack of instructions for how to close them. Hanging the flap over the side of the cup seems to be working though. I have to hold it while I pour the water, but after that it stays and steeps wonderfully.
Comment on this review
Love how fine the filter is for almost powdered tea. Like the end of the bag/tin. Tall so i can stick it in most cups without it falling in. Sadly it dose not have a string or clasp to keep it closed with it or in store. You have to get it online. Or use one hanging around the house. I pack it up in a travl tin with tea in it for work so I do not have to risk damaging my good filters. Love it!
Comment on this review
These tea bags are great. I have used them before and am glad that Teavana offers them. I keep some at home and at work and pre-make bags for trips which I just keep in a ziplock.

As for all the people who have asked about closing the bags for use and portability, I know this will horrify some tea purists, but at work, I just fold the bag over and then fold again and staple it shut with the stapler on my desk. Another option is to take a chopstick, pencil, toothpick or something and poke it through the bag, at least a half inch from the top and rest the stick across your mug, with the bag creating a sort of hanging basket for your tea. Hope that helps.
Comment on this review
These paper filters are very convenient to use and less messier than than other tea containers. Some commercial tea bags contain harmful epichlorohydrin but this product claims to be completely natural and bio degradeable.
Comment on this review