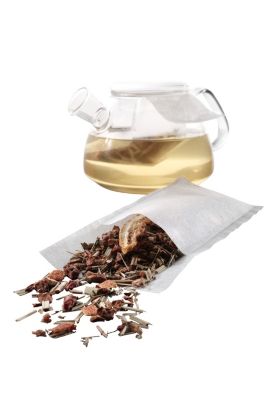 Perfect Paper Filters for Teapots
$5.99
Product Rating
Description
Large paper filters. One hundred filters per package. Our paper tea filters are made with abaca pulp (a strong fiber procured from the stalk of a specific banana tree), cellulose, and sealing fibers, and they are bleached with oxygen and are biodegradable.


Product Reviews
These tea bags are perfect for breawing tea anytime and anywhere. I have found that using a staple to close the opening keeps the tea within and makes traveling with my tea very easy.
Comment on this review
These tea bags are great. So easy to use and take to work. I don't have to drag my perfect tea maker to work to have my favorite teas.

However, the thing I don't like about the product is the bags soak up water from the cup so the piece that you hang over the side of the cup causes the water to leak down the side of my cup. I've left my tea sitting for a few minutes to steep and when I come back my cup is alway sitting in a puddle of water. It's very frustrating. It would be nicer if they had bags that closed up and had a string attached like normal tea bags to prevent the leaks.
Comment on this review
These tea bags are awesome. They are convenient to use and very strong. I love my tea, and hated having to try to carry a strainer or teaball around and not damage it as I lead an active life. These make it all possible to take on the go several types of teas to suit my taste.
Comment on this review