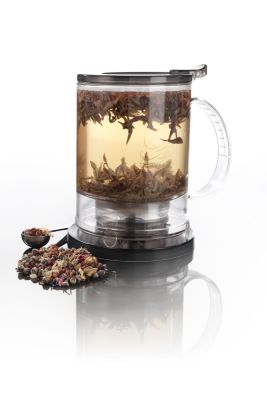 Large Perfectea Tea Maker II
Product Rating
Description

32oz

The PerfecTea® Maker II brews the perfect cup of tea! Our tea maker steeps tea quickly and drains out of the bottom straining the used leaves. It features:
Removable stainless steel tea strainer for easy cleaning
Automatic shut off valve
BPA free construction
$29.95
Availability:
In Stock
Product Reviews
Convenient (7)
Easy to use (6)
High quality (5)
Easy to clean (3)
Reviewer Profile:
Tea enthusiast (18), Health conscious (5)
I drink about 8 or more cups of tea a day so this, you would seem, would come in handy. I received this as a gift for Christmas.
Although it does its basic job, brews tea nicely, the design is not quite right. The bottom plate that dispenses the tea malfunctions, spilling the hot water everywhere, hardly allowing the proper steep time when this occurs, and to top this all off I only had this device for only 3 months and the flip top broke off because of the cheap plastic construction.
So in summation this does it's basic job however is not durable enough to last for a long period of time.
I think I'll go back to using a French Coffee Press, that I have being using for years as this works just as well if not better.
Comment on this review
I loved my old version but it was time for an upgrade. Unfortunately but the bottom of the newer one constantly sticks in "open" mode. The only way to stop the flow is pulling at inner sections on the bottom but you have to do that while it's pouring hot water onto your hand. I got the big maker because it allowed me to fill more than one cup with one brew but without an automatic cut off I'm just putting trails of tea across the counter.
Comment on this review
Aromatic
Energizing
High Quality
Soothing
Received this item as a Christmas gift. The bottom section, through which tea is dispensed into a cup, has a tendency to stick resulting in spillage. As a result of this, I have had to put this item aside in favor of a stainless steel ball used to contain loose tea. If not for this flawed design, it would be ideal for its intended use.
Tea Flavor:
Citrusy, Fruity, Spicy
Comment on this review
It Breaks
It leaks
Not So Cool To Clean
I love teavana and its products, and at first I loved this because it looked so cute.
But the fact is that is not so practical. First it leaks a bit.
I had a hard time cleaning it, and never actually cleaned it good until i figured how to separate its parts... but doing that broke it, not visually but when putting it all together again it did not worked and just leaked instead of holding my tea.
My best advice is to buy a tumbler or a tea ball infuser.
Comment on this review
I have used my perfect tea maker less than a dozen times and tonight I decided I would make the full container for today and tomorrow morning. I put the sugar rocks, tea and hot water in. As I waited I washed another glass. I turn back around and it's leaking like Niagara Falls! So I only have one glass of tea and a fully wasted glass! Not happy with this product at all and I regret not keeping the receipt! Is there any way I could get my money back without the receipt?!
Comment on this review
Big Enough To Fill My Cup
Easy to use
Makes Great Tea
I use it many times a day. Makes awesome tea easy. It is just hard to clean the filter with the model I have.
Comment on this review
I bought this for my husband a couple weeks ago. Previously he had a little teapot with the built in infuser. It was a nice idea, but in the end it was just fiddly to use and to clean. We were shown this at our local store and thought it was great. He makes a cup in the morning and stores it in the fridge and is able to use the tea leaves again the next morning. It is sooooo easy to clean, which I love! I'm so glad we bought it!
Comment on this review
Awkward Handle
Easy To Lose Filter
Removable Filter
I have owned several of the Perfect Tea Makers and replace them when they finally start leaking from the bottom. This new model is not nearly as good as the old one. The main problem is the removable filter. I did not find that it sealed very well and I had leaks. Also, I did not realize that it was removable at first because the old one was attached. After making my tea every morning, I tap the upturned pitcher lightly against the trash can to dump the used tea leaves and within the first month the filter was missing making the entire pitcher unusable.
Comment on this review
Convenient
Easy to use
High Quality
This tea-maker is WONDERFUL. I use it every day, and it couldn't be easier - add leaves, add water, steep, set atop mug. I love having the larger size, since I can brew enough to fill a thermos.

After three months of daily use, I haven't had any of the problems other reviewers have reported with the base, and it's so much better than a tea ball or other products - no tea leaves can seep through into the cup, and there's no chance of anything coming apart. The clear plastic lets you see how much the tea has steeped, and cleanup afterwards is tremendously easy.

Overall, a fantastic investment (and I strongly recommend getting this one over the smaller size; for the small difference in price, why not have the option to brew a larger cup of tea?)
Comment on this review
I purchased this Tea Maker after much research. I am unable to lift a normal Teapot to pour tea from, and find this unit perfect fit for my needs. Simply rest on tea cup and I have a perfect cup of tea. Very, very happy with this purchase. Why the four stars..., I drink my tea slow presently (I still struggle to lift a tea cup) and find the tea cools before my next refill, but, with time this will not be an issue. :)
Comment on this review