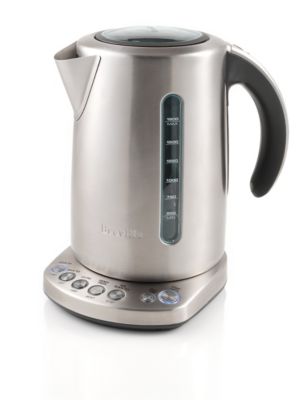 Breville Variable Temperature Kettle
Product Rating
Description
This handsome electric tea kettle has a unique internal gear-dampening system which controls the lid's opening and safely staggers the release of steam. But the best feature is the preset temperatures for each type of tea: 175 for green teas, 185 for white teas, 195 for Oolong teas and 212 for black or herbal teas. It keeps your water at that temperature for 20 minutes in case you decide on a second steeping of your favorite tea. Brushed stainless steel body with transparent lid and TPE soft-touch handle. 1.8 liter capacity. Automatic shut off and boil dry protection.


$129.95
Availability:
Out of Stock
Product Reviews
Reviewer Profile:
Tea enthusiast (7), Health conscious (3)
I've had this tea kettle for about three years. It was great at first, best one I ever bought. Yes, the plastic and rubber parts are of some concern, but this uses fewer of them than a lot of other models. The temperature ranges provided allowed me to get a perfect cup of tea every time. My main complaint is that after three years, the temperature gage is completely off. I understand that things break over time, but the reason for this malfunction is completely silly and, I believe avoidable. The lid has become loose over the years and is now raised slightly by the team. So the water has to be a lot more hot in order for the sensor to shut off, since all of the steam is escaping. Can't there be latch on this or something? Very frustrating. A seemingly fine product now has to be thrown away and replaced because it keeps burning my tea. Maybe this won't be a problem for you, if you use this occasionally, but my family will collectively go through 5-7 cups of tea a day.
Comment on this review
There is a small piece of plastic on the kettle beneath the handle. It is secured by two small screws penetrating the kettle wall. After some use, the interior heat caused the screws to separate from the plastic, creating a hole. Not 21st Century design!
Comment on this review
Base Stays Warm When Off
Plastic Parts Contain Bpa
I love the design and ease of use and the price is fair. After purchase, I discovered that the plastic lid and water gauges on the sides contain BPA. I found it unusual that when you designate anything but 212 degrees, the water heats, it shuts off and then comes back on until it reaches the correct temp. The base remains warm even though it is turned off. This necessitates unplugging the base when it is not in use. I expect better from Breville.
Comment on this review
I use the Breville Variable Temperature Kettle anytime I want to heat water to the right temp. for brewing my tea choice. It will even maintain the correct temp for you
Comment on this review
Convenient
Easy to clean
Fast
High Quality
Stylish
I bought this kettle due to the "choose the temperature" feature which I realized I couldn't live without once I began to get serious about my tea. I am SO glad I did, this kettle is amazing! It is 100% as described: the stylish exterior looks good in my kitchen and the stainless steel is easy to wipe clean. The lid raises itself slowly with the push of a button (really cool feature!). There is nothing to complain about, this is the real deal. It was worth every penny!
Comment on this review
While a little pricey for a pot just to heat water, I'm happy with how it works. My wife and I like very different teas, we just set the temperature for the coolest temp first, pour off to steep, set for the next temp and hit go - easy as that.
Holds plenty of volume for both of us to make plenty of tea. Good purchase.
Comment on this review
My boyfriend got me this for Christmas and it's wonderful so far, I'm loving it! Works great from everything from a single cup for myself, a pot for both of us, and even for heating up water to make the kids hot chocolate!

A few things I've noticed: Watch the preset temp settings. I've compared them to Teavana's printed temps and the Brewville temps are 5-10 degrees higher than Teavana's recommended. When deciding which one to select, I'd go off the printed temp and not by the tea that's listed above it. Also, reading the manual, it says that the actual temp may be +/- 10 degrees. I've not checked this, but since I drink mostly herbals, I'm not too worried about it!

Another review stated that the kettle turns off once you remove it from the base, and it does. But as fast as the water heats up, it wouldn't take long to bring back to temp if you need more water!
Comment on this review
My husband has his perfect coffee maker....and now I have my perfect tea maker. I LOVE all types of tea. I use tea as a little escape through out the day. This wonderful kettle allows me to do so at the drop of a hat....and have a perfect cup regardless of the kind of tea I am longing for! The preset settings allow for me to spend less time worrying about the water temp and more time enjoying my cup of heaven! Thank you Breville!
Comment on this review
I've had this kettle for a couple of years. It works great with the Teavana Perfect Teamaker. I especially like the 20 minute 'hold temp' button. It's easy to clean too.
Comment on this review
I purchased this over a year ago from another vendor and have been very pleased with its performance. I was looking for something with a lower price point that some of the other options here at Teavana at the time. It heats to a fairly accurate degree and will hold that temp until you remove the kettle from the base. I love that I can simply push the desired tea type (white, green, black, ect.) and walk away to start my morning knowing that the kettle will be ready when I am. There are a few things that keep me from giving this 5 stars. Once you remove the kettle from the base it will no longer hold the temp and the outside of the kettle gets very hot which with little ones this can be a hazard. Finally, to get 5 stars I would like to be able to brew in the same container. However, it looks like Breville has another product that would address two of these issues if you don't mind a higher price point.
Comment on this review