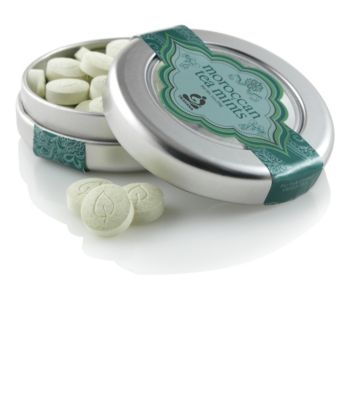 Moroccan Mint Tea Breath Mints
Product Rating
Description
These delicious Moroccan breath mints are blended with Matcha tea, are sugar- free and combine peppermint and spearmint oils to freshen your breath naturally. Exclusive to Teavana. Vegan

Ingredients: Sorbitol, Xylitol, Green tea extract, Matcha green teapowder, Organic peppermint oil, Organic spearmint oil, Natural flavors, Lo HanGuo (Natural sweetness), Calcium Stearate (Vegetable).
Serving Size: 3 mints(2.5g)
Servings per container: Approx. 14
Amount per serving:
Calories5
Total Fat 0g (0% DV)
Sodium 0mg (0% DV)
Total carbohydrate 2g (1%DV)
Protein 0g
Not a significant source of calories from fat, saturatedfat, trans fat, cholesterol, dietary fiber, sugars, Vitamin A, Vitamin C,calcium or iron. Percent Daily Values (DV) based on a 2,000 calorie diet.
$3.95
Availability:
In Stock
Product Reviews
This product is good but eh pretty average. I barely taste any tea but I suppose they are good mints. I probably would buy this product again.
Comment on this review
Energizing
Fresh
High Quality
Soothing
These mints are absolutely wonderful. My friend first forced me to try these and I was reluctant, but as soon as I'd had one, she couldn't keep them away from me! I just recieved my order of three tins of this and plan on ordering more when my supply runs out. The taste is very unique in a very good way. Just the right amount of mint and matcha in a perfect combination. Perfect for when you're on the go and dont have time to brew a cup of tea, I would definitely reccomend this to anyone considering purchasing it. It has a good strong taste to it.
Comment on this review
Convenient
Unique Flavor Profile
I like these--a lot. Actually more than I expected. At first they are very "matcha" tasting, but as you get used to having them in your mouth they turn more "minty". I like the fact that they are good for you and that you can get the benefits of a cup of green tea by having 3 of them. Great for the car when one has a "tea" attack and cannot "brew". I'm ordering more today...
Comment on this review