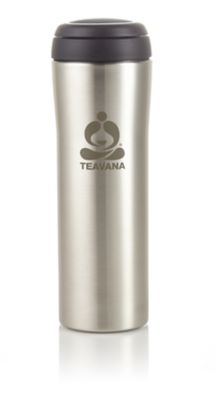 Teavana Stainless Steel Insulated Tumbler
$27.95
Product Rating
Description
Tea-on-the-go is easy and stylish with our Teavana Stainless Steel Tumbler. Includes a removable tea basket so you can steep your tea anywhere; and the double-walled, vacuum-insulated tea tumbler will keep your favorite blend hot or cold for up to six hours. Just steep your tea and then remove the tea basket once done! Makes 14oz of tea. Rubber base for stability. Hand wash. Not for use in a microwave. Comes in a beautiful Teavana gift box.


Product Reviews
Convenient (24)
High quality (18)
Easy to use (8)
Fresh (6)
Doesn't leak (4)
Anytime (38)
Gifts (12)
Morning (10)
Afternoon (6)
Evening (5)
Tea Body:
Medium (7), Full (6)

Tea Flavor:
Fruity (5), Spicy (4), Citrusy (3)

Reviewer Profile:
Tea enthusiast (41), Health conscious (16), High-end shopper (9), Occasional tea drinker (6), Health nut (4)
Most Liked Positive Review
Amazingly well insulated
My wife purchased this product for me. I used to be a coffee drinker, but the caffeine caused me to have the jitters. So, to get something with flavor at work, she suggested...Read complete review
My wife purchased this product for me. I used to be a coffee drinker, but the caffeine caused me to have the jitters. So, to get something with flavor at work, she suggested tea. This tumbler has far exceeded my expectations. The strainer works well. There are a few narrow twigs from the Rooibos Peach Bloom I am drinking now that escape. The extra plastic on the bottom makes it very rigid which is helpful for me.

I was amazed the first day when I closed up the container after brewing my tea, and forgot about it for an hour or so, and the tea was still too hot to drink! I wind up brewing, then taking the outer lid off for about 30 - 45 minutes. Then the tea is a comfortable drinking temperature. I then seal the tumbler, and it stays that temperature for hours. Two cups of tea last me the entire day.

I have occasionally wound up with drips down my shirt. That is normally because I have gotten the lid on cross threaded. There was also a loose wire from the strainer that i poked my finger on. It looked like it was a single wire that stuck out of the mold when the plastic was formed.

Still a 5* tumbler.
Most Liked Negative Review
It works TOO good!
I bought this travel mug as I needed something a bit more durable, considering I broke my glass travel mug. I made my tea at 8:30am, it's now almost noon & my...Read complete review
I bought this travel mug as I needed something a bit more durable, considering I broke my glass travel mug. I made my tea at 8:30am, it's now almost noon & my tea is still boiling hot! So hot, that I actually needed to remove both the lid & plastic drinking ring & place it near my chilly office window to let it cool down. Works great, just a little too great!
After Meals
Anytime
Dessert Tea
Evening
Morning
I have had this tumbler for about 8 months now and it is still in good shape!!! The tea is always steaming hot, therefore the lid doesn't lose suction. It is very convenient and easy to clean. I just wish they had a bigger version of this tumbler.
Comment on this review
This tea thermos works great for about a month- and then the open-shut function wears out and it no longer closes. The poor plastic construction inevitably wears out the internal closing mechanism, and then the only way to open and shut it is by unscrewing the top, defeating the purpose of this thermos.

If you ARE foolish enough to buy this, keep your receipt handy so you can return it for a new one in 4 weeks.
Comment on this review
After Meals
Afternoon
Anytime
Evening
Morning
I get plenty of use out of this tumbler by brewing some tea in it every night before bed, keeping it on my bedside table, and then drinking some warm tea first thing in the morning. If I heat the tumbler up with hot water before actually making the tea, it's still warm when I wake up 8 hours later, although not as STEAMING hot as it was (which is just as well, since you're going to burn your mouth if you try drinking it like that, believe me).

I also use it a lot around the house when I'm brewing myself some tea, because I can distribute the sweetness from any added sugar by shaking the leak-resistant tumbler around. Very convenient.

That said, I bought this tumbler hoping to always have tea with me on the go, but it only carries enough for 2 small china cups, or just a little over 1 mug. This is good for waking me up in the morning before getting out of bed, or possibly even for packing a lunch for work or a picnic, but honestly not worth the effort if I'm out running errands or sharing my tea with someone else. My trusty 25 oz. glass water bottle is much better for keeping me hydrated.

In short, the product is good quality and has its uses, but would be much better and more versatile if it actually held more tea.
Comment on this review
I bought this tumbler and used it just how the salesman at Teavana taught me. I put hot water in the tumbler and let it sit with my tea inside for a short amount of time. When I took the lid off, the pressure from the hot water caused boiling water to spill over and burnt me extremely bad. At this point I don't trust the tumbler.
Comment on this review
I actually bought this tumbler for my mom for Christmas and I'm loving it as much as she is! The product itself is extremely sleek and comfortable to hold. The outside is never hot to the touch, even if the tea inside is boiling. After I brew the tea and let it steep for a few minutes in the tumbler, I take the strainer out so I won't get any bits of the loose tea in my mouth when I drink it. My favorite thing is that it actually stays hot-almost for longer than you want it to! I left it in the freezing car for a coupe hours and when I came back, it was still hot. This is amazing, and I can't wait to have one for myself to take to college next year!
Tea Flavor:
Citrusy, Fruity, Herbal
Comment on this review
I received this tumbler as a Christmas present. My tea stayed hot/warm for over 6 hours in a 30-35 degree garage where I was working. The only knock on it is that it should be able to hold 2 full cups ( min. 16oz.) instead if its 14oz size. Other than that it is the best I have found to keep my tea hot. I brewed my tea, then put it into the tumbler instead of using the attached basket. I can see the usefullness of the basket for brewing, but would not leave it intact while drinking, as the steeping would be excessive, and messy as leaf pieces would come thru the top while trying to drink from it. As a device for keeping drinks hot, it can't be beat!
Comment on this review
This is a great tumbler. I love the removable basket. I have one for work and one for home. It's easy to use and my tea stays hot way longer than other tumblers I have tried.
Comment on this review
Convenient
Fresh
Smooth Body
Versatile
I've been bragging about this tumbler to all my friends. When it was on sale I wish I had bought more as Christmas gifts. I've tried many different travel mugs and they don't keep my tea hot. I start early, around 6am, so the tea has to stay hot all morning. I take it with me into the cold Canadian weather and I have to sip it because sometimes it is too hot. I only use tea in the tumbler because it will pick up coffee flavours. The little basket is convenient. I fill it with tea and lower it into the hot water and wait. Pouring water into the tea basket makes the leaves lift and they come out where I drink and I don't much like that. Picking leaves off my lip isn't nice. It's stainless steel and I've already dropped it and it has a dint; which is fine because now I can tell the difference between mine and my daughter's. Even when I dropped it it didn't spill. It's coming with me when I go to trade shows so I can enjoy hot tea without paying the huge prices at those venues.
Comment on this review
This is a great mug. I found that it was a little too awesome at keeping my tea burning hot - but not I don't boil my water, I just heat it up to the right(isn) temperature and am ready to go! I also experienced some of the loose leaf tea seeping through the lid when I put it in the basket, so now I put my tea underneath the basket. I'm the kind of person who drinks team all day and resteeps the leaves.
It's the best mug I've ever had. What a great (random) pick up!
Tea Body:
Medium
Tea Flavor:
Citrusy, Fruity, Minty, Spicy
Comment on this review
Doesn't Burn Your Hand
Doesn't leak
Does Not Burn Your Hand
Does Not Leak
Keeps tea hot
Doesn't Hold Much Tea
Does Not Hold Much
Only Good For One Type
This keeps tea hot for long periods of time and does not hurt your hand. In addition, it doesn't leak. It's super durable and helpful. But, it makes every tea taste the same. Last month, I made a chai tea in it, and, despite numerous attempts at removing the flavor, every tea I put into it including black teas taste like chai. So, it's kind of ruined because I tried to use more than one type of tea with it. In addition, it only holds 14 ounces. Why not 16? It would be so nice to be able to carry around 2 cups in it.
Tea Body:
Full
Tea Flavor:
The Same Each Time
Comment on this review