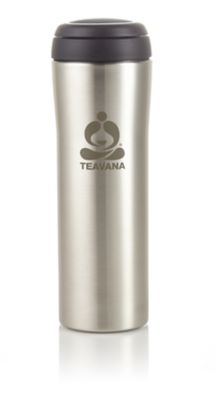 Teavana Stainless Steel Insulated Tumbler
$27.95
Product Rating
Description
Tea-on-the-go is easy and stylish with our Teavana Stainless Steel Tumbler. Includes a removable tea basket so you can steep your tea anywhere; and the double-walled, vacuum-insulated tea tumbler will keep your favorite blend hot or cold for up to six hours. Just steep your tea and then remove the tea basket once done! Makes 14oz of tea. Rubber base for stability. Hand wash. Not for use in a microwave. Comes in a beautiful Teavana gift box.


Availability:
Currently Out of Stock
Product Reviews
Convenient (31)
High quality (26)
Easy to use (8)
Fresh (7)
Smooth body (7)
Anytime (47)
Gifts (13)
Morning (13)
Afternoon (8)
Evening (7)
Tea Body:
Medium (10), Full (6)

Tea Flavor:
Fruity (5), Spicy (5), Citrusy (4)

Reviewer Profile:
Tea enthusiast (56), Health conscious (19), High-end shopper (14), Occasional tea drinker (9), Health nut (4)
Most Liked Positive Review
Amazingly well insulated
My wife purchased this product for me. I used to be a coffee drinker, but the caffeine caused me to have the jitters. So, to get something with flavor at work, she...Read complete review
My wife purchased this product for me. I used to be a coffee drinker, but the caffeine caused me to have the jitters. So, to get something with flavor at work, she suggested tea. This tumbler has far exceeded my expectations. The strainer works well. There are a few narrow twigs from the Rooibos Peach Bloom I am drinking now that escape. The extra plastic on the bottom makes it very rigid which is helpful for me.

I was amazed the first day when I closed up the container after brewing my tea, and forgot about it for an hour or so, and the tea was still too hot to drink! I wind up brewing, then taking the outer lid off for about 30 - 45 minutes. Then the tea is a comfortable drinking temperature. I then seal the tumbler, and it stays that temperature for hours. Two cups of tea last me the entire day.

I have occasionally wound up with drips down my shirt. That is normally because I have gotten the lid on cross threaded. There was also a loose wire from the strainer that i poked my finger on. It looked like it was a single wire that stuck out of the mold when the plastic was formed.

Still a 5* tumbler.
Most Liked Negative Review
Keeps tea warm, but way too small!
I get plenty of use out of this tumbler by brewing some tea in it every night before bed, keeping it on my bedside table, and then drinking some warm tea first thing in...Read complete review
I get plenty of use out of this tumbler by brewing some tea in it every night before bed, keeping it on my bedside table, and then drinking some warm tea first thing in the morning. If I heat the tumbler up with hot water before actually making the tea, it's still warm when I wake up 8 hours later, although not as STEAMING hot as it was (which is just as well, since you're going to burn your mouth if you try drinking it like that, believe me).

I also use it a lot around the house when I'm brewing myself some tea, because I can distribute the sweetness from any added sugar by shaking the leak-resistant tumbler around. Very convenient.

That said, I bought this tumbler hoping to always have tea with me on the go, but it only carries enough for 2 small china cups, or just a little over 1 mug. This is good for waking me up in the morning before getting out of bed, or possibly even for packing a lunch for work or a picnic, but honestly not worth the effort if I'm out running errands or sharing my tea with someone else. My trusty 25 oz. glass water bottle is much better for keeping me hydrated.

In short, the product is good quality and has its uses, but would be much better and more versatile if it actually held more tea.
This cup worked well until I shook the top to get the water out of it, and the mechanism fell apart. I read the instructions on how to re-assemble the item, but I still can't get it back together.
Comment on this review
I purchased this tumbler a few months ago. I think it works great. You just fill it with water, put your tea in the basket, attach it to the lid, then set it in the cup to steep and remove the leaves when you are done. One thing to note is not to fill it up too full or the water will spill out when you put the basket in. When I am done steeping, I usually put the bakset with the leaves in a little container in the fridge so I can steep it again later. The only problem I had was that recently one of the little tabs broke off that hold the basket onto the lid. When I lifted the lid to remove the leaves, the basket came off and fell into the cup and was a bit of a pain to get back out again. I contacted customer service to see if I could get a replacement basket (if they could send me one or I could purchase one) and they sent me an entirely new tumbler. Great customer service. The only suggestion I have is that they should sell replacement baskets as a separate item.
Comment on this review
The spring-loaded lid needs an engineering degree to reassemble. The picture was lost in the Christmas wrapping. Great design, if I can get it back together.
Tea Body:
Medium
Tea Flavor:
Citrusy, Spicy
Comment on this review
Love the tumbler that came with my set for Christmas from my son and daughter-in-law. However, just one problem. To take the basket off you sometimes have to do it quickly. I do wish the basket was like the one I got for Ice Tea from Teavanna. That basket has a handle and is easy to remove. I traveling in a couple of weeks and I think the basket will be a problem to remove and then find a place to dispose of the wet product. Guess I'll take a couple of extra Ziploc bags to put it in.
Comment on this review
Convenient
High Quality
Smooth Body
Small
Tea Fits Through Sipper
I use the tumbler to brew tea at work. I keep tea in the office and was looking for a convenient way to brew away from home. This tumbler is great for that.

However, if you put the tea in the strainer like it's designed, you'll have tea all over the sipper. It's a tumbler and designed to be carried around causing the water to push the leaves up and out of the strainer.

I like tea. I don't like chewing on tea leaves.
Comment on this review
I was really excited to receive this tumbler. I thought I could make tea on the way to work as this tumbler sat in my cup holder. Alas, I have to steep it at home and empty the basket because bits of tea get in my mouth. Despite this, I really like the quality of it. It keeps my tea VERY hot and is useful for coffee as well. But, I prefer my larger travel coffee mug for coffee since I need a larger amount of it. This is pretty small at 14 oz. But I suppose I could easily make more tea at work with the handy basket.

Bottom line, I enjoy the quality of this tumbler, but I wish I didn't have to empty the basket and that it was larger.
Comment on this review
Aromatic
Convenient
Energizing
Fresh
High Quality
Smooth Body
Soothing
Unique Flavor Profile
After Meals
Afternoon
Anytime
Dessert Tea
Evening
Gifts
Morning
I have never owned a tumbler that kept my beverage (tea or coffee) hot for longer than an hour or so. I was amazed after four hours, and then to my surprise after six hours, still piping hot! Plan to order more for gift giving! Highly recommend!
Comment on this review
Convenient
High Quality
Travel
Small
Tea Fits Through Sipping
Afternoon
Anytime
Dog Park
Evening
Morning
Sipping
Walking
I like this tumbler a lot. I have a couple of the glass ones that were recalled and this was the choice to replace them. I wanted to see what the replacement tumbler was. I just had to purchase this tumbler. I realized after talking to the associate that I hadn't let go of the display after 10 minutes looking around the store and chatting about tea in the down time. She told me of the contour tumber also was an option which held more tea. I will also have to say the associate was really nice and answered every question I had and can help multiple customers at the same time.

14 oz. is enough for a few hours at the dog park or a stroll around the neighborhood. The tea stays hot for hours and cool to the touch, so good if you want to sip and enjoy little moments. I like the basket is attached so no sticking my fingers to fish out a basket or even a button to push where I drink out of. As I said earlier I go to a dog park, so pressing the button would be an issue so I got this size. Just a quick twist and sip. Very well designed.

I should bring my other tumblers in, but do I really need more than one tumbeler? Who am I kidding I do. I may just ask for one for Christmas. I have already stored the glass ones somewhere.

Easy to clean just twist off top and twist off the basket. I personally like to handwash my items and air dry.

Only issue is that if it is in a bag keep it upright, sometimes the tea can filter out where you sip and you are stuck eating tea leaves or spitting them out. Only if the tumber goes on it's side or upside down. So I can't rate it lower for human error. Has not happened while drinking yet.

This product is not for the tea drinker who likes to drink fast.
Comment on this review
This is hands-down, the best travel tumbler I've ever had. The biggest selling point for me was that it does NOT leak, at all. When I'm on the go I like to be able to just toss my tumbler in my bag and go. I've never had a problem with it spilling out on to my things. On top of that, my tea stays hot for hours!

The only thing I'm not crazy about is when I fill it with water, the tea in the infuser basket overflows into the top mouthpiece part. It's not that big a deal because I steep and remove the basket and clean up before I leave the house but it's difficult when you're in a rush. I'd like to see a screen of some sort to prevent this from happening.
Comment on this review
High Quality
Well insulated
I bought this tumbler by accident as I was trying to replace the contour tumbler that was stolen from me. It's insulated well enough and seems of good quality but the tea basket is far beneath the contour tumbler. When I try to pour the tea out the leaves clog up the holes and I get a little trickle. When I then try to take the basket off I burn my hands unscrewing it. Never had this problem with the contour one. Also, no one handed operation here in opening the lid: More of a thermos than a tumbler. I'll probably buy the other one and retired this.
Comment on this review