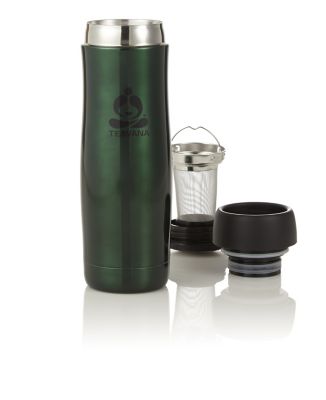 Teavana Contour Tumbler
$32.95
Product Rating
Description
Tea-on-the-go is easy and stylish with our Teavana Tumbler. Includes a removable tea basket so you can steep your tea anywhere; and the double-walled, vacuum-insulated tea tumbler will keep your favorite blend hot or cold for up to six hours. Just steep your tea and then remove the tea basket once done! Holds 16oz (470mL) of tea.


Product Reviews
Convenient (38)
High quality (23)
Keeps tea hot (6)
Smooth body (6)
Fresh (4)
Anytime (56)
Gifts (10)
Morning (10)
Afternoon (4)
Evening (3)
Tea Body:
Medium (15), Full (6)

Tea Flavor:
Fruity (11), Spicy (8), Citrusy (7)

Reviewer Profile:
Tea enthusiast (71), Health conscious (26), High-end shopper (21), Occasional tea drinker (12), Health nut (6)
Most Liked Positive Review
Love It!
I loved my 12 oz. tumbler but this one is so much more improved. The mesh strainer is finer so nothing sneaks through. It definitely stays hot for hours. And the 16 oz....Read complete review
I loved my 12 oz. tumbler but this one is so much more improved. The mesh strainer is finer so nothing sneaks through. It definitely stays hot for hours. And the 16 oz. is so much better than 12. Love the pop-down top because when driving you don't have to look and make sure you have the opening lined up with your lips. Good job on this one!
Most Liked Negative Review
Do not buy!!!
Ok. As is, it's a GREAT product.

But considering it's already broke less then a month of owning it? It's too expensive for that. Way too expensive. I don't have t...Read complete review
Ok. As is, it's a GREAT product.

But considering it's already broke less then a month of owning it? It's too expensive for that. Way too expensive. I don't have the receipt because it was working as expected. I was trying to clean it, and the instructions didn't make sense on how to take apart the open/close screw in top. So I researched. I saw a video online on how to do it. The first time I cleaned it, it was simple and it all worked fine. When I cleaned it a second time, the bottom panel you press on broke of completely. No way to reattach it. Unless I want to use glue....mmmmmm glue flavored tea.

And btw: Don't bother calling Teavana. The two times I called *well before offices closed, I assure you* to complain about the quality of this product, the phone just rang and rang and rang.

So I am now left with a broken yet expensive cup, and nothing to do about it but leave this review.
Reviewed by 123 customers
Aromatic
Convenient
Energizing
Fresh
High Quality
Smooth Body
Soothing
I purchased this product right before christmas and was Thirlled with it. Less then a month later the lid broke some how and now it wont seal in the tea. I have read alot of the reviews on here and 99% of the cons on it state that the lids broke. Shame cause it really was fun I wont be buying a new one.
Tea Body:
Medium
Tea Flavor:
Citrusy
Comment on this review
I couldn't believe how long my tea stayed warm or if I put it in ice it stayed cold for a minimum of 6 hours. I forgot my tumbler at home and when I got back from work it still had a couple of cubes in it.
Comment on this review
POOR Quality
Poor Structure
I LOVED THIS TRAVEL MUG! I got it about a year and a half ago and used it every day. It kept my tea hot all day. It is super fragile and easy to break, but it keeps the tea sealed in well.

I recently purchased a new one to replace it. I used it the last three days. My new travel mug does not keep it hot for even an hour! I am SO disappointed that I will be returning this item. It went from being my favorite tea mug, even using it at home, to the worst, most expensive mug I have. No longer worth the price. I either got a faulty one or they changed the design. Either way I am very unhappy.
Comment on this review
This tumbler is great for keeping your tea hot for several hours. It started to break down after two weeks of use. The lid broke. Too expensive if it does not last longer than a month.
Comment on this review
I read the comments regarding this travel tumbler, and had some concerns. I spoke to a sales associate before purchasing my tumbler. Sure enough, about a week into use the pop-top failed. The tumbler was still leak-proof, and definitely kept things hot - but it was inconvenient. A couple of weeks later I was in the neighborhood, and I went back to the store where I had purchased the tumbler, explanied the situation, and they happily exchanged the tumbler for me. No, I didn't have my receipt. A different sales associate assisted me this time, and showed me a couple of tricks for cleaning and maintaining my tumbler - I'm a happy camper again, able to take my beverage with me whereever I go. I look forward to purchasing a second tumbler to keep at work. Great product, great customer service.
Comment on this review
This very attractive product keeps my tea hot for an amazingly long time. It doesn't look like it would be easy to drink from, but it is. And if it falls over, it won't leak.
Comment on this review
Great Investment
High Quality
Hot Tea For Hours
This tumbler is AWESOME! The first one I bought was defective, and my Teavana store took it back without any problem what-so-ever. So seeing is believing. I knew something had to be wrong with the first one since all of the reviews were excellent...and the my new tumbler has proved just that! I made tea at 620am, and I am still drinking HOT tea right now at 10am. My tea is not warm; it's HOT. In fact, it's too hot for me to really even drink within the first hour. I keep saying that I may never drink out of a mug again because I now have hot tea for hours on end. I'm excited that I can make tea while I'm getting my kids ready for school and not waste it because I don't finish it or need to keep putting it in the microwave. I'm also excited that I can make tea before I leave for school at night, drive the hour+ to get there and still have hot tea for the 3 hours of class. Yea! :) This tumbler is well worth the $32 investment.

Others have commented about white teas becoming bitter because the water stays so hot. I haven't steeped a white tea in here yet, but I can see where that is a possibility. A friend of mine also has one of these and mentioned that she steeps her white teas for less time because of the water temp. In fact, she has two tumblers...one for her white teas and another for her green teas.

The ONLY reason I gave this a 4 is because I do feel the basket is too small, and if you want to blend teas (which = more tea in the basket) or put a little too much water in, it overflows and you will get tea leaves in your tea which is kinda nasty. Otherwise, this the best!
Comment on this review
I purchases this thermos / tumbler as a treat for myself - starting a new job, using transit, wanting a cup that didn't spill. Well, it does all of that - tea (or coffee) stay hot all day. Can't fault that. BUT, and it's a big one, the pop-top didn't even last a week. It still stays sealed, but won't open. So it still works as a thermos, but not a drinking cup. Very disappointing. I was considering purchasing another, but VERY reluctant now. Just too darned expensive for the quality.
Comment on this review
After Meals
Afternoon
Anytime
Dessert Tea
Evening
Gifts
Morning
The contour tumbler is a gift from the tea gods and us mere mortals should be thankful that they have generously decided to bestow this amazing creation upon us!This product is absolutely what a tea enthusiast on the go needs to easily enjoy quality tea wherever their day takes them. I have found this product to be extremely helpful in the workplace. Transporting hot water from a coffee station in a paper cup is like trying carry a piece of the sun in your hands. The contour tumbler does not feel the least bit warm on the outside, but don't judge a tumbler by its cover, because the contents inside are kept at the same temp as if you just poured it out of the hot water spout.

I decided to put this product to the test last night and it passed with flying colors. I made hot tea and then left it in my car for over three hours on a cold February night in Jersey. It was 20 degrees outside last night and when I popped open that tumbler the tea was still hot. Not warm---hot!

The contour tumbler does everything as described by Teavana and you now have a customer for life!
Comment on this review
This is a good tumbler that keeps tea warm for a long time. LOVE IT!- I have not had any problems witht he lid like others describe, however I feel it needs some grip strips so it does not slide of my hands (with mittens) so easily!!! the bottom needs to be re-inforced as well since it has bent rather easily. Other than that to me it would be the perfect tumbler!
Comment on this review