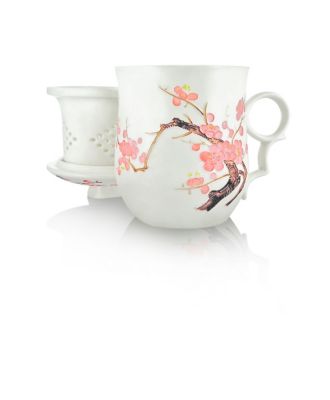 Okura Ume Blossom Infuser Tea Mug
Product Rating
Description
The Ume blossom is a beloved symbol of hope in Asian art. When there is still snow on the ground, the Ume blossom first blooms signifying the coming Spring. This exquisite porcelain mug has a finer, more luminescent glaze. And the hand-painted, etched surface brings rare quality to your tea cup. This 10oz tea mug includes a matching infuser and lid. Top rack dishwasher safe.


$17.95
Availability:
Out of Stock
Product Reviews
Reviewer Profile:
Tea enthusiast (8), High-end shopper (3)
After admiring this at the store, a friend bought this for me as a Christmas gift. It is absolutely beautiful. However, as several reviewers have mentioned, the holes are too big for small-leaf teas. Also, the handle is too long and does not allow the cup to sit flat in the saucer and it wobbles.
Comment on this review
It's not pink flowers like pictured. The flowers are orange.
Comment on this review
Great For Small Hands
Stylish
I LOVE this cup. The handle fits my small hands perfectly and it's so pretty. Till I broke it this morning. Yep, dropped it on the floor of the kitchen. Shattered into about 11 pieces. Very sad. I ordered another one right afterwards. That should tell you how much I love it. The con with it is that the infuser holes ARE too big, but I always use a coffee filter in all my infusers just because it's easy cleanup.

BTW: Brought mine in my luggage from America to Germany. THAT MUCH.
Tea Body:
Medium
Tea Flavor:
Fruity
Comment on this review
Convient
Fits Into Hands
Pretty
I was so excited when this arrived in the mail. The handle fits into your hand perfectly and the painting looks stunning, absolutely gorgeous; however, like the other reviews say the blossoms are more like a coral than a pink and the holes in the infuser are just a tad bit too big. None the less, I love it so much.
Comment on this review
Convenient
High Quality
Pretty
My significant other has one of Teavana's other infuser mugs that he uses for drinking tea at work. I've been using a regular mug with single-use pouches for my tea leaves at work, but I'm just about out of those and wanted to switch to something reusable. There's a Teavana store near my office, so I picked this mug up yesterday.

It's great! I scoop most of the tea leaves out of the strainer to take home and compost when they've been steeped a few times, and then the rest rinse out quickly in the office sink. This is much easier than cleaning a metal mesh infuser. Yes, a few little bits of leaves get through into the bottom of the mug, but they're small enough and few enough not to be a problem (though this may depend on the quality of tea you use).
Comment on this review
Convenient
Fresh
High Quality
Soothing
Infuser Holes Are Big
Leaves Get Through
Afternoon
Anytime
Evening
Morning
I got this mug so when I travel I can still have tea without dragging my whole teapot set along with me. The holes need to be a bit smaller so the leaves don't fall through but since I have a strainer I use it in the mug and it helps! Over all a great mug! Mine is more red then a pink.
Comment on this review
I bought this cup because I am a college student, but I love some of the teas that they offer at teavana, and I also have a thing for mugs. Well, this cup is definitely beautiful, although the picture on the website is not accurate. The flowers are ORANGE, not pink. It is a very fragile cup. I always feel like I'm going to break it, but that's because of the multiple parts. That is not why I gave this cup a 3 out of 5. I gave this cup a 3, because the infuser is horrible! It lets quite a few tea leaves through. And by "quite a few" I mean a lot. It is so beautiful, so I don't know if I want to take it back, but I definitely need something with smaller holes.
Comment on this review
As several other reviewers have commented, this piece does have a few flaws. The flowers are more red than pictured and the holes are a little too large for finer teas such as rooibos.

That said, it is one of my favorite pieces. It is an awesomely beautiful piece. The individual parts are so well designed. The strainer fits perfectly into the cup, then sits daintily into the overturned lid while you drink. I don't worry about it tipping over, it is very steady. The sculpted finger rest is unique while still keeping comfortable. It's wonderful when you don't want to make a whole pot of tea, and will accommodate if one cup turns into several.
Comment on this review
The pictures on my computer show a distinctly pink color on the cup. I ordered two and both were orange. It looks nice but I wanted the pink to match my Sakura Allure mug and cannister set.
Comment on this review
Infuser holes are too big
I do love this little cup. It comes with the cup, saucer, infuser insert and lid. And it's very pretty. However, like a previous reviewer mentioned, the holes in the infuser part are much too big, and the little tea leaves always manage to escape. I wind up losing the last sip of tea because I don't want a mouthful of tiny leaves. Also, the photo shows the blossoms as being very pink, while in fact they are a darker, reddish-coral color. I was hoping it'd be more pink like the photo, but I don't love it any less.
Comment on this review