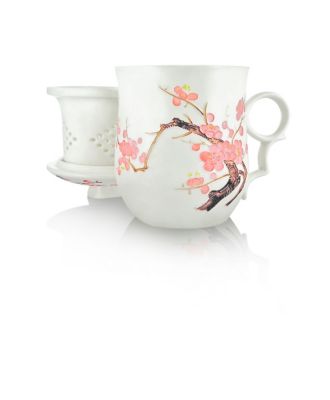 Okura Ume Blossom Infuser Tea Mug
$17.95
Product Rating
Description
The Ume blossom is a beloved symbol of hope in Asian art. When there is still snow on the ground, the Ume blossom first blooms signifying the coming Spring. This exquisite porcelain mug has a finer, more luminescent glaze. And the hand-painted, etched surface brings rare quality to your tea cup. This 10oz tea mug includes a matching infuser and lid. Top rack dishwasher safe.


Product Reviews
Reviewer Profile:
Tea enthusiast (3)
The pictures on my computer show a distinctly pink color on the cup. I ordered two and both were orange. It looks nice but I wanted the pink to match my Sakura Allure mug and cannister set.
Comment on this review
Infuser holes are too big
I do love this little cup. It comes with the cup, saucer, infuser insert and lid. And it's very pretty. However, like a previous reviewer mentioned, the holes in the infuser part are much too big, and the little tea leaves always manage to escape. I wind up losing the last sip of tea because I don't want a mouthful of tiny leaves. Also, the photo shows the blossoms as being very pink, while in fact they are a darker, reddish-coral color. I was hoping it'd be more pink like the photo, but I don't love it any less.
Comment on this review
My mother and I bought a pair of these cups the first time we went to Teavana to go with our first 2oz sample of Earl Grey Creme, and every time I use this cup I think of those fond memories. It's the perfect size for a soothing cup of tea, and I can usually get away with using 1-1 1/2 teaspoons of tea for this serving because it's not too much larger than 8oz so the extra water doesn't dilute the tea flavor too much. The cup itself is very gorgeous and I love the texture in the designs on the cup, lid, and saucer. My only problem with this cup is that the infuser's holes are waaaaay too big so unless I'm using a larger tea like Jasmine Dragon Pheonix Pearls, the little tea pieces go right through the holes and it's annoying, so I always end up using a stainless steel mesh infuser. So buy this cup because it's pretty and a great size, but make sure you get a better infuser so you don't drink tea leaves!
Comment on this review
The Ume cup is just beautiful! Very comfortable to hold and the porcelain strainer is very good for larger leaf teas. I find that I get a lot of leftover from the finer teas but the bell shape of the cup keeps me from drinking anything I shouldn't. Can't wait to add the peony cup to my collection!
Comment on this review
Been eyeballing this piece for awhile, and had to take it home! It's absolutely gorgeous! Highly recommended! If only the holes in the infuser were smaller...
Comment on this review