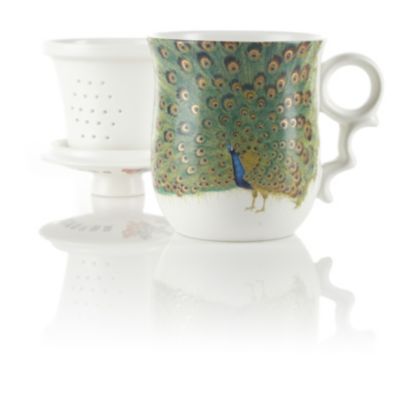 Grand Peacock Infuser Tea Mug
$19.95
Product Rating
Description
This beautiful porcelain mug reminds you of your hidden beauty with a peacock fully displaying his beautiful feathers. Four piece cup set includes cup, infuser and lid. It makes a wonderfully attractive way to enjoy tea anytime of the day (at home or work). Holds 10oz of tea. Top shelf dishwasher safe.


Product Reviews
I use this infuser mug at work, mostly; I kept the box to carry it in, and it's been fine so far. As for the size of the infuser's holes, I don't make a fuss about tea leaves seeping out-- it happens, I enjoy the tea. The double-duty lid/saucer is another convenient feature that allows me to have my tea and a clean workspace, hassle-free. The design is beautiful and the mug washes easily.
Comment on this review
I love this mug, the only problem is I noticed the gold is wearing off. I've had it about three weeks and only rinse in the sink. Disappointing as it looks older than it should.
Comment on this review
Durable
Easy to clean
High Quality
I absolutely love this cup and infuser. I ordered it online and was concerned it would be damaged with shipping. The cup arrived well packaged and in perfect condition. It has a delicate appearance but is actually quite durable bone china.
The infuser is perfect for loose leaf tea, has good drainage, and the holes are not too big or too small. It is also easy to clean which is a plus.
It comes with a lid that when turned upside down acts as a saucer for the infuser.
I love the artwork on this cup!
Comment on this review
I orders two different Mugs and each time I got it without the Saucer as it shows and says. So if you get one do not be surprise if you do not get the plate. I called Teavana few times and told them during past few weeks but they have not corrected the problem in the website. But they sent me replacements but no Saucer again.
Comment on this review
Bought this beautiful tea cup a year ago. Easy to use & prepare loose tea leaves in & makes tea to my exact liking.
Comment on this review
Its absolutely beautiful and wonderful to use. I use it at least twice a day for my tea. My only gripe is that the holes in the infuser are too big so some of the tea sneaks out and into the cup. When I'm drinking black tea its not that bad, only some comes out and for the most part the leaves fall to the bottom, but for other teas like the 'To Life' white tea or the Rooibos tea (because the leaves are smaller) a lot of them get out. It is a great cup otherwise!
Comment on this review