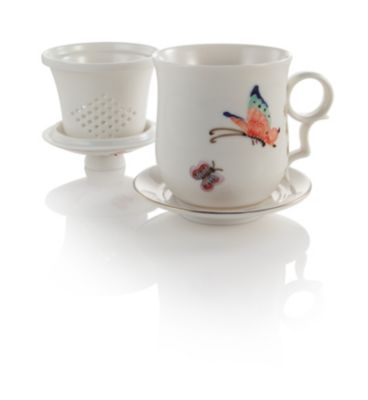 Flight of the Butterfly Porcelain Infuser Mug
Product Rating
Description
Simply beautiful, this attractive porcelain mug features playful butterflies flying on the cup and on the lid. Accented with gold Chinese characters and gold detailing on the rim, this is a wonderful tea cup! Also includes a porcelain infuser and lid, so you can steep tea right in the cup. Tea mug makes 10oz of tea. Top shelf dishwasher safe.
$17.95
Availability:
In Stock
Product Reviews
Reviewer Profile:
Tea enthusiast (5), High-end shopper (4), Health conscious (3)
This is the first infuser mug I purchase. Most of the time the Perfectea Maker is my maker of choice. However, I love butterflies and decided to purchase this infuser/mug. I was disappointed to find that the smaller tea particles tend to escape into my mug. This makes enjoying my tea a little more difficult. The quality of the mug and the butterfly design is excellent. Maybe next time Teavana can design the holes in the infuser a bit smaller in order to resolve this issue.
Comment on this review
Aromatic
Convenient
Fresh
Soothing
Loved my beautiful infuser mug and the teas I bought at the time. Staff in the store were very helpful.
Tea Body:
Medium
Tea Flavor:
Fruity
Comment on this review
I absolutely love this mug! It's my first tea mug as I've finally gotten around to regularly drinking tea and it's extremely pretty and nice to use! Though the infuser holes are a bit big and some leaves (I drink green tea) sometimes find their way to the bottom of the cup, it doesn't bother me at all. I use it whenever I'm home.
Comment on this review
I bought a very similar cup but different color, however I found the strainer has holes that are too big. Some of my tea ended up in the cup and an additional straining was needed. I am not happy with this part of the set.
Comment on this review
Convenient
Handy And Efficient
Lid Steeps The Tea
Anytime
Set Infuser On Saucer
Use Infuser For Tea Bag
I use the infuser to hold a stringless herbal tea bag, while sipping my tea I place infuser on saucer with tea bag to await a 2nd use.

Simply Superb!!!
Tea Flavor:
Any Flavored Tea In A Bag
Comment on this review
Aromatic
Fresh
High Quality
Smooth Body
Soothing
Unique Flavor Profile
Everyday I must have my cup at work. I use the tea bags from teavana and drink my favorite teas all day long. If I go to work without my cup I'm upset all day. If a peaceful cup to have on my stressful desk.
Tea Flavor:
Citrusy, Fruity, Malty, Spicy
Comment on this review
This is a very pretty, elegent tea cup. I love the butterfly designs. However, the holes in the infuser are quite large, and it allows a lot of tea to go through the infuser and end up in the cup of tea. I have a removable stainless steel tea strainer that came with a teapot that I also bought from teavana, so everytime I use this mug I just use that strainer instead and it seems to solve the problem for me. However, I would recommend one of their mugs with an infuser that has smaller holes
Comment on this review