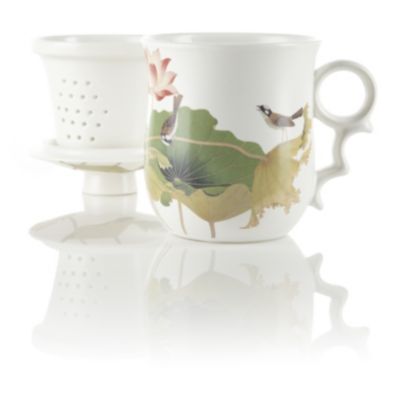 Bulbul and Lotus Infuser Mug
$19.95
Product Rating
Description
The Lotus and Bulbul bird are beautifully displayed on this porcelain infuser mug. In Eastern cultures, the Lotus symbolizes love, which makes this a great gift for those you love! Tea mug includes an infuser and lid which are also porcelain. And it has a comfortable, unique handle to add another great touch. Tea cup holds 10oz.


Product Reviews
The holes are too large, however dispite what others have said this is made of porcelain, not ceramic....big different.
Comment on this review
Strainer holes are too large. Cheap ceramic. Waste of money.
Comment on this review
I bought this with the idea I could enjoy my tea at work. The holes are too large without an additional strainer. Add to that the heavy strainer displaces so much water I have to fill the mug way lower than expected. Huge waste of money and time. Very disappointed in this mug as a work mug and do not recommend it for this purpose. That said, it would be fine for home use or to pour already prepared tea into.
Comment on this review
The ceramic is coarse, thick, heavy & not at all a pleasure to hold. The infuser doesn't rest firmly on the edge of the cup & some holes sealed are shut. So, the tea doesn't steep well & steam escapes. The cover wobbles on cup, so it doesn't fit the infuser nor the cup and the tea always gets cold before I finish my cup. The painting outside looks tacky, not at all like the picture on the site.
Comment on this review