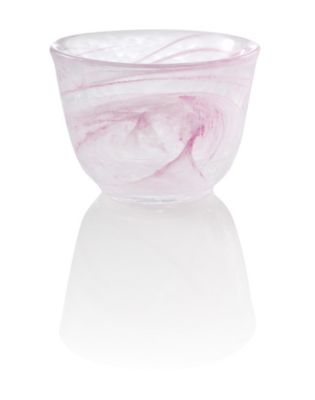 Swirl Glass Tea Cup
$10.95
Product Rating
Description
These exquisite Japanese glass cups are hand-blown by artisans for a unique final color swirl on each. They also have a nicely textured exterior, so the cup won't slip out of your hand. Each cup holds 4oz and is made with a thicker glass to keep them stronger than they look.


Availability:
Currently Out of Stock
Product Reviews
Reviewer Profile:
Tea enthusiast (3)
These lovely cups are very eye-catching with the unique swirls of color that remind me of drifting smoke. I was drawn to the lovely coloring of these cups, but what convinced me to purchase them was holding them in the store. These cups are thick enough that I am not afraid to allow my toddlers to use them (well-supervised of course!) when they want to feel special by getting to drink out of a cup like mommy uses. We have used these cups several times together and find the sense of ritual very calming and enjoyable.

Another reviewer noted that the cups easily become overly hot. I have to disagree with this, glass is a natural insulator and does not transmit heat well. They do get warmer than a double-walled thermos would, but my children and I have been able to use these without difficulty.
Comment on this review
I bought the cup in pink because the unique swirls in each one attracted me to the cup. Each one that I looked at literally was different, it's like buying a tie-die shirt. No two are the same. My only discomfort is that it's not like the brosilicate glass cups that are double walled and heat insulated. Therefore, the cup tends to get hot if you're adding almost boiling tea to it. Otherwise, the aesthetics are amazing and it is very pleasing to look at. It has been through the dishwasher a few times, and still looks brand new. I would definitely buy again in another color.
Comment on this review
These tea cups are even more beautiful in person, they are a pleasure to use and make the tea that much more enjoyable.
Comment on this review
These cups are attractive, durable, and the right size for various purposes, from tea to aperitifs.
Comment on this review