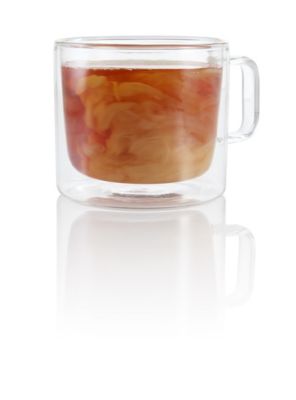 Matin Glass Tea Mug
Product Rating
Description
The beautiful, double-walled cup is the perfect size for your favorite morning beverage whether it is matcha, chai latte, or a favorite black tea. The double-walled construction allows tea to stay warm for up to two hours. This cup is made of borosilicate glass which is stronger and more heat resistant than traditional glassware, while still appearing light and airy. Holds 16oz (475mL) of tea. Dishwasher safe


$14.95
Availability:
Out of Stock
Product Reviews
Reviewer Profile:
Tea enthusiast (3)
I got this cup about 2 weeks now and using this everyday.
I love to drink my tea with this one. great design and quality. So far, no leaks.
Comment on this review
This is a known problem. I had two mugs. One leaked and one did not. When dishwater leaks between the layes of glass, it's ugly. Teavanna says you must return the mug within 90 days to get a refund or exchange. That's not fair. It's a manufacturing defect. If you don't use the mug right off, you may not know it. Or, maybe you think it is your own fault that it leaks. These mugs should be replaced at any time for the life of the mug if the problem is a known manufacturing defect caused by the seller.
Comment on this review
After driving 2 hours to the nearest Teavana, i was in tea heaven. I found these mugs and they were so cool. I loved the way it looked and the large amount of tea it would hold. I was very disappointed that after the first use one of my mugs acquired a large amount of water and condensation in the inner portion. Very disappointed....
Comment on this review
Very poor quality Teavana, the handle fell off after 3 months. My tea does not stay any warmer in this mug. I love love love the look of it, but it is also hard to hold in my smallish hands. I would not have picked this out for myself as it was a gift. I guess overall it looked good in my tea cabinet.
Comment on this review
I bought myself a Matin Mug a couple of weeks ago. I cannot get enough of this cup! It's fun to look at the tea body in this clear-glass-design. The double-wall is also a great feature! The handle is sometimes a little awkward to hold, but that doesn't diminish my love any. As a tea-addicted-barista, you can imagine how much tea and tea-ware I have at home. A must buy!
Comment on this review
I like the mug, the size of it, however, this is where it lost me. I just set it in the sink full of water all by itself, it floated to the bottom and cracked. Really? I'm so mad I spent the money on this.
Comment on this review
I ordered this glass and was very pleased with it until I barely bumped it against my dining room chair and it cracked. It is definitely not as strong as regular glass. I loved the glass but too flimsy. It did not live up to it's reputation.
Comment on this review
I asked for this mug for my birthday. My husband got me a pair of them. While I do really like them, the whole reason that I wanted them was to keep my tea hot longer. I'm not sure they really do that. I find myself wanting to microwave the remaining cool tea(just like in my regular mugs), but I do not want to put this special one in the microwave! So, I have to transfer to another mug to reheat. (don't like to dirty 2 mugs for one cup of tea : ( )
If that is not the primary reason you wanted this mug, then I would say it is a cool mug...go for it.
Comment on this review
Originally loved it because it functioned as advertised. However, soon there appeared moisture between the double walled glass construction. Worse still, there is no way to remove it or the ugly, foggy-glass appearance it causes. Water was trapped between the walls and worsened over time. Ended up hating this product and eventually disposed of it..
Comment on this review
High Quality
Low Profile
Worth the money
I find the tea does stay hot for longer in this mug than in my my ceramic mugs and cups. Although that was not a selling point for me. It also makes handling the hot tea safer and more comfortable as the exterior does not get near as hot as normal single wall mugs.

I appreciate my teas in new 'light' seeing their different colors through the clear glass. It is conversation inspiring.

I like its low profile low center of gravity design. It is comfortable to hold. Will not knock over and fits in short kitchen drawers. The 16oz capacity is perfect for me. The 'Cool Touch Tea Strainer' fits in the mug just right as well.

Buy it if you like it. You wont be disappointed.
Comment on this review