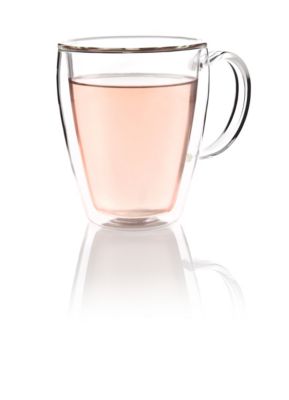 Grande Tasse Glass Tea Mug
Product Rating
Description
Sometimes you need a larger cup of tea . . . and this tea cup is there for you. It holds 14oz (415mL) of tea and does it beautifully with double-walled construction and an elegant handle. Made of Borosilicate glass that is stronger and more heat resistant than conventional glassware. The clear glass design allows light to pass into the cup and illuminate the tea inside. It makes a wonderful way to enjoy a little more tea each time. Top rack dishwasher safe. Exclusive to Teavana
$12.95
Availability:
In Stock
Product Reviews
Reviewer Profile:
Tea enthusiast (9), Health conscious (3)
I love these mugs. I have two and I use them every day for my morning cup of coffee and then glasses of tea throughout the day. I put them in the dishwasher and have scrubbed them by hand in the sink. No chips and no problems. The glass is thin, like other glasses having the double-wall for the insulative air between to keep the liquid warm (or cold) longer. However, I've found these to be more sturdy than several other expensive double-wall glasses of the same material. Further, these are well-sealed not like the other ones where water seeped in between the double-walls.
Comment on this review
My boyfriend bought me two of these mugs as part of my Christmas gift. He told me to never microwave these cups or wash them in the dishwasher. That was fine with me. I'm use to high end products and being meticulous with them. When I first started using them, I was very happy. It kept my tea warm for a longer period than standard mugs. It was especially eye-ctching when I used the mugs with blooming teas. However, to my dismay, the quality of the mugs are extremely poor. You'll notice the subpar quality the moment you pick them up as they are as light as plastic. Within 1 month of receiving these mugs, both have broken. One had chipped on the bottom of the cup and the other on the top corner. The chip on the bottom was tiny and unnoticeable until I tried putting my drink in it. Then I noticed the drink was slipping in-between the two panels of cheap glass. Had I not paid more heed, I would've accidentally drank the small pieces of glass that were still at the bottom of the mug.

I've diligently taken care of these mugs but there's nothing you can do about bad quality. I'm thoroughly disappointed.
Comment on this review
I loved this mug at first, but it broke after about 6-7 months of use. I was so sad because I liked to see the beverage inside. I would recommend treating this with a greater level of care, hand-washing, keeping it away from children/teens, etc.
Comment on this review
Crystal Clear
Insulated
Large
Lightweight
I'm a little dismayed to read the several reviews where the main complaint is that this mug broke after falling onto a hard surface. Yes, this mug is made of borosilicate glass, which is stronger than regular glass of the same thickness, but it is still glass. The big benefit of this kind of glass is that it can be made into vessels (like this one) with very thin walls that are lightweight. The other major benefit is about durability with regard to heat changes--a very important factor in a mug used for hot beverages.

I have not had to be particularly ginger with this mug compared to other items made of glass. It is no doubt less able to withstand drops and shocks than heavy glass tumblers or other thick glassware, but treated with moderate care it hold up fine. I like to be able to see the beautiful color of my tea and other drinks, and the small measure of insulation this mug provides is nice. It also has a graceful shape that feels good in the hand.
Comment on this review
I love how elegant this cup is and how good it feels in your hand. The outside stays perfectly cool making it easy to hold and the handle is big enough to slip my hand in while grasping around the cup. Cannot say if it keeps my tea hot longer - the tea is so good, I drink it long before it has a chance to get cool! It is thin and light weight which is what I assume other reviewers are describing as "fragile" but so far, I haven't had any issues.
Comment on this review
I think this is a lovely mug and works for all types of beverages, not just tea. I have always hand-washed it personally after use to ensure that it is handled gently. However after a few weeks, it has a little pucker at the bottom, like it was melting in one spot. That's a bummer. So instead of being clear all over, the bottom now has one spot that is sunken in. I guess that is from pouring hot water in the mug. But tea is supposed to be hot! Too bad this mug is so prone to problems.
Comment on this review
Attractive Design
Large
Well insulating
As others have mentioned, the cup is fragile. I took this into account when I purchased it, and I'm easy on it during the day. I can carry it around the office with the handle, but when I set it down I make sure I'm easy on it. It's second nature at this point, so it's not too much of a hassle.

I also wash mine daily by hand which only takes about a minute. Overall, very satisfied with this mug. I will keep an eye on its integrity as some reviewers have noted how it breaks into splinters.
Comment on this review
Comfortable Fit
Keeps tea hot longer
I really loved this cup, I really did. It kept the tea warm for so long and was so comfortable to hold.

At first I scoffed (I now apologize to you all) at those that complained about how easily this cup broke. Well, I dropped mine (luckily it was empty at the time), it fell less than a foot onto my mattress and shattered into so many shards, not big pieces mind you, but little bitty shards!

I would really watch out if you have small children in the house.
Comment on this review
Love the Grande mugs. I purchased 4 for myself and 2 as gifts for my son and his family. I love that I can see through the mug. The tea just tastes better when you can see the deep rich color. I do not put them in the dishwasher or microwave oven. I haven't had any breakage yet and I have had 2 of them for a few years now and use them daily.
Comment on this review
Anytime
Dessert Tea
Evening
Morning
My son gave me this cup when I last visited him. He had two. I use it every morning at breakfast. My wife said she wanted one so I looked up for a store here and purched 2 more cups. They were a bit to high in price, but everything good cost more. She also loves her new cup, and I always wash the cups by hand thats the best way I think.
Tea Body:
Full
Tea Flavor:
Tea Bag
Comment on this review