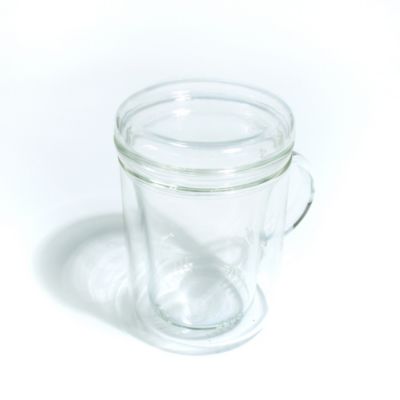 Glass Tea Infusion Mug
SALE! Save 30 % $11.17
Product Rating
Description
This glass infuser tea mug allows you to watch the tea leaves unfurl while steeping and enjoy the beautiful color of each cup as you drink. You can steep your tea completely in this mug, then simply remove the infuser to enjoy your delicious hot tea.


Product Reviews
Reviewer Profile:
Tea enthusiast (4)
I got this as a Christmas present. When I received I relized how fragil it was. Use warm water to wash it and have no dishes in sink. I havent broken mine Knock on wood. I love it. Its great for the blossoming tea.
Comment on this review
My husband and I received two of these as wedding gifts, but the glass infuser broke after a few weeks. I called Customer Service to see about finding a replacement and they informed me that they do not replace the infusers and I would just have to buy a new set.
Comment on this review
I bought this yesterday at teavana, and it just broke while hand washing it. It is very fragile. I love the concept and that you can see the tea infuse, but it is not practicle. I will not buy this one again.
Comment on this review
Only used the glass tea infusion mug once and the infuser broke, glass way too fragile. I will be calling customer service to see if they will replace the infuser.
Comment on this review
The infuser is so fragile that it broke before I had a chance to use it.
Comment on this review
Cheap "glass"
Cracked while washing
More like plastic
This thing is convenient and gets the job done... however, it is not made of "glass". It is merely plastic, and the slits in the bottom (where the steeped tea escapes) cracked wide open during an average wash in the sink. R.I.P.
Tea Body:
Medium
Tea Flavor:
Gyokuro
Comment on this review