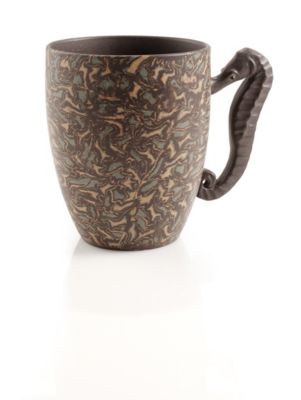 Seahorse Yixing Tea Cup
Product Rating
Description
This fun Yixing tea cup features a seahorse handle and a wavy, ocean design on the outside. The Chinese believed seahorses were symbols of good luck. Yixing clay has the unique ability to absorb the tea flavor with use, so the cup seasons with your favorite tea. For that reason we recommend using this lead-free, unglazed mug with your favorite tea, but not with others. This purple clay from the Yixing region of China is considered by connoisseurs to be the best way to drink tea. 16oz (470mL) capacity.


SALE! Save 30 % $11.87
Availability:
In Stock
Product Reviews
Reviewer Profile:
Tea enthusiast (3)
I love this mug. I'm using it with My Morning Mate and Matevana, of which I have at least two cups in the morning. It lends a depth of flavor that intensifies the tea. And I love the design. I'm with another reviewer, though: no matching teapot! And you can't beat the sale price.
Comment on this review
Arrived today, I took it out of the box and *gasp* and then *sigh* followed by "It's gorgeous!" I love it. Mine has far more blue and dark brown, essentially no tan, which is fine since blue is my favorite color. I have not yet used the cup because I need to figure out which chai I'm going to exclusively use in it so it can absorb it's flavors and nuances. I picked up the Chocolate and the Samurai Chais and both smell divine, but I want to pick one keep this cup dedicated to. I'm very much looking forward to the repeated uses of this cup over the years to come.
Comment on this review
http://youtu.be/_JNY20Hc1JM

Probably best used with black or stronger teas.
Comment on this review
High Quality
Unique Flavor Profile
After Meals
Afternoon
Anytime
Evening
Gifts
This was the first yixing purple clay mug or pot I've ever bought. While the mug itself gets REALLY hot to the touch, this mug absolutely creates the best tea I've ever had. I use this mug for my favorite bright green oolong tea. After a few brews, the clay started to absorb the oils from the tea. Once that patina formed, the tea started to taste better and better. I will only use this mug for that one kind of oolong, but it's worth it to taste the tea after the mug starts to take on the tea oils. Not to mention the little seahorse is really stinkin' cute. It's a lovely chocolatey purple color, and the paint job adds some interest. It's a great conversation piece.
Comment on this review
I've seen this in our local store and I really do like it but I want a matching teapot (much like my combination of the lizard cup and teapot) to buy them both at the same time to have a set. Please consider finding a teapot with the same seahorse motif and then I'll jump on it.
Comment on this review
Drinking my fave tea
Gifts
Just received my Seahorse Yixing today. Love it! Seems delicate but sturdy. Great design. Can't wait to see if it actually adds a little specialness to tea after its seasoned.
Comment on this review