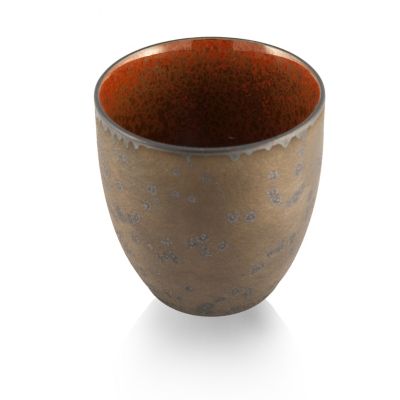 Reactive Red Metallic Tea Cup
$9.99
Product Rating
Description
This is one of the most unique teacups you will find anywhere! Tea cup is made of ceramic with a unique crystallized finish. The outside color is a deep bronzed brown, if you will, with blotched silvery grey spots. The inside is a smooth rusty red that seems to have metallic splotches of a deeper color. Each cup is unique because of the finishing process that gives each a slightly different look. This isn't a cup to miss! Tea cup holds 6oz of tea. Made in Japan.


Product Reviews
I received these as a gift and they quickly became my favorite set to use. They fit perfectly in Your hand while the slightly rough ceramic material leaves a reassuringly authentic, honest feel to it. The cups are just enjoyable to hold.
Comment on this review
Beautiful
Exquisite
Great size
Unique
These cups are simply the most beautiful tea cups I've ever seen. The picture here on Teavana is a good picture, but it's a lot like taking a picture of a car painted with color-changing paint. As you rotate the cups and view them from different angles you see how much work was put into them with their contrasting satin and gloss finish, the red to maroon (this varies from cup to cup) eye-play, extremely solid feel, and perfectly beveled rims.

The thermal insulation is top-notch too. I would easily give these 6 Teavanas on a 5 Teavana scale.
Comment on this review