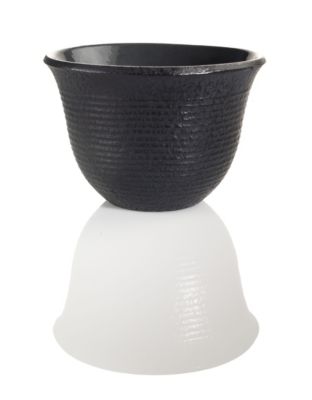 Senbiki Cast Iron Tea Cup
Product Rating
Description
Representing the serentity of rippling water, this beautiful cast iron tea cup is a wonderful addition to your favorite teapot. Fully enameled inside for a lifetime of use. 3 oz capacity. Made in Japan of cast iron.
$14.99
Availability:
In Stock
Product Reviews
I ordered this cup and received it today and immediately broke it in with some Almond Biscotti tea. Works fantastically, very sturdy, solidly weighted at the base to prevent easily knocking it over. Very easy to hold, exceptionally easy to clean.

The only con is that since it is metal it does get a little hot. The residual heat will continue to keep your tea hot, but you need to let it cool down juuuust enough to handle it comfortably. That is the nature of the beast!
Comment on this review
I purchased the thousand lines cast iron teapot and have the black senbiki cups set into the pewter bell cups. Doubling the cups works nicely, or I can separate them all and have twice the number of cups, all that coordinate well with the teapot.
Comment on this review