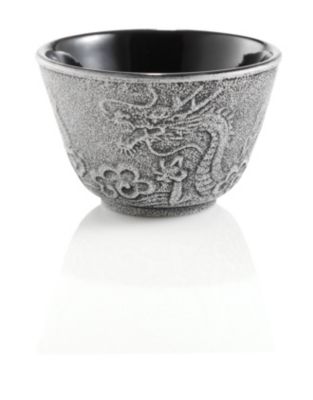 Imperial Dragon Japanese Cast Iron Tea Cup
Product Rating
Description
Featuring a five toe'd dragon that is famous for it's connection to the Imperial family, these cast iron teacups are a wonderful addition to your favorite teapot. Dragons symbolize good fortune, power and strength. These cups are enameled on the inside and will hold 3oz of tea. Made in Japan.


$12.99
Availability:
Out of Stock
Product Reviews
Gets Hot Dring Use
Gets Hot During Use
Heavy
I bought this cup to go with my cast iron Imperial Dragon teapot. The inside is coated with the same enamel as the teapot, so this will build up the same patina as the teapot, enhancing the flavor of your tea further. You'll also need to care for it the same way you care for your cast iron teapot. This cup has a very traditional Japanese flair to it. The dragon on the cup is less detailed than the one on the pot, thanks to there being less space on the cup than the pot. Due to each one being handmade, there will be slight differences in each cup. It gets a little bit hot while you use it, but not too hot where you might burn yourself. It's also a bit heavy due to the cast iron, but not so heavy where you might tire yourself out lifting it to your mouth. It's just got a nice heft to it. It feels solid in your hand.
Comment on this review
This teacup looks absolutely stunning, and went nicely with my cast iron pot, also from Teavana. But while the pot's finish has held up great, the paint/finish around the rim of the teacup has begun to flake off after only a few weeks of regular use. I have used only water to rinse of the cup between uses and it hasn't been exposed to any scrubbing or anything remotely abrasive. The flaked-off black paint makes the teacup much less attractive, since the gold layer underneath shows through wherever it has come off. Although I love the design of this cup, I had hoped for something more durable.
Comment on this review