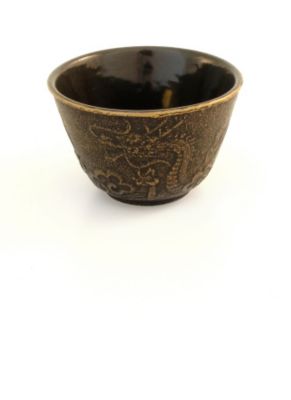 Imperial Dragon Cast Iron Tea Cup
Product Rating
Description
These cast iron dragon teacups features a five-toed dragon, famous in Chinese symbolism for its connection to the Imperial family. Dragons also symbolize power, strength and good fortune. These cups are painted on the outside and enameled on the inside with a 3-ounce capacity. Made in Japan.


$12.99
Availability:
In Stock
Product Reviews
Hubby love tea... I am not a fan...but he wanted this high end tea set & since he is the perfect husband bought as a Father's Day gift. I must say I have become a tea drinker of these amazing teas and truly love the set. We bough the cast iron Dragon Teapot and both the Dragon & Wave cups and they look as good to day as the they did months ago and we have used them daily. I am amazed that once the tea is pour into this cup the cast iron absorbs the heat- thus keeping the tea warm longer, but also is instantly at the perfect temperature for drinking. The down side is that the cup can be quite hot to your fingers & to the lips. Our solution is to pour half a cup and then the rim does not heat up and you have a cool space on the sides for your fingers. I do love these cups!!!
Comment on this review
Easy to clean
High Quality
I purcahsed the red Imperial Dragon Cast Iron Tea Cup to use for smudging for my Tarot readings.

The quality is simply amazing and when using it for events, even when travelling the cup has never chipped or broke.

It is super easy to clean and looks amazing.

Although I do not use it for tea I can honestly say it is a high quality product.
Comment on this review
I ordered a set of these teacups, and was terribly disappointed in how they arrived. Whoever packed them simply threw them into a large box without any padding. They clinked and rattled around in the box, arriving with the enamel badly chipped, and utterly unuseable.

What a terrible waste of a lovely product, for the shipper to pack them so poorly.
Comment on this review
I didn't want to splurge on a cast iron tea pot so I decided to buy these cute and functional cast iron cups. I am so glad I did! The tea is kept hot for a very long time. I paired this with a green ceramic tea pot and it looks lovely sitting on my kitchen counter. There is also a cute tea leaf cup holder that the tea cup sits on top of (bought separately). The cup is also easy to clean.
Comment on this review