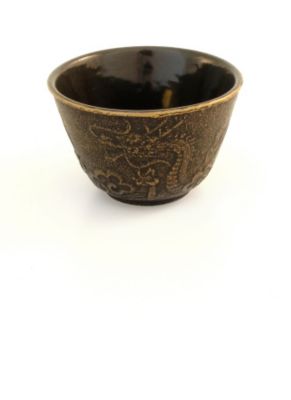 Imperial Dragon Cast Iron Tea Cup
$12.99
Product Rating
Description
These cast iron dragon teacups features a five-toed dragon, famous in Chinese symbolism for its connection to the Imperial family. Dragons also symbolize power, strength and good fortune. These cups are painted on the outside and enameled on the inside with a 3-ounce capacity. Made in Japan.


Product Reviews
I ordered a set of these teacups, and was terribly disappointed in how they arrived. Whoever packed them simply threw them into a large box without any padding. They clinked and rattled around in the box, arriving with the enamel badly chipped, and utterly unuseable.

What a terrible waste of a lovely product, for the shipper to pack them so poorly.
Comment on this review
I didn't want to splurge on a cast iron tea pot so I decided to buy these cute and functional cast iron cups. I am so glad I did! The tea is kept hot for a very long time. I paired this with a green ceramic tea pot and it looks lovely sitting on my kitchen counter. There is also a cute tea leaf cup holder that the tea cup sits on top of (bought separately). The cup is also easy to clean.
Comment on this review