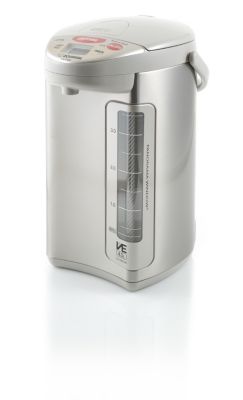 Zojirushi Hybrid Water Heater
$199.95
Product Rating
Description
Using Hybrid vacuum/electric technology, this Zojirushi water heater has an energy efficient 17 watt output while keeping water at 195 degrees. And the handsome coated stainless steel exterior will match your other kitchen appliances. Still has all of the other features: multiple temperature settings for each type of tea, convenient timer feature and a safety auto shut-off. With our Zojirushi, you can have green tea in under two minutes any time of the day (or night). Made in Japan. 4 liter capacity.


Product Reviews
Reviewer Profile:
High-end shopper (5), Tea enthusiast (5)
This is by far the best gift I've given to myself in a very long time. I put off purchasing it for awhile because of the price, but now I really can't imagine not having one. I use it mostly for my Teavana teas, but it also is wonderful for instant oatmeat, soup etc. You won't be sorry with this purchase.............
Comment on this review
This is the ultimate tea appliance in my opinion. It reminds me of the heated seats in my SUV---thought they were unnecessary, until I got them on my newest vehicle--now I can't imagine NOT having them. My Zojirushi is the same way--can't imagine what I did before I had it!!! LOL! Seriously, if you love tea (like I do) treat yourself. Having delicious Teavana teas at the correct temperature at all times makes me a happy girl!
Comment on this review
i use mine at home primarily for coffee. It keeps the water within a couple of degrees of perfect diffusion temp for an Aeropress.
I am getting another to take to work so I can have good coffee there as well.

This is also great for tea, soups, hot chocolate, cooking, anytime you need hot water.
Comment on this review
I love this machine! This was in lieu of spending ten minutes every two to three hours at work in front of the microwave trying to get my water temperature just right. This water heater has 4 temperature settings to keep water warm. Whenever new water is added it will automatically reboil then move back to that preset temperature. This thing is sleek, easy to use and even has a slow dispense feature for cafe style drinks. I love it!
Comment on this review
Afternoon
Anytime
Evening
Gifts
Morning
Tea and cocoa
I use this product to make tea and hot cocoa. This hot water dispenser is convenient, provides hot water 24/7. Its simple design looks fine on the kitchen counter. This is my secnond one. I had the first one for about 10 years. I got rid of it when it started to have "hard" water built up inside. Although this product is priced high, it is worth the money. I will continue to buy this product. I will replace it every 5 years to avoid the built up.
Comment on this review
I purchased this Zojirushi Hot Water Dispenser about 3 or 4 years ago and have never regretted spending the money on it and would HIGHLY recommend it to anyone who likes to drink alot of tea like I do (approx 10 cups a day). I always have hot water ready for my Green tea and it's so easy to dispense it and so handy and because of the large capacity, it goes a long way. You will want to experiment with the temperature settings to see how hot you prefer your water (I prefer 195 for most of my teas (175 for some Gyokuros)). It works as well today as on day one and it is on 24/7. Although it didn't need it, I did the first descaling/cleaning today (some water types may need it more often). My kids also use this for hot chocolate, instant oatmeal and noodles.I would highly recommend a Zojirushi for every household, it'll be the best [$] investment you make.
Comment on this review