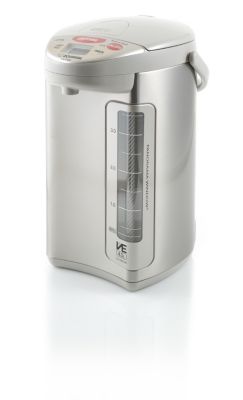 Zojirushi Hybrid Water Heater
Product Rating
Description
Using Hybrid vacuum/electric technology, this Zojirushi water heater has an energy efficient 17 watt output while keeping water at 195 degrees. And the handsome coated stainless steel exterior will match your other kitchen appliances. Still has all of the other features: multiple temperature settings for each type of tea, convenient timer feature and a safety auto shut-off. With our Zojirushi, you can have green tea in under two minutes any time of the day (or night). Made in Japan. 4 liter capacity.
$199.95
Availability:
Available on 10/23
Product Reviews
Convenient (5)
High quality (3)
Reviewer Profile:
Tea enthusiast (10), High-end shopper (7), Health conscious (3)
Used this product practically every day and would have it on for about 6 to 8 hrs at most, but after 2 years the motor burned out. We smelled a burning smell and discovered the motor/coils/not sure what exactly, was starting to burn out.
Comment on this review
We use this every day. My son makes tea several times a day and I use it for coffee. It is the most used appliance in the kitchen!
Tea Body:
Full
Tea Flavor:
Vegetal
Comment on this review
This is a great product! I always have hot water. I leave it on 175 for my morning tea. By afternoon I bump it up to 208 for my black tea pick me ups and then lower it to 195 for my evening teas. I don't seem to have a problem getting it where I want it. It is great for everything, oatmeal, soups, baking, hot cocoa - name it this can do it! And yes that little bit of hot water to wipe up sticky honey on the counter. Best thing is that I can leave my hubby's coffee machine alone and not get in trouble for emptying the resevoir. Price was really what stopped me originally from purchasing but I caught this on sale and it won't deter me in the future
Tea Body:
Medium
Tea Flavor:
Citrusy, Fruity, Spicy
Comment on this review
Great idea, but implementation is lacking. Essentially, it is a 4L thermos with a heating element, thermometer and a pump. It is great in terms of energy conservation, and it is bad in terms of responsiveness. First, it is not suitable for green tea: it does not have 140 F setting. The settings of 208, 195 and 175 are too high for the green tea. Second, the response time is unacceptably high. Say, you were drinking black tea at 208. Then, you decided to drink some tea that requires 175 F. Since the water is in thermos, you would have to wait for hours before the temperature drops to the desired value. So, essentially it is a single-temperature-at-a-time water heater.
The idea was good, but its implementation is not well thought through. You would be better off with non-thermos "grey" model that has 140 F and fairly good response time. Yet the "grey" model is not that economical. But if you live in cold climate, why would you care ? You would have a very low intensity heater in the room, contributing to the maintenance of the room temperature.
Comment on this review
Always Available
Convenient
Easy to use
High Quality
You may think that having a device in your kitchen dedicated to making hot water for tea is crazy (don't fell bad...I did too!), but it's not. I had always used the traditional tea kettle to make water for my tea, and although you get a feel for it after a while, it's never a particularly accurate system. The Zojirushi takes all the guesswork and hassle out of making hot water for your tea; no matter what time of day, you'll always have hot water available to make tea with. And if you need a different temperature, it's only a few minutes wait to get there.

Add in the timer function, the notification jingle when the water has hit its temp. mark, the easy to read display and simple controls, and it all adds up to a worthwhile investment if you really enjoy your tea.

And the uses don't stop there, anything that you need hot water for is made quicker and easier with this machine. I'd give it 10 out of 5 stars if I could, highly recommended!
Comment on this review
My daughter bought one for her office and I thought she was crazy. Then I splurged and bought one and don't know how I managed before. My grandkids love that they can make hot chocolate with it. I love that I can immediately make my tea when I come down in the morning. It is great as a source of very hot water to clean up a mess. The only complaint is that it doesn't fill itself since my son has a habit of using the water and when I go to make my tea there isn't enough but I am working on him to fill it.
Comment on this review
I use this everyday for tea! It makes everything very convenient; you can have hot water instantly at the right temperature, no waiting. There are preset temperature settings for White, Green, Oolong, Black, and Herbal teas so if you typically drink White for example you can have it at that preset temp for white and be able to pump water at the right temp all the time. If you drink different kinds of teas you can have it set at the highest temp and just add an ice cube or two to bring water down to the right temp fast (faster that waiting for water to heat up in a kettle or microwave). The highest temp is also ideal if you want to make a single cup of drip coffee; they even have a Slow setting for the water to slowly drip so you can get the most flavor out of your coffee. You can use the high temp for noodles, instant oatmeal, etc.

The product is easy to clean with the descaler from Zojirushi.
Comment on this review
This is by far the best gift I've given to myself in a very long time. I put off purchasing it for awhile because of the price, but now I really can't imagine not having one. I use it mostly for my Teavana teas, but it also is wonderful for instant oatmeat, soup etc. You won't be sorry with this purchase.............
Comment on this review
This is the ultimate tea appliance in my opinion. It reminds me of the heated seats in my SUV---thought they were unnecessary, until I got them on my newest vehicle--now I can't imagine NOT having them. My Zojirushi is the same way--can't imagine what I did before I had it!!! LOL! Seriously, if you love tea (like I do) treat yourself. Having delicious Teavana teas at the correct temperature at all times makes me a happy girl!
Comment on this review
i use mine at home primarily for coffee. It keeps the water within a couple of degrees of perfect diffusion temp for an Aeropress.
I am getting another to take to work so I can have good coffee there as well.

This is also great for tea, soups, hot chocolate, cooking, anytime you need hot water.
Comment on this review