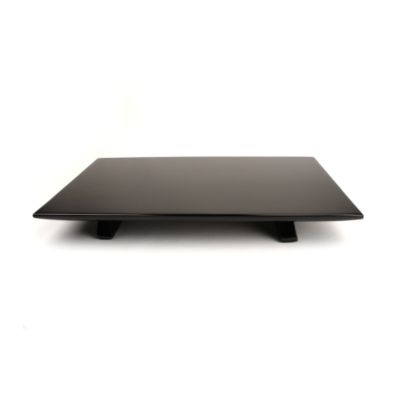 Black Sushi Tray
Product Rating
Description
This black sushi tray is the epitome of lacquerware with the lustrous black hue. Perfect for a cast iron tea set, it can hold a teapot and several tea cups. Tray is 16 inches long by 10 inches deep by 2 inches tall. It is a great way to display your favorite tea set.
$59.95
Availability:
In Stock
Product Reviews
When I saw this online, I waited for it to be available and ordered it as soon as was possible. Imagine how disappointed I was when what I received was not this at all, but a similar tray that was also black. When I called customer service they informed me that it was the same thing, but obviously is not. What I received was a plain square top and plain square stands in front and back. If you like the way the picture looks, do not purchase this item. It will not be what you get.
Comment on this review
This is a very nice tray and I will use it to display my daily use tea ware. The tray is nicely packed, includes a cloth slip cover so arrived in perfect conditions. Although the description talks about Japanese Lacquer ware my guess is this item is made in [*], at least not in Japan. There is no indication where it was made, only a sticker in English addressing air standards. This is not the standard for items coming from Japan which are invariably labeled with made in Japan stickers. I have been trying to keep all my green tea and tea ware of Japanese origin. It costs a bit more than the [*]made items but I find Japanese green tea and tea ware far superior in both quality and esthetics. In this case the tray is nice so I will keep and use it. I just suggest Teavana make clear where items are manufactured.
Comment on this review