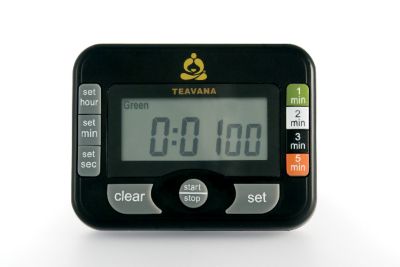 Teavana Perfect Preset Tea Timer
Product Rating
Description
Our Perfect Preset Tea Timer is the answer to delicious tea every time. This multifunctional comtemporary tea timer takes the guesswork out of making perfect tea. It has 4 pre-programmed buttons with the ideal time for the type of tea being brewed, so simply press the button with the same color as your tea and hit the start button. Once the timer expires your tea will be ready! Also allows you to manually set the time for your own brewing requirements. Features a large 1 inch x 2 inch display, the ability to count up or down, a magnetic clip or stand on back and an audible alarm. Batteries included.
$8.95
Availability:
In Stock
Product Reviews
Reviewer Profile:
Tea enthusiast (10), High-end shopper (5), Health conscious (4)
Convenient
Easy to use
Versatile
General Cooking Timer
Medicinal Purposes
This is a great product! I only wish that it had an "Off/On" feature. I have no complaints about it at all.
Comment on this review
Cant believe people complain you cant turn the timer off, it not that big of a deal. I´ve had it for almost 2 years now, its been on the entire time and i havent changed batteries once. This thing draws minimal energy.

Even if there was an off switch i wouldnt use it, i prefer if its ready to go right away. Just push one (or two if you need to change time) button and its going!
Comment on this review
Convenient
Great For Green Tea
It's a great device for people like me who get easily distracted by phone calls and everything else, especially when brewing expensive green teas. I agree that it should have a turn off device, but after some reflexion, I bought my timer in July and we are now in Dec. and my timer is still running fine. I figure it cannot be any worse than our digital watches from the 80s, they too ran 24 hrs a day and still we would change our batteries every 2 years. Plus the price is nothing to complain about.
Comment on this review
I love this timer! I have had it for two months and use it several times a day with no problems. It does not have an on-off switch I don't feel as I need one. Just bought a 10 pack of batteries for under 3$ but so far I have no need for them. After reading what people said about it going through so many batteries I though I should stock up. Wondering if most kept it long enough to see how long the batteries actually lasted. Maybe theirs were defective. I ruined many cups from burning, so this is worth the price!
Comment on this review
I received a gift card & so went straight to the store .... sure wish I read these reviews first. I'd rather have spend money on something other than a timer that never turns off & therefore eats batteries. Humbug.
Comment on this review
So in this rating system 2 stars means "Needs that Special Something". In this case that special something is an on off switch. It is nice at first but after you are done there is no way to turn it off without removing the batteries (and that is a pain). Kind of cancels out the convienece of it which is the main reason for buying it. Not sure how long it will last left on but I can't imagine I will want to pay for the battery replacements. Can't recommend and it is a shame because all they had to do was add one switch.
Comment on this review
I got the Perfect Tea Timer a few days ago and have been using it religiously. I love that it can either stick to the fridge or be used tabletop courtesy of the stand, but there's no way to turn the timer off! It also didn't come with an instruction booklet. I attempted to remove one of the watch batteries to turn it off the first night, but I couldn't get it back in by myself. And, the timer turned right back on once the battery was back in place.
Comment on this review
I bought this tea timer at the store yesterday. It's a great timer that lets you do the preset time amounts (would be better if I didn't have to press start after) or set in your own amount. Also, if you don't put in any time and press start, it'll count up instead of down like a stopwatch. It can even do multiple timers at once. I only brew one tea at a time so that's less important to me.

That being said, the timer has the glaring flaw that most people mentioned - can't turn the screen off to save batteries. I've tried letting it sit for auto-off and every combination of holding down buttons or a combination of buttons. Really stupid design considering it wouldn't have been more costly for them to make holding down a button turn off the device.

Instead of taking out the batteries every time and likely losing them, I decided to take apart the timer and have a look inside. The leads inside are pretty far apart and easy to work with, so I felt comfortable cutting a connection, drilling a hole in the back of the plastic case, and sticking in and wiring a switch that I pulled off of an old flashlight. Now my timer is perfect. Could I have just gotten another timer? Probably. But I was in the mood to tinker. If you want a quick, little DIY project and can use a soldering iron - you can do this too.
Comment on this review
I purchased this @ my local Teavana store. It's a great product - it makes brewing the perfect cup of tea so easy. BUT - as others have complained, there's no off switch, so it stays on until the batteries run out. Not smart, Teavana! I'm going to take another reviewer's advice & yank the batteries out when I'm not using it.
Comment on this review
Use it to time my tea. As simple as it looks, you can't turn it off and it consumes batteries. No instructions, have to push multiple buttons to figure out how to make the timer stop to put it away. It still stays lit and goes dead because you can't turn it off when not in use.
Comment on this review