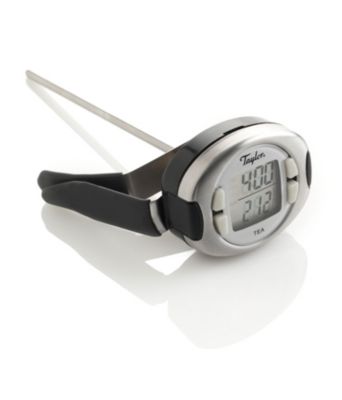 Tea Thermometer and Timer
Product Rating
Description
Take the guesswork out of tea brewing with our combination thermometer and timer. The thermometer audibly and visually indicates when the water reaches the correct steep temperature and when time is up. Preset times and temps for each time of tea are already programmed. The silicone coated clip effortlessly holds the thermometer to your teapot or cup. Makes brewing the perfect cup of tea easy. Batteries included.
$19.95
Availability:
In Stock
Product Reviews
Reviewer Profile:
Tea enthusiast (7), Health conscious (3)
I have owned this for about a month and could not imagine brewing better tea or coffee without it! So far I haven't experienced any of the mechanical problems other people are saying either.

I like that it has all the most popular tea temperatures pre-programmed so it beeps when the water on my stove heats up to what I need. I especially love that after my brew is complete I can program this to beep for me when the temperature cools down to 140 degrees so I know my tongue won't burn. I don't think there's anything else like this on the market so it's definitely worth the investment.
Comment on this review
I, like another user on here, had some reservations about purchasing this. I just wanted a thermometer. I did not need the timer, and I am totally fine with a non-digital thermometer. The preset timer function is rediculous as you have to reset it every time. The first tie I used it, it was...okay. The second time I used it, I Almost had to take a hammer to it because it would not turn off when I pressed the buttons, would not reset, and would not stop beeping. Even over an hour after I got it to stop beeping, the green light hasnt turned off. It is going straight back to the store tomorrow and getting replaced with a simple $5 manual thermometer that you can get at any kitchen store.
Comment on this review
You would think that a timer with different presets for different types of tea would be very convenient. Unfortunately, the execution of this idea was severely lacking.

First, the presets for green tea (the only tea I make), are ludicrous. The default steep time is 2:30! The correct steep time for green tea - and I have found this to be fairly uncontroversial - is 60 seconds. 2:30 is WAY too long. And it's a pain in the *** to change the presets every time you want to make tea.

Second, the timer literally will not start unless the water is at or above the temperature you set it for. God forbid you microwave your cup for 3 seconds too short, and your water is only at 169 degrees rather than 170. You cannot start the timer until the water reaches 170. This is ludicrous. A timer with shackles on it makes life *more* difficult, not less.

Overall, this timer/thermometer is more trouble than it's worth.
Comment on this review
At first this little gadget was everything I wanted in a tea thermometer. It does everything it says, allowing you to adjust the temperature and time settings to suit your tastes. But after only three uses, I pulled the thermometer out only to find that it wouldn't turn on. I believe that the battery somehow ran out. Unfortunately, the device isn't built to be opened to change the battery, so now I'm looking at the prospect of buying a whole new device. Overall, it wasn't worth it.
Comment on this review
After Meals
Afternoon
Dessert Tea
Evening
Morning
Timer would not set properly..an obvious malfunction of the product. I contacted Tevana, and they are sending a replacement. Terrible product- great service!
Comment on this review
I went to the store and bought this. Wish I had checked online before purchasing. The thing wont even turn on... very frustrating. Wish they had a better quality control with their products. Apparently im not the only one with this problem.
Comment on this review
I received this tea timer for Christmas ('12). I really enjoy using my Breville Tea Maker at home, and was wanted something that would allow me to get my tea as closely timed and temped as possible while at work.

This timer is great, the directions are a bit antiquated but once you get past that it's fairly easy to use. My one complaint about this timer is that while it's sold by Teavana - their name is even on the box, (though it's manufactured by Taylor), the time/temp settings they suggest for their teas is not possible with this timer.

Once you choose your tea type and temperature, the timer has a suggested time for steeping. But that time doesn't generally match the time on the Teavana labels they put on their loose tea. This is slightly annoying because it's defeating half the purpose of the timer/thermometer. It's usually off by about 30 seconds from their suggested time, and thus you can just wait, plus 30 seconds probably isn't going change the taste of your tea that much.

Overall I think this is a great product, and if they fixed the ability to adjust the time (without adjusting the temp) or sync'd the time up with the labels in Teavana I think it would be pretty much perfect.
Comment on this review
I looked at the reviews here before and saw that some people had problems with theirs turning on. My first one was the same. I returned it with no problems and got a new one, tested it in store and it worked!

The only think I do not like is that the presets on the themometer are not the same as suggested by the teavana tin I have. Both seem to make a decent cup of tea though.
Comment on this review
When this arrived I was very excited. However, it did not work. I replaced the battery and all was good. A voltage test on the original battery showed it was completely dead.

I would have given it four stars if the battery wasn't dead on mine and so many other's upon arrival.
Comment on this review
After about 5 uses it somehow got stuck on(yes, I know how to shut it off but it would not work) and now the battery is dead.

No instruction book.

Skip it!
Comment on this review