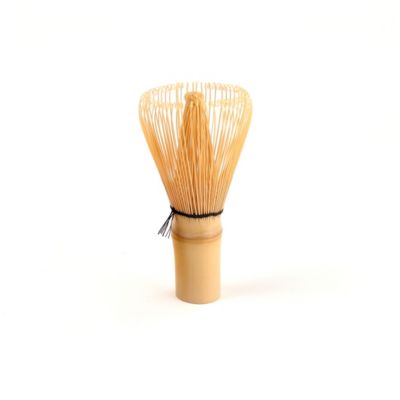 Perfectea Bamboo Matcha Whisk
Product Rating
Description
To make great Matcha, you need a great chasen or matcha whisk. This one is our favorite: it is meticulously crafted with 80 bristles made of bamboo, which won't warp or break easily. So you can whip up a great, smooth cup of Matcha every time. And this whisk is perfect for the Japanese Tea Ceremony as well - in case you get ambitious! Bamboo whisk is 4.25 inches long.
$12.95
Availability:
In Stock
Product Reviews
Making Green Tea Or Herba
This is a great tea whisk for making green tea or herbal matcha. I make chawan or tea bowls and these whisks work very well. tonyferguson.net
Comment on this review
This matcha whisk is identical to the one sold by Seattle's famous Japanese market, but offered at a much lower price at Teavana. It whisks up matcha perfectly (be sure to start with just a small amount of water, to create a matcha paste first, before adding the rest of the liquid and whisking to a froth). With repeat heavy use, the bamboo tines start to fall out and it's time to order a replacement, but that's typically after about 150 cups or so.
Comment on this review
this whisk works really well. in about 3-5 uses you will notice it will open and that is supposed to happen. the more it does open the better consistancy of the tea. it improved did improve the authenticity of the tea and is worth the purchacse.
Comment on this review