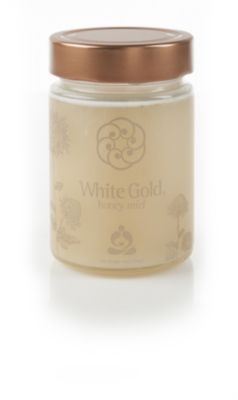 White Gold Honey
Product Rating
Description
Known as the "world's best tasting honey" (one taste and you'll know why), this delicate, natural red clover honey is hand-packed, unheated and untreated. The white appearance is directly attributed to the unadulterated white nectar gathered from fields of sweet red clover in Northern Canada. The rich, creamy taste has sweet floral tones yet is exquisitely mild, which means it is delicious in any tea without altering its taste. This delightful honey solidifies soon after extraction due to its extremely low moisture content, but this does not have an effect on the taste. 14oz.


$14.95
Availability:
In Stock
Product Reviews
High quality (11)
Smooth body (9)
Soothing (9)
Unique flavor profile (9)
Fresh (6)
Reviewer Profile:
Tea enthusiast (13), Health conscious (10), High-end shopper (6)
Fresh
High Quality
Smooth Body
Soothing
Unique Flavor Profile
Comment on this review
I have always hated the taste of honey, but I love this stuff! It naturally sweetens the tea without changing the taste of the tea. If you taste the honey by itself, you can taste the clover - as always it is dependent on your taste buds. It is a light taste. The honey is a very smooth, flowing consistency. I would definitely recommend it and will repurchase it.
Comment on this review
Aromatic
Convenient
Fresh
High Quality
Smooth Body
Soothing
Unique Flavor Profile
I got this honey as a gift and now I am spoiled! It is so thick and sweet. Not like any other honey I have ever seen. I use it in everything. Sometimes I even eat it off the spoon. I like to use it on blueberries.
Tea Body:
Medium
Tea Flavor:
Sweet, Thick
Comment on this review
Aromatic
Convenient
Energizing
Fresh
High Quality
Smooth Body
Soothing
Unique Flavor Profile
I love that it sweetens my tea without overpowering it.
Comment on this review
Fresh
High Quality
Smooth Body
Soothing
Unique Flavor Profile
I put half a spoonful in my tea, a little goes a long way. I love the flavor! It is a must have for all of my teas, and I'm know as the tea girl.
Comment on this review
I can't remember the last time I used to eat honey out of the jar but I can't stop. This honey has a creamy texture and melts in your mouth. The flavor is light and can go with any tea.
Comment on this review
I have been a Teavana fan since about 2010. I have new teas I try and tea I always buy. I've been wanting to try this honey for a while, even more so when a reviewer said it taste like vanilla frosting! Well, it's made ALL of my teas bitter! I tried it alone just by a finger taste test and I found it a tad flavorless. This will be the first product I ever return to Teavana.
Comment on this review
High Quality
Soothing
Unique Flavor Profile
I received this honey in the mail today and promptly made myself a cup of black tea to try it out. At first, I was concerned because the smell of the honey was a bit off-putting (it almost had a cheesy smell, but my nose is weird). So, I stir in a teaspoon, sip it, sip it again... then immediately get up to start a full pot of tea. This stuff is AMAZING. I've never been one to sweeten my tea, but decided to branch out. I had no idea what I was missing! To those who are saying this doesn't taste like honey, don't kid yourselves. It certainly tastes like a very mild honey. Also, it doesn't "cover" the flavor of the tea, but it definitely adds a distinctive depth to it. So if you're a purist, don't get this! If you're not, get it. Now.
Comment on this review
Energizing
Fresh
Unique Flavor Profile
After Meals
Afternoon
Dessert Tea
Gifts
Morning
This stuff is soooooooo sweet!
Comment on this review
Afternoon
Anytime
Dessert Tea
Gifts
Morning
The description that the sales person told me was a little off. It's not as "creamy" as I expected it to be after hearing about it. They said it had the texture of peanut-butter, but honestly, it's more like frosting. I expected it to make my tea milky, and it didn't. But! It did give my tea a very subtle natural sweetness to it. I showed it off to some of my friends who came by one day, and they were amazed at the presence of it. Of all things I showed them I bought at Teavana, they were most impressed with the honey. They even said just by looking at my jar, they were gonna go out and by some of their own.
I can't make a cup of tea without this honey! I've had it for 2 days now, and the jar is already halfway empty. Best honey than anything I've ever tried.
Comment on this review