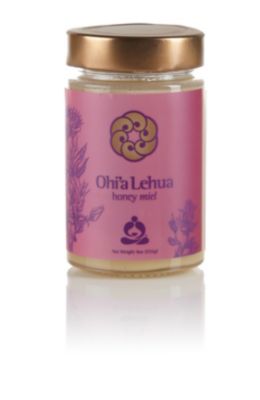 Ohi'a Lehua Blossom Honey
Product Rating
Description
This white, naturally crystallized honey has a delicate, floral flavor that is very distinct. It comes from bees in Hawaii who gather nectar almost exclusively from the Lehua blossom. This blossom inspires Hawaiian legends of love and fidelity; picking a Lehua blossom is supposed to cause rain, which represents the tears of princess Lehua who was separated from her lover, Ohia. This raw, organic honey is unheated and unfiltered to preserve the natural sugars and enzymes necessary for full-bodied flavor and complete nutrition. 9.5 ounces.
$14.95
Availability:
Available on 01/01
Product Reviews
Unique flavor profile (4)
Aromatic (3)
Fresh (3)
High quality (3)
Smooth body (3)
Reviewer Profile:
Tea enthusiast (4)
Aromatic
Fresh
High Quality
Smooth Body
Soothing
Unique Flavor Profile
After Meals
Afternoon
Anytime
Dessert Tea
Evening
Gifts
Medicinal Purposes
Morning
Probably the best honey I've ever had the pleasure of trying. It goes quickly but it is so delicious and sweet that it hardly matters.
Comment on this review
Aromatic
Fresh
High Quality
Smooth Body
Unique Flavor Profile
I don't even know how to explain this honey other than it's really amazing. I first bought it a few years back at a local Teavana shop and it was on sale. I immediately fell in love with the smooth and unique flavor. It's somewhat creamy in flavor despite being completely solid and crystallized. It's as rich as honey goes and it's so flavorful. But it does not overpower a cup of tea. I like to put it on toast and in my oatmeal and pretty much on anything. Heck, I like to eat it straight out of the jar!

My ONLY gripe? It's not available year round so I have to stock up. ALSO I REALLY REALLY WISH Teavana would freakin' sell a HUGE jar of this. I would be a 72oz jar in a heartbeat if I could save money buying in bulk. I go through jar after jar of this. It's so expensive but one of my only not-so-guilty splurges!
Comment on this review
Aromatic
Convenient
Fresh
High Quality
Price
Smooth Body
Soothing
Taste
Unique Flavor Profile
This product is great and this price is perfect.
Comment on this review
Unique Flavor Profile
Versatile
Afternoon
Anytime
Evening
Gifts
Morning
Great with chai, spicy/nutty herbals, and mate tea. I've found that it works with any tea really... but sometimes it adds an awkward aftertaste to light flavors of white tea, so it's not too good to be true.
Tea Body:
Medium
Tea Flavor:
Spicy, Sweet
Comment on this review