Tea Service for Guests
Whether you are hosting a party or having a quiet dinner with family or friends, serving tea to your guests is a great way to socialize and enjoy a healthy drink. If a formal tea party seems to prim and proper for your guests, consider an informal buffet style tea service. This type of tea service would be a nice welcome for guests as they arrive to your home for a dinner party, or try it as a relaxing way to end the evening with your guests.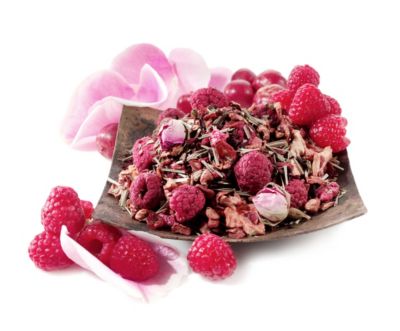 As with any kind of buffet, variety is key. Serve a variety of teas that your guests may like. Fruity and exotic teas like Raspberry Riot Lemon Mate Tea and Peachberry Jasmine Sutra Green Tea are sure to be a hit. There are also tasty caffeine free herbal teas with a plentiful mixture of fruits such as Wild Orange Blossom Herbal Tea which blossoms with the taste of orange. Include some familiar flavors and aromas like White Ayurvedic Chai Tea for a spicy treat and Tiramisu Treviso Rooibos Tea as a rich, delicious after dinner drink. If your guests are regular coffee drinkers, consider My Morning Mate Tea, which has a smooth chocolate, nutty taste and the same amount of caffeine as a cup of coffee.
Or consider trying a themed tea service. For example, you can serve several jasmine teas and continue the floral theme with jasmine flowers decorating the tea service table. One of our best jasmine teas is Jasmine Dragon Phoenix Pearls Green Tea, which has been scented with fresh jasmine blossoms 8-10
times. Your guests will be delighted with the smell of jasmine and great taste of this green tea. Jasmine Oolong Tea, another great after dinner tea, and Peach Momotaro Blooming Artisan Tea also contain jasmine flowers. Blooming flower teas are always a nice way of serving tea to guests, especially when the tea unfolds into a beautiful bloom displayed in a glass teapot such as the Mirabelle Glass Teapot.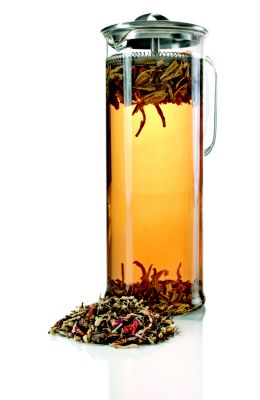 For a tropical theme, try serving both hot and iced teas. Papaya and citrus flavors abound in Lemon Lime Kampai Rooibos Tea and Kamiya Papaya Oolong Tea. Get even more tropical fruit flavors in Frutto Bianco Pearls White Tea and Pineapple Kona Pop Herbal Tea. Any of these tropical teas are delicious when served over ice and the tea leaves and bright colors will really make a statement in a Camellia Cylindre Glass Tea Maker.
When setting up your tea service table, be sure to use a teapot warmer to keep hot teas warm. You don't have to have a teapot for each type of tea, you can have a hot water dispenser accessible for guests to make their own cup of tea or tea blend. For guests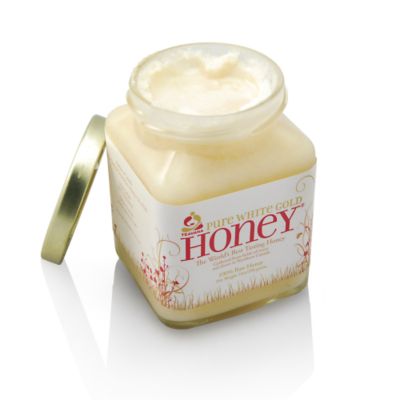 serving tea for themselves, don't forget to put out sugar and honey, scooping spoons, and maybe even tea bags or tea makers for each to steep their own loose leaf teas. Another nice touch to the tea service table would be to label the teas with pretty place cards, on which you can even write an interesting fact about the tea. For example, perhaps your guests might not have known that black teas contain caffeine; each type of tea has their own unique twists that anyone can appreciate. Or, forego the place cards and let your guests have fun guessing the teas' ingredients or type!
These are just a few of the fun ways to serve tea to your guests, read more tea party ideas. Be sure to see Teavana's full selection of loose leaf teas and tea products to inspire your tea menu and display for your next tea service.