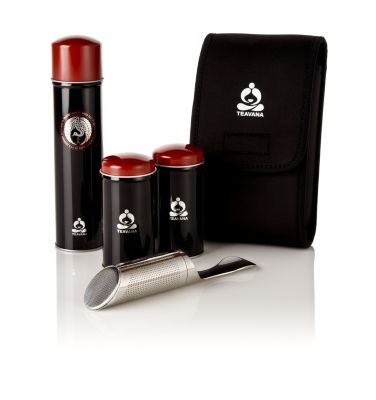 Tea Voyager Travel Kit
Product Rating
Description
Perfect for the frequent traveler; this set makes it easy to bring your tea along with you as you go. The tall tin holds a stainless steel infuser stick which also serves as a tea scoop. The set also includes 2 tea tins, perfect for bringing along your two favorite teas. Everything is easily stored in the neoprene carrying case. Teavana Exclusive. Each tin holds 1.2oz (35mL) of tea.


SALE! Save 44 % $14.03
Availability:
In Stock
Product Reviews
Convenient (8)
High quality (5)
Reviewer Profile:
Tea enthusiast (14)
I travel constantly, so my ears perk up whenever anything is made for on-the-go. I've used this set a half dozen times and found it effective and portable. The kit includes an infuser-come-scooper, two tea tins and a neoprene cover encasing it all. What you'll need additionally is a cup or pot to brew the tea and boiling water, of course.

The two tins hold enough tea leaves to make about a dozen large cups of tea, give or take. The infuser is a good size, not "travel size" so there's room for tea leaves to breathe. The stainless steel is the same quality as all Teavana infusers, which means good quality. The holes can be a tad big for some smaller teas, but no more so that the average infuser on the market. The neoprene case is a great choice of material for travel.

At this sale price, this is a steal... and makes a thoughtful and unique gift.

I deduct one star for not including a travel mug or cup. Somehow storing a mug separately defeats the purpose of such a set. When I've used this on air planes, the cups provided by the airlines are too shallow for the infuser. Rather than wish for a smaller infuser (I don't; love this size), I simply want a great travel mug to be part of the set.
Comment on this review
Convenient
Fresh
High Quality
This is like the icing on the cake, can't get any better. I use this whenever I travel. good bye hotel tea bags. I don't have any issues at all. the only thing is I wish the tins would hold more tea. but come on it cant' really get any better. I make my tea in the morning. rinse the infuser and leave on dresser to dry out. then its ready again. I also take into conferences with me as it seems like they always worry about the best coffee for coffee drinkers but rarely does anyone think about the tea enthusiast. so I bring my own. thanks teavana for a great product, easy, handy and so useful. amazing
Comment on this review
I absolutely love this product. It has the perfect sized tins and the scoop is great. The only problem is that the infuser lets a lot of the tea out. Upon reading reviews about this, it seems to be a problem with most people. I personally got very annoyed with it and came up with a solution. Buy the small tea bags that Teavana sells and put some in the case, I just fold them in half and put them under the flaps. This way you have a good way of making tea without the tea getting loose, and you still have a convienent way of making tea while traveling, at work, etc.
Comment on this review
Holes Are To Big
None Yet
Smaller Holes
so far so good! I just bought this today from a store in my local mall. i love the infuser stick BUT the holes are to big for the finer tea i like earl grey granted there arnt as many leaves in the cup as if i were to brew it right in the cup ni infuser but still i like to drink my cups dry and a mouth full of leaves is just unpleasent the lid to the tin that holds the infuser stick dose come off easy and no real way to fix that but for the tea tins just place them lids faceing each other in the cary case thats an easy fix
Tea Body:
Full
Tea Flavor:
Citrusy, Fruity, Spicy
Comment on this review
I had just recently got into the world of loose leaf teas. I attend a lot of conventions and shows throughout the year. I had been looking for something that would be convenient to be able to have my tea on the go. I tell ya, this is just what I expected it to be! I simply can not wait for my vacation next month so I can try out my new travel tea kit. It's super light weight, compact and it can fit in a large messenger bag or a backpack. It will be able to hold enough tea to get me through the day.
Comment on this review
Logo-covered
Slightly Cheap Looking
I hate teabags, and wanted something to carry and brew loose tea with while traveling (or going to my family events.) This way I can bring the tea I like, and not rely on the selection wherever i am.

This set fits the bill, with two tins for tea (or one for tea, and one for sugar cubes!), and a tea infuser stick.

The stick is clever in that it has a scoop that is covered by the infuser. While there isn't any way to measure tea, you can easily eye-ball it.) The infuser mesh is fine enough not to let smaller tea leaves through.

My only quibbles with the set is there is a teavana logo on every piece, and overall, it seems a little cheap looking with painted tins, and a neoprene case.

(I think there is a real market for a more upscale version with a leather holder and stainless steel canisters.)

Overall a great, affordable, useful item!
Comment on this review
I am not going anywhere soon, but I bought this anyway, and LOVE IT! I use it at work. The scoop and strainer are very convenient and easy to use. After steeping my tea, I empty the leaves, do a quick rinse, and let the strainer and scoop rest on paper towels to air dry. I don't know what people are complaining about. Convenient, fun, and easy to use! If I travel anywhere in the near or far future, I will surely take it with me.
Comment on this review
The biggest problem w/ this is that the holes on of the infuser are too big allowing a large amount of leaves,etc to flow out the top. I guess it's only made for 8oz mugs? I've since replaced it with another from a different company.

Other than that I do like having the extra tins of tea to keep in my carry on luggage. I fly overseas a lot and w/ 18 hrs on a plane, it's nice to have quality tea available.
Comment on this review
I purchased this set because I was going out of town and wanted to be able to take my favorite teas with me. I'd seen this when I was in the store the time before that since I'm a regular there and my favorite Associate (I forget what their actual title is) was there and knew that I liked to see the newest products. (As a side note everyone at that store is super nice and very helpful.) She had shown me this and I told her that I would definitely be back for it at a later date. I don't usually sweeten my teas so I was able to pack two teas with this. I usually pack a tea for the morning and a lavender tea for the evening. I also use this for when I go to work. It's so nice to be able to have my favorite teas with me wherever I go! This is convenient to throw in my purse since it's so compact. Overall a wonderful product!
Comment on this review
Allows Small Tea Into Cup
Does Not Infuse Well
I bought this portable tea infuser for use at work and travel for convenience. I like the portability, being able to take my favorite 2 teas with me and the small carrying case. However the small holes in the infuser are too big and allow much of the thistle type teas to escape into your glass of tea which is very annoying to the point where I would strain it through a cheese cloth if I could before drinking it. It is in no way in comparison to my original tea infuser (the one that fits on the cup that was a gift set for Christmas - that one is AMAZING and got me hooked!).
Comment on this review