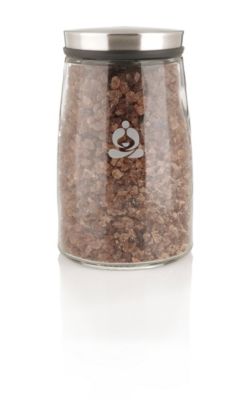 Rock Sugar Jar (3lb)
Product Rating
Description
Attractive and functional, this glass jar includes three pounds of our Rock Sugar. These pure, unprocessed sugar crystals are the best way to enhance the natural sweetness of your tea without changing the flavor. Just add them to tea leaves as your tea steeps. Also perfect for sweetening other hot beverages. The clear, reusable glass jar has an etched Teavana logo and features an air-tight stainless steel screw-top lid.
$26.95
Availability:
In Stock
Product Reviews
High quality (15)
Unique flavor profile (9)
Convenient (7)
Smooth body (7)
Fresh (6)
Tea Body:
Medium (9), Lightweight (3)

Tea Flavor:
Fruity (4), Sweet (4)

Reviewer Profile:
Tea enthusiast (19), Health conscious (9), High-end shopper (4), Occasional tea drinker (4)
I love the rock sugar. Just a bit sweetens your tea perfectly without changing the flavor. I ordered the jar on line. When it arrived, it was cracked. I sent out an email and within 8 minutes Marcus Byrd had emailed me back. Within 45 minutes, he had a new jar on the way to me. Outstanding service and outstanding products.
Comment on this review
Convenient
Fresh
High Quality
I really don't know how I lived without this! I don't do white sugar, so this was perfect. Not only perfect for tea, but oatmeal, cereal, wouldn't recommend for cooking, but anything else. My kids like to pop a few into their mouth too! Takes a while to completely disolve, so if you put directly into a cup, make sure you stir!!
Comment on this review
I was using white sugar in my teas and I was introduced to this rock sugar and I will never use white sugar again. This is perfect and it complements the tea without taking away from the flavor.
Comment on this review
Not too sweet
Unique Flavor Profile
Yummy
I absolutely love this stuff! I put it in every cup whether it be a black tea like Earl Grey or a green tea. The flavor of the actual tea really shines through instead of just tasting sweet tea. The sweetness is very mild not like real sugar or sugar substitutes. Love love!!
Comment on this review
I only use Rock Sugar when I brew Teavana loose teas at home or work - on the go is a little trickier! I do still use granulated or raw sugar when I travel and personally I do think it makes a difference to use this product when brewing tea. In my opinion it sweetens the tea in a more natural way without the over sweet taste you might get with other natural sweeteners. I do have ONE complaint - it is a pretty big one. The current packaging is AWFUL! The last shipment was the first time one bag actually opened and SPILLED out all over the box, BUT multiple shipments have come in where the glue on the top is already not holding and technically the package is open. Fortunately in those cases it remained upright and didn't spill. Customer service responded well with credit to my account, but would rather not have to deal with it in the first place since we are stationed overseas and mail takes a LONG time to arrive.
Comment on this review
I just tried this rock sugar and it is a MUST HAVE in every cup of tea! This sugar is magically amazing because without it, your tea does not taste as delicious as it does in the store! I bought a pound my first time, but next visit, I am buying the big jar of it! If you are not using Teavana Rock sugar, you are not in a Teavana state of mind! LOL! Buy it, you will not regret it and it is worth the money!
Comment on this review
i got this for myself because i drink ALOT of tea and 1 lb would go in a week. i love the jar. not a heavy glass. and the price is worth it. your practically paying not even 2$ for the jar. the sugar itself is so nice. really compliments your tea not overpower it. its a very soft flavor of sugar if that makes sense.
Comment on this review
I started using this rock sugar after visiting a Teavana store hoping to find something for my 14yr old Type 1 diabetic son to drink. He previously drank a lot of diet pop and Crystal Light type sugar-free drinks. I am trying to get him away from the artificial sweeteners such as Aspartame as I have been reading how unhealthy they can be. I tried more natural sweeteners like Stevia, but they have an awful aftertaste that just ruins the drinks. I tried this sugar with the delicious Teavana teas( we use 1/4 cup per 64oz of tea. It sweetens the tea enough to his liking and enhances the flavor of the tea. This sugar has not seemed to elevate his blood sugars( of course it must be used in moderation) and is a much healthier alternative to the other sweeteners available for diabetics. I am so thankful to find a drink that he enjoys without having to worry about the harmful side effects that can be caused by artificial sweeteners. Thanks Teavana!
Comment on this review
This is more of a comment on the store. I went in and bought the 3 lb jar of sugar because my family had enjoyed it so much. When I got home I got out my new tea and rock sugar and made myself tea. It was horrible it tasted like a handful of pennies had been put in my tea and not sugar. I called the store the manager who was rude and couldn't care less(I asked if she could wash a new sugar jar for me and she told me that they don't even wash them...) and I didn't have any choice to drive 30 miles to exchange the product. So I got another one and what do you know it tasted horrible again. O had realized that they took some of the sugar out of a tin. This should have been a red flag to the manager and myself to say this is the ,metal taste. So as of right now I am stuck with an inedible 3 lb jar of sugar and nothing to do with it because of poor management. So heads up don't let Teavana take anything out of tins because it will taste funny
Comment on this review
Makes perfect cups of tea every time. I won't try anything else.
Tea Body:
Light
Tea Flavor:
Sweet
Comment on this review