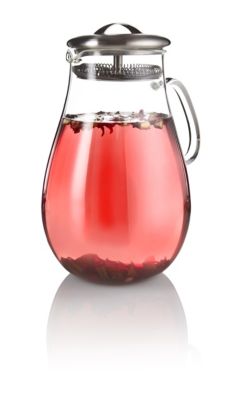 Amandine Decanter
$49.95
Product Rating
Description
Our Amandine Decanter moves easily from tea maker to pitcher as needed. This beautiful glass decanter can make hot tea or use cold brewing to make iced tea. And once the tea is made, it serves as an attractive glass pitcher for serving the tea! The stainless steel lid includes a fine mesh filter to keep leaves out of your tea. Composed of borosilicate glass that is stronger and more heat resistant than regular glass, it has a curvaceous teardrop shaped body that helps the tea liqueur to appear vibrant and illuminated. Dishwasher safe. 2 liter capacity.


Product Reviews
Reviewer Profile:
Tea enthusiast (3)
I've gone through 3 lids for my teapot. They just aren't made in a manner than allows for even regular use. I'm returning this tea pot and getting a refund.
Comment on this review
I bought this about a year ago, and it was great while i was new to tea. It was the largest pitcher i've seen, and i bought it because of it's size. If you have a dishwasher, the filter's easier to clean, otherwise hand-scrubbing gets tedious. Today my pitcher broke, a large circlier peice from the bottom just cracked and spilled tea-bits all over my fridge. I thought it was a better quility for the price, but i guess not.
Tea Body:
Medium
Tea Flavor:
Citrusy, Fruity
Comment on this review
I would like to know how to make hot tea in this thing. I think all Teavana products should come with instructions. That would be super helpful. =) If anyone could help me out with step-by-step directions I'd great appreciate it.
Comment on this review
I love this pitcher but the first one i bought, the filter broke off the cover right away. Teavana replaced it at no charge. The second one lasted about 2 months, I was very careful with this one, but the filter broke off the cover again last night while i was washing it. Am I the only one with this problem?
Comment on this review
The decanter is nice and delicate looking. It was delicate alright! I was afraid it'll break on me, especially the handle, not being able to support the weight of the body and where the body bulges out. So that in mind, I took extra care of the decanter. I hand wash it, I made sure I don't bang it, I didn't add hot (piping) water that it'll cause it to weaken or crack. I've only used my decanter since christmas (it was a christmas present) and it is now just january and there is now a stress fracture/crack on the handle. I'm sure that crack will continue growing. soooo disappointed. for the amount the decanter cost, i don't know if it is worth it.
Tea Body:
Full
Tea Flavor:
Citrusy, Fruity
Comment on this review
Convenient
Easy to clean
Easy to use
High Quality
Smooth Body
I am 54 years old. Until last week I had only used Tea Bags, not loose Tea. When I tried the Youthberry & Wild Orange Blossom Tea hot, I had to buy the Amandine Decanter to see how it tasted as Iced Tea, as I am an Iced Tea nut. I was NOT disappointed. This product was so doggone easy to use, you saw results within 1/2 hour. I let it steep for 24 hours in the Refrigerator. Oh my God. Best doggone Iced Tea I ever had, and I loved the strainer in the top. Unlike other reviewers, I had NO pieces of Tea in my Glass, and experienced NO drip after pouring a glass of Tea. My only real gripe is that Teavana does not have make this Decanter in Gallon size. I suggest they do because any real Iced Tea lover needs at leat a Gallon sized jug. That way you don't have to keep making more so often, and unlike the insructions I did not heat the water. I put cold water in the Decanter, added one Cup of Sugar, stirred it in, then added the Tea, put in the Frig, and let it steep for at least 24 hours. And as each hour passed, the Tea got darker, and darker. I was impressed. Will never used bagged Tea ever again. I even ordered at leat 6 more flavors. And EVERYONE I tested it on was blown away. Thank you Teavana. By the way I found you as I have relatives in Newport News, Virginia, and there was an article online for Wavy 10 News, about Businesses opening in the Peninsula Towne Center, in Hampton, and was intrigued by the name Teavana, so I looked it up, and checked out your Website. Glad I did.
Tea Flavor:
Youthberry Wild Orange
Comment on this review
I love, love, love this pitcher. I would put some tea in it in the morning with some ice and let it hang out on my countertop. I drank from it all day. The glass is deceptively thin. I thought for sure I would break this lightweight pitcher right away. But the couple times I did accidentally hit it against something, it was just fine. The only problem I had was that the strainer piece broke off from the lid. I thought I could still use it if I strained it when I poured, but the lid does not stay snugly on. So, I will have to spend another [$] on another. :o(
Comment on this review
Attractive
Convenient
Easy to use
Lightweight
I have used this product almost every day for the past year, and I love it! I also have taken it to travel with on the road. I just put it back in the box it came in and don't have to worry about it breaking while I travel. My only complaint is that it dribbles a little after you pour some tea. Just have to be careful. I would definitely highly reccommend this to a friend!
Comment on this review
I received the Amandine decanter as a gift about a year ago and I have enjoyed using it. I found it to be attractive and to fit nicely on my refrigerator shelf. It is lightweight and easy to pour. The handle does not get slippery with condensation as many other glass containers do. I only have two complaints about it: the spout almost always drips tea down the side of the decanter after you pour, and occasionally the mesh strainer in the lid allows a few small tea leaves to escape into my glass.
Comment on this review