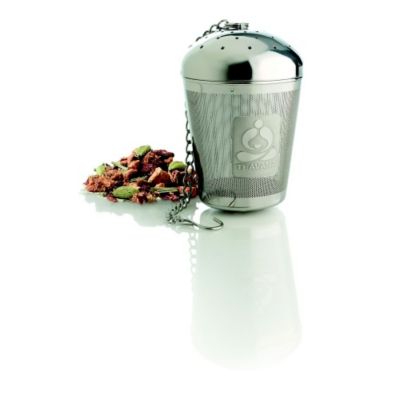 Perfect Tea Ball
$12.95
Product Rating
Description
Finally, a perfect tea ball that makes it easy to enjoy a delicious cup of tea. Made of stainless steel for durability, this tea ball features many tiny holes to keep even the smallest teas out of your cup while allowing the flavor to drift out. And it has enough room for the tea leaves to fully unfurl, which is important for great tea. Simply add your favorite tea and twist the top on. You can use the hook to hang onto the edge of your favorite tea pot.


Product Reviews
Anytime (6)
Evening (3)
Gifts (3)
Reviewer Profile:
Tea enthusiast (12), Health conscious (7), Health nut (4), High-end shopper (3)
Most Liked Positive Review
Can't go wrong
I had the old version that was Swiss gold and plastic. It was great at keeping sediments out of my cup of tea. Until I killed it in the garbage disposal. Oops. They ...Read complete review
I had the old version that was Swiss gold and plastic. It was great at keeping sediments out of my cup of tea. Until I killed it in the garbage disposal. Oops. They have since replaced that model with this all silver model. I was cautious at first because I didn't know if the mesh would be fine enough or the cap would be tight enough. Thankfully it is. I use this at work. I get a cup of hot water from the dispenser, drop the tea into the ball and the ball into the water. The chain makes it easy to retrieve. I pull the ball out and place it on a plate. After I've finished my cup (usually hours later) I resteep the wet tea in the tea ball. I drink black and mate, so they can take it. I leave it to dry overnight, tap out the old leaves, rinse it out and do it again the next day. I add sugar after pulling out the ball because I'm afraid sugar and honey will gunk up the holes. I admit I don't always remember to clean up my cup immediately. For that I like the stainless steel because it seems more sanitary than plastic. Esp for the health conscious afraid of heat and plastic being mixed in food. The container is roomy about 1.5" at bottom, about 2" at top and a little less than 3" tall. The botoom also has three nubby feet to help it stand upright on the plate. I think the 13 bucks is well worth it and I couldn't find it any cheaper. Works for me! Perhaps in the future, not so good for my garbage disposal though...
Most Liked Negative Review
Whoever designed this should be fired
The whole reason of buying a tea ball with laser-drilled holes is to use it with very small-leaf teas. Why on earth they added holes on the top that are 10x larger than the laser...Read complete review
The whole reason of buying a tea ball with laser-drilled holes is to use it with very small-leaf teas. Why on earth they added holes on the top that are 10x larger than the laser holes is beyond me. The tea floats right on out of the top holes and effectively makes this useless for teas with small particles.
This tea ball infuser has it's ups and downs. Overall, once I figured out how to get the best use of it, I can't really complain.

First off, on the side of the box it does say you can use it for cups, mugs, and tea pots. Not sure why some reviewers only think you can use it tea pots….

So, I purchased this to use in mugs for teas that I steep multiple times. This keeps my other Teavana tea maker free for when I want a different kind of tea.

The holes at the top do allow small tea particles to come out. This happened when I tried to steep the Pumpkin Spice Brûlée tea. However, the tea ball is great with large leaf tea like Jasmine Dragon Phoenix Peals. I get like 3 steeps out of the Jasmine tea anyway, and that was the purpose of buying the tea ball. I steep, let it cool down, and then put the ball into a plastic bag, and in the fridge it goes until my next cup of tea.

Design - Very durable. The top twists and locks in place. I love how large it is. Enough room for large tea leaves to unfurl.

Tip: Steep teas for an additional 30 seconds. ---- I notice this ball doesn't really steep the tea as well as the tea makers. So I started steeping teas for 30 seconds longer with the ball, and the results are great.

All that said, it's not a tea ball I would recommend to anyone. The fact that small tea leaves can get out is proof of a poor design. I should be able to steep any tea I want. Not just large tea leaves.
Comment on this review
Aromatic
Convenient
Energizing
Fresh
High Quality
Smooth Body
Soothing
Unique Flavor Profile
Afternoon
Anytime
Evening
Gifts
Medicinal Purposes
Morning
I drink tea, hot or room temperature and I also combine about 30 herbs for a herbal tea, another 10 for an evening or sleepy time tea. This is a great tes ball for "the pot" as the description says. I hated using the split balls and trying to close them with both sides full of tea and this has eliminated the problem. Also it is durable and easy to clean.
Tea Body:
Full
Tea Flavor:
Citrusy, Fruity, Spicy, Vegetal
Comment on this review
The holes in the sides are PERFECT, but the holes in the top are WAY TOO BIG!
Comment on this review
I got this mostly because it's larger than most tea balls, so I assumed that it would be good for making large amounts of tea. Unfortunately, the holes on the side are too small to let water flow freely, and the holes on the top are too large to keep sediment from ending up in your tea cup.
NEVER buy this.
Comment on this review
At least have the decency to offer a "small" or "Large" tea ball. I know you want us to use more tea, but this thing is laughably large. Very easy to use, i really do like it. But, the blatant attempt to have us use more tea...is insulting. I cannot fit it in a tea cup. It's use is intended for a cup or tumbler. It barely fits in a small tea pot. Really now..
Comment on this review
Durable
Easy to use
High Quality
After Meals
Afternoon
Anytime
Evening
Gifts
This tea diffuser is amazing. I drink all types of tea with all types of tea leaves. I drink tea at work and the tea diffuser is convenient. In the past, I used the mesh balls but they were always a pain to clean, would rust, and grew mold really quickly. With this tea diffuser, it's stainless steel so it doesn't rust, it is easy to clean and it contains all the tea leaves. I'm not sure why other viewers complain that tea comes out. the holes are so small that no leaves come out. Perhaps you should be mindful of which tea leaves you use in this diffuser. I have put earl gay, green tea, chamomille, rooibus, and chai teas and have had zero issues. Also, the lid is easy to open and close. Once again, I'm not sure why others have trouble opening it.
Comment on this review
This tea ball let out so much tea. The fine mess around the sides work well but the holes on the top lid are bigger and let out chunks of tea leafs. It was so terrible I am going to return it.
Tea Body:
Medium
Tea Flavor:
Oolong
Comment on this review
I don't know why anyone would complain about this product. I've tried a couple different things, and this by far exceeded my expectations. I use it for single cups or entire pots. If you use it properly it will make perfect tea every time.
Comment on this review
I received this as a gift for my birthday. At the time I was thrilled to get this because it looked fantastic. When I made my first cup with it (black coco mint) there was quite a bit at the bottom of the cup by the time it was done steeping. My second cup (samurai mate) was the same story. My third cup (tranquil dream) let out more than ever before. While I drank the cup of tea I got mouthfuls of the tea. It was very unpleasant. For the money that this costs, I think it is downright stupid. A friend of mine has a tea steeper from the dollar store that doesn't do this. I will be storing this in my pantry and never using it. Such a shame.
Comment on this review
The holes in the lid allow small leaf particles to pass through. The lid also does not fit on top of the infuser well, making it difficult to put on/remove. Poor design altogether.
Comment on this review